Salvatore Lo Piccolo, also known as Il Barone, was boss of bosses of the Sicilian Mafia since the arrest of
Bernardo Provenzano
in 2006. Before that he was active as the San Lorenzo mandamento since the early 1990s, replacing Salvatore Biondino. He was a fugitive since 1983 and was arrested in 2007.
Mandamento of San Lorenzo
As a young teenager Lo Piccolo looked up to men such as
Rosario Riccobono
. Like many he became an ally of the
Corleonesi
during the Second Mafia War. Lo Piccolo made large amounts of profits through drug trafficking and skimming. He also forced the residents of the low-income housing projects in the ZEN (Zona Espansione Nord) area of Palermo to pay him to keep the building corridors lit.
In March of 2005, the Lo Piccolo clan was subject of a police operation known as the "Notte di San Lorenzo". Eighty-four arrest warrants were issued. Nonetheless, Salvatore and his son Sandro Lo Piccolo remained at large.
Arrest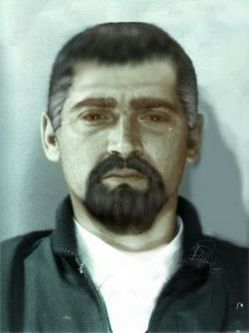 How the police
thought he looked like
After the arrest of
Bernardo Provenzano
on April 11, 2006, Salvatore Lo Piccolo and
Matteo Messina Denaro
were thought to be the new leaders of Cosa Nostra.
On June 20, 2006, two months after Provenzano's arrest, authorities issued 52 arrest warrants against the top echelon of Cosa Nostra in the city of Palermo called Operation Gotha. Among the arrestees were Antonio Rotolo and his right-hand men Antonino Cina (who had been the personal physician of Salvatore Riina and Provenzano) and Gerlando Alberti, a pioneer in heroin refineries. The investigations showed that Rotolo had built a kind of federation within the Mafia, comprising 13 families grouped in four clans. The city of Palermo was ruled by this triumvirate replacing the Palermo Mafia Commission whose members are all in jail.
The investigation also indicated that the position of Salvatore Lo Piccolo was not undisputed. A clash between Lo Piccolo and Rotolo had been developing over a request from the Inzerillo family to be allowed to return to Palermo. The Inzerillo family had been one of the clans whose leaders were killed by
the Corleonesi
in the 1980s and which had lived in exile eversince. Rotolo had been part of the Mafia clans that had attacked the Inzerillo clan. He was opposed to Lo Piccolo's permission for the return of the Inzerillo's, fearing revenge.
On November 5, 2007, Lo Piccolo was in a meeting together with his 32-year old son Sandro, Gaspare Pulizzi and Andrea Adamo. In the mean time about 40 police officers surrounded his villa. Lo Piccolo and the 3 others were all on the 30 most wanted list of Italy. Amongst his documents that were found during the arrest was a note that showed ten commandments of the Mafia.
-Nobody can stare at the woman of a fellow mobster;
-Nobody can get close to a police officer;
-Do not visit public hangouts;
-Always be available for the Mafia, even when your wife is having a baby;
-Nobody can be directly involved in contacts with the Mafia, there always has to be a middleman;
-Threat women with respect;
-When asked for information, always say the thruth; (which obviously doesn't apply when being interrogated)
-Don't keep money that belongs to other families;
-Not everyone can join the Mafia.
On February 21, 2008, the police again caused a big blow for te Cosa Nostra when they discovered a 'treasure' worth 150 Milion euros. Amongst the belongings were a couple of villa's, five companies, a commercial complex and a village to spent hollidays at. These belongings were gathered by Salvatore Lo Piccolo and his predecessor
Bernardo Provenzano
.