Nicola Gentile was a respected and elder member of the Mafia who filled leading positions in both America and Sicily. Gentile revealed allot of the inner workings of the Mafia by noting down his memoirs even before
Joseph Valachi
became a government witness in 1963. The book 'Vita di Capomafia' is however not available for public and is not translated in any other language than Italian. The memoirs are considered to be collectors items in which few actually own a copy.
Moving to America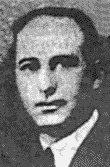 Gentile was born in 1885 in the provence of Agrigento. He moved to America somewhere around 1903 at the age of 18. After a short stay in New York Gentile moved West towards Kansas City. In 1915 he recruited a group of about ten young bandits who would only listen and answer to Gentile. With their help he extorted shop owners and got involved in theft. Thanks to his gang he began to make a name for himself. He was arrested a couple of times for crimes such as assault, murder and extortion during this period. Gentile however never stayed at the same place very long. He frequently moved across the country to places such as Detroit, Pittsburgh, Houston and New Orleans. Gentile had connections with many crime leaders all over America such as
Anthony D'Andrea
, the first head of the Chicago based Unione Siciliane who'm he met during his stay at Chicago between 1919 and 1920. In 1920 Gentile survived a murder attempt made by his powerfull enemy
Joseph Lonardo
in Cleveland. Gentile fled back to New York where he stayed under the protection of allies such as
Vincent Mangano
and
Umberto Valenti
. Not much later Gentile moved on back to his homeland Sicily.
While Gentile lived in Sicily Umberto Valenti had started a war against the leadership of his own gang, the
Morello gang
, in order to take it over. The gangs boss
Peter Morello
, who was just out of prison, was spotted in Sicily during that time and is believed to have gone to Gentile to demand a truce between him and Valenti. Gentille however was supportive to Valenti and the truce never became reality. When Gentile arrived back on the shores of New York in 1922 he learned that Morello and
Giuseppe Masseria
had defeated Valenti. Gentile's plans of taking over the
Morello gang
where rapidly ruined as he lost most of his backings. Fortunatly Gentile could rely on his skills as a negotiator to keep himself safe and realized he was better off as a Masseria ally rather than being his enemy. During the mid 1920's he became associated with Masseria gunman
Salvatore Luciano
and his colleges such as
Frank Costello
and
Vito Genovese
.
Gentile also acted as a Peacemaker during the
Castellammarese War
. He was asked to negotiate with
Salvatore Maranzano
. Gentile later wrote in his memoirs that as he entered the room he was rounded by armed gangsters as Maranzano stood in front of him like a Mexican guerilla, armed with 2 guns in his belt. He also claimed that the Castellammarese and their allies were the aggressors and 'outlaws' causing the war. The determined Maranzano didn't want to negotiate and led his organization to victory. Although he was very respected and well known in many different states, Gentile also had enemies. Pittsburgh boss Giuseppe Siragusa for example once made false accusations about Gentile and as an attempt to defend himself Gentile summoned Siragusa for a disciplinary hearing. During the meeting, in which
Al Capone
took part, Gentile denied the false charges and threatened everyone who would make such accusations again. Siragusa realized the influence and determination of Gentile and backed off. After the Castellammarese war was finished and both Maranzano and Masseria were gone, Gentile helped Charles Luciano in the administration of his New York empire during the early 1930's. Later on he became involved in the narcotics trade between Texas and New York until his arrest in 1937 in New Orleans. Gentile payed a $15.000 bail and went back to live in his native Sicily, where he bought property in Gravina, Palermo. (some said Gentile actually talked to the police and fled back to Sicily)
Back to Sicily
Ones Gentile arrived back in Sicily he was welcomed inside a Mafia clan of his early associates. His power and influence grew after the American invasion of Sicily in 1943 during WWII, called Operation Husky. He was one of the men who helped the allies to invade the island on behalf of the imprisoned Charles Luciano. Later he became an important canvasser for politicians from the Christian Democratic party. When Luciano was deported back to Italy in 1946 both frequently met each other and worked together in the narcotics trade. Other close associates were
Joseph Biondo
, the
Mangano Family
capo and Palermo mob boss Pietro Davi, who's daughter married the son of Gentile.
During the early 1960's Gentile decided to record his memoirs in a book with the help from journalist Felice Chilante. By this he actually broke the code of Omerta. His memoirs were later used by US officials to extract information about mobsters in America. In the memoirs he described himself as a bitter old man who's children were ashamed about their fathers life of crime. The government later used Gentile's memoirs to match them with
Joe Valachi's
testimony in 1963. Many of the information seemed to be correct. For this Gentile got the death penalty from the Mafia for breaking the code and by this lost about all the respect he ones had. A murder contract was given to the Catania Mafia family, but the hitmen didn't kill Gentile. They left the poor and old man alone to die a lonely death, which he did. At the end of his life Gentile had nothing left, even his neighbors had to give him food. He eventually died of old age, but the exact date remains unknown.
(Source: Onewal.com, The 'History of the Sicilian Mafia' by John Dickie, 'The business of crime' by Humbert S. Nelli)