Leoluca Bagarella is an Italian criminal and member of the Sicilian Mafia. He is from the town of Corleone and was a member of
the Corleonesi
. Bagarella sided with
Luciano Leggio
in the late 1950s when Leggio wiped out the former Mafia boss of Corleone
Michele Navarra
and his men. Bagarella became the brother-in-law of
Salvatore Riina
when, in 1974, Bagarella's sister, Ninetta married Riina. That was the same year Leggio was imprisoned and Riina became the boss of the Corleonesi. The Brother-In-Law became Leoluca's nickname because of his relationship to Riina. Bagarella's own wife, Vincenza Marchese, was the sister of Giuseppe Marchese and the niece of
Fillipo Marchese
, a notorious killer and high ranking member of the Corleonesi.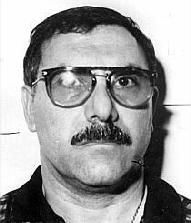 According to the pentito,
Tommaso Buscetta
who had spent three months with Bagarella in a prison infirmary, Bagarella is said to have have mental problems and has been involved in possibly 300 murders. Bagarella also killed police chief Boris Giuliano as well as a nephew of Tommaso Buscetta's, one of many of Buscetta's relatives to die since he betrayed the Mafia. Two of Bagarella's brothers were also Mafiosi; his elder brother, Calogero Bagarella, was shot dead on December 10, 1969, in the Viale Lazio in Palermo, during a shootout with rival mafioso
Michele Cavataio
and Cavataio's men, known as the Viale Lazio bloodbath. A second brother, Giuseppe, was murdered in prison in 1972.
Following Riina's arrest in early 1993, Bagarella is believed to have taken over a section of the Corleonesi, rivalling Riina's primary successor,
Bernardo Provenzano
. However, just two-years later, on June 24, 1995, Bagarella was arrested, having been a fugitive for four years. When he was arrested at his home the carabinieri noticed that there was no sign of his wife, just a bunch of flowers in front of her picture on the mantelpiece – a sign of mourning. Bagarella was wearing a locket with her picture – another sign of mourning. Rumours muttered that Bagarella had killed his wife, unable to stand the shame of being married to the sister of an infame, a mafioso turned pentito. However, other sources said that Vincenza had committed suicide after Giuseppe Marchese began collaborating with authorities. Another version was that she was clinically depressed, after a series of miscarriages. She had left a letter declaring her shame and asking her husband for forgiveness.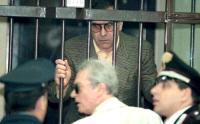 Tommaso Buscetta knew him in prison back in the 1970s and had the following to say about Bagarella: "I prefer not to speak about him, I think he doesn't belong to the human species...in prison everybody feared him. I remember we stayed three months together in the prison infirmary and the only words he told me were good morning and good evening". Bagarella was convicted of multiple murder and imprisoned for life. In 2002 he protested about his treatment under a new law that placed heavy restrictions on jailed Mafia bosses to prevent them from running their criminal empires from behind bars. At a court appearance that June, Bagarella made some thinly veiled threats to the Italian government, saying the Mafia is "tired of being manipulated by political forces." Some interpreted this as a sign the Mafia was annoyed that its previously cosy relationship with politicians had broken down, as if the harsh restrictions on the Mafia bosses was betraying some sort of clandestine promise made to them by (unnamed) politicians.