Giuseppe Falsone is the capo provincia of Agrigento and was on Italy's most wanted list for about 11 years, until his arrest in 2010.
Boss of Campobello di Licata
Giuseppe Falsone was born in Campobello di Licata, Agrigento. His father, Vincenzo Falsone, was the boss of the town for many years. He was well connected with
Giuseppe Settecase
, the Cuntrera-Curuana families from Siculiana and was allied to the
Corleonesi
. In June 1991 Falsone's father and brother Angelo were both murdered by the Stidda, a criminal group of revolting Cosa Nostra members based in Gela and mainly existing out of followers of
Giuseppe Di Cristina
.
After his father and elder brother were gone 21y old Giuseppe stepped in and took the lead. He revenged their deaths by murdering Salvatore Ingaglio, who he held responsible for the killings. In 1999 Falsone became a fugitive after he was indicted for murder and international drug trafficking. In 2004 he was sentenced to life in absentia and in March 2007 recieved an additional 22 years. Next to that police also confiscated some of his clans belongings valued up to 2 million euro's, including real estate and a transport company. Falsone however remained a ghost and was nowhere to be found.
Capo Provincia of Agrigento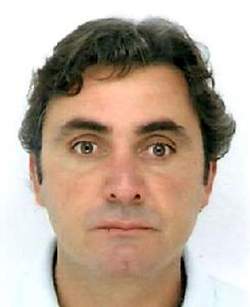 Giuseppe Falsone after
his arrest in 2010.
In early 2000 the provincial Mafia commission voted for Maurizio Di Gati, the boss of Racalmuto, to become the new "capo provincia" of Agrigento, although Boss of Bosses
Bernardo Provenzano
had vouched for Falsone. Di Gati was eventually arrested in November 2006 after being on the run for 12 years and Falsone was chosen as Agrigento's new capo provincia. In 2008 police raided a home in Palermo, believing Falsone resided there, but when arriving he was allready gone.
Arrest
On June 25, 2010, Falsone was arrested in his luxury appartment in Marseille, France. He had undergone plastic surgery to his nose so the police wouldn't recognize him anymore. However, his fingerprints gave him away. The police had been tipped about his whereabouts after he had applied for a boating license with false identity. In cooperation with the French police they were able to make the arrest.
(Source: www.nationalturk.com, www.agrigentoinformazione.it, www.mediterraneonline.it)