Bernardo Provenzano, also known as 'Binnu u tratturi' was a leading member of the
Corleonesi
and was head of the Sicilian Mafia since the arrest of
Salvatore Riina
until his arrest in 2006. According to some his nickname U tratturi, which means Tractor in Italian, came because he used to "mow people down".
Early Years
Provenzano was raised in Corleone and joined the Mafia in his late teens. At that time
Michele Navarra
was heading a clan of Mafiosi in Corleone. Whilst doing small tasks for the clan he became close to
Luciano Leggio
, a young and ambitious mobster under Navarra. Navarra and Leggio went to war against each other in the mid-1950s. In September 1958, Provenzano was one of the gunmen who backed up Leggio in the ambush and murder of Michele Navarra. Leggio subsequently became the head of the Family. On September 10, 1963 an arrest warrant was issued against Provenzano for the murder of one of Navarra's men, who had remained loyal to the old leadership and payed with his life. Provenzano went on the run along with most of his fellow Corleonesi.
Leggio went to prison for murder in 1974, effectively leaving
Toto Riina
in charge. Provenzano became second in command to Riina. During Riina's time as clan leader, Provenzano was believed to have dealt with the financial side of the criminal enterprises. During the Second Mafia War in 1981 Provenzano stood by the side of Riina, in who's order hundreds of men and women were murdered in order to gain full control of the Sicilian Mafia and in addition, the international heroin market.

Elevation to Godfather
Salvatore Riina
was arrested in January 1993 and subsequently sentenced to life imprisonment for ordering dozens of murders, including the two high-profile bombings that killed prosecutors
Giovanni Falcone
and Paolo Borsellino.
It was not clear to law enforcement that Provenzano had succeeded Riina. He hadn't been seen since 1963, and when his wife and two grown sons came out from hiding in 1992, many then suspected that Provenzano was dead. Informants subsequently claimed otherwise, saying that after Riina's arrest in 1993, Provenzano became the boss of the Corleonesi. It is said that two other mobsters,
Leoluca Bagarella
and
Giovanni Brusca
, challenged his leadership, but were captured before they could act.
Under Provenzano's leadership, the Mafia became less bloodthirsty and more efficient. Provenzano is reported to have tried to arbitrate between rival mafia factions competing for business, and steered away from the attacks on high-profile figures that were hardening public opinion against the Mafia and provoking police to respond. He was a careful operator, who took few overt risks, revealing his whereabouts to only a handful of associates. He shunned the telephone and issued orders and communications through small, hand-delivered notes, called 'pizzini'.

Evasion and Capture
Provenzano was a fugitive from the law from the time of his indictment for murder in 1963 until his arrest in 2006. For 43 years he remained at large which made it nearly impossible that he wouldn't have had help from city officials.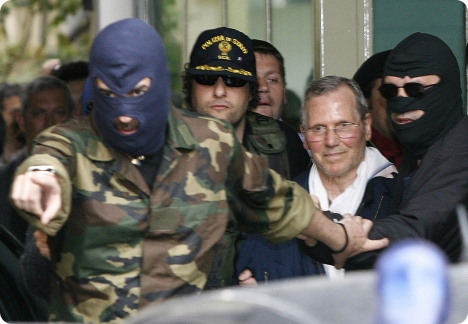 Arrest in 2006.
There is proof that in 2002 he traveled to France, despite being a fugitive, and underwent a surgical operation in Marseilles for a prostate tumor, even being reimbursed by the Italian National Health Care system. DNA evidence subsequently confirmed his presence at the surgery in question. On January 25, 2005, police raided various homes in Sicily and arrested forty-six Mafia suspects believed to be helping Provenzano elude the authorities. Although they did not catch the Mafia boss himself, investigators nonetheless unearthed evidence that 72-year-old Provenzano was still very much alive and in control of the Mafia. Two months later another raid took place, although yet again Provenzano was not amongst those captured. However, Mafia informers said Provenzano moved between farmhouses in the region every two or three nights. Tracing him was difficult because the authorities did not have an up-to-date photograph with which to identify him. The nearest likeness in their possession was a computer-generated image that attempted to predict the effects of aging on a photograph of Provenzano as a younger man.
Provenzano was finally captured on April 11, 2006 by the police near his home town, Corleone. The police were able to pinpoint Provezano's exact location by the simplest of connections; they tracked a delivery of clean laundry from his family to the farmhouse he was hiding out in. His arrest briefly pushed the climax of Italy's general election from the main headlines on Italian news stations.
After initially denying it, Provenzano admitted his identity, but has reportedly said little else since his arrest. He was being held in isolation at a high security jail in Terni, central Italy. Provenzano was shown on screen in the court alongside his predecessor, Toto Riina. As part of the tough prison regime reserved for Mafia convicts, he was under constant video surveillance and was only allowed contact with his lawyer.

Division within Cosa Nostra
In 2002 a rift within Cosa Nostra became clear. On the one hand there were the hardline "Corleonesi" in jail, led by Toto Riina and Leoluca Bagarella, and on the other the more moderate "Palermitani", led by Provenzano and
Antonino Giuffre
,
Salvatore Lo Piccolo
and
Matteo Messina Denaro
. Apparently the arrest of Giuffre in April 2002 was made possible by an anonymous phone call that seems to have been made by loyalists to the Mafia hardliners Riina and Bagarella. The purpose was to send a message to Provenzano. The incarcerated bosses wanted something to be done about the harsh prison conditions (in particular the relaxation of the 41-bis incarceration regime), and were believed to be orchestrating a return to violence while serving multiple life sentences.
Targets were to have been Marcello Dell'Utri and former Defence Minister Cesare Previti, both close advisors of then Prime Minister Silvio Berlusconi, according to a leaked report of the intelligence service SISDE. Riina and Bagarella felt betrayed by political allies in Rome, who had promised to help pass laws to ease prison conditions and reduce sentences for its jailed members in exchange for Mafia support at the polls. The SISDE report says they believed that hits on either of the two embattled members of Berlusconi's Forza Italia party, each under separate criminal indictments, would have been less likely to provoke the kind of public outrage and police crackdown that followed the 1992 murders of the widely admired Sicilian prosecutors Giovanni Falcone and Paolo Borsellino.
When Provenzano was moved to the high security prison in Terni, Toto Riina's son Giovanni Riina, who has been sentenced to life imprisonment for three murders, yelled that Provenzano was a "sbirro", a popular Italian pejorative expression for a police officer, when Provenzano entered the cell block. The pentito Antonino Giuffre has said in October 2005 that there had been rumours within Cosa Nostra that Provenzano was an informer for the Carabinieri while he was on the run and led them to the captore of Riina.
Succession
After the arrest of Bernardo Provenzano on April 11, 2006, several mafiosi were mentioned as his successor. Among the rivals were
Matteo Messina Denaro
,
Salvatore Lo Piccolo
, and Domenico Raccuglia from Altofonte.
Bernardo Provenzano died in the San Paolo hospital in Milan, where he had received treatment for cancer. He was 83 years old.
(Source: independent.co.uk, "Bernardo Provenzano: il ragioniere di Cosa nostra" by Ernesto Oliva, "Boss of Bosses: A Journey into the Heart of the Sicilian Mafia" by Clare Longrigg)