Guarino "Willie" Moretti was an Underboss of
the Luciano family
and a cousin of
Frank Costello
, who was the boss of the family from 1946 till 1957.
New Jersey kingpin
Born Guarino Moretti in Bari, Puglia, Italy in 1894, Moretti came to America in the early 1900's to join his family in New Jersey. In his youth he became a close friend of Frank Costello and Costello's brother with who'm they formed a gang. From 1933 to 1951, Willie Moretti, the supposed Mafia boss of New Jersey, was the muscle behind Frank Costello. During the 1940's, he (in association with
Joe Adonis
&
Abner Zwillman
) ran lucrative gambling dens in New Jersey and Upstate New York from his Monmouth County home. At the hight of his power Moretti controlled a gang of about 60 viscious enforcers. He also became very involved in narcotics trafficking where he would work together with Adonis, Costello and Luciano.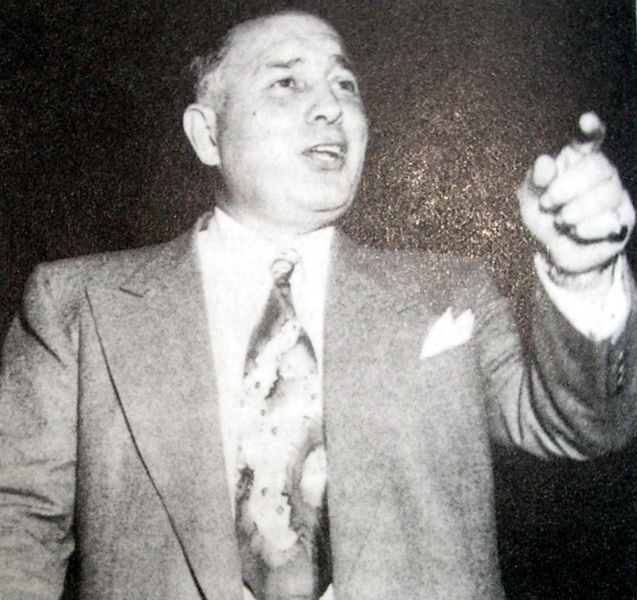 Although married, Moretti was known to have seen many cheap prostitutes, preferably, ethnic ones. Eventually, he contracted syphilis, which was said to have caused Moretti brain damage. Tellingly, it is believed that he placed bets on non-existent horses, told runaway stories that led nowhere and may have even let slip Syndicate secrets to the press. Along with other members of the Costello gang, Moretti was called to appear at the Kefauver hearings; however, of all the gangsters who showed up to testify, Moretti was the only one who cooperated with the committee. Moretti's cohorts repeatedly pleaded the Fifth Amendment, whereas he told jokes, talked candidly, and generally played it up for the cameras. In doing so, he was violating the Mafia code of silence, known as omertà.
Final years
In 1951, members of the National Crime Syndicate met to discuss Willie Moretti's loose tongue. While
Frank Costello
and
Joe Adonis
were strongly opposed to it, Vito Genovese and
Albert Anastasia
demanded Moretti be killed. On October 4, 1951, the latter two took matters into their own hands. Three of Anastasia's hitmen bought him lunch, then shot him repeatedly in the chest. He was 57 years old.
Frank Sinatra
was also allegedly personally linked to Willie Moretti. His first wife Nancy Barbato was a cousin of one of Moretti's senior henchmen and he sang at his daughter's wedding in 1948. According to testimony from Moretti, Sinatra received help from him in arranging performances in return for kick-backs. It is also rumored that Moretti got Sinatra out of his contract with Tommy Dorsey by threatening to kill Dorsey if he did not let Frank go. Sinatra found a paternalistic Mafia godfather in Willie Moretti.
In September 1951, Moretti had also become acquainted with Dean Martin and Jerry Lewis while they were performing at Ben Marden's Riviera nightclub in Fort Lee, New Jersey, where Moretti and
Longy Zwillman
kept an eye on things for Marten in the club's cardroom. Martin and Lewis did a command performance at the wedding of Moretti's daughter and were supposed to have lunch with him on the day of his death. Lewis had learned that morning he had the mumps and they had forgotten about their lunch engagement with Moretti. While trying to reach him to apologize and explain, they learned of his lunch-time murder from the television news (Lewis 2005).
In popular culture
In
A Man of Honor: The Autobiography of Joseph Bonanno
, Bonanno referred to Willie Moretti as Frank Costello's "strength", which would later be compared to the relationship between Mario Puzo's character Luca Brazi and Don Vito Corleone's "strength." in the Godfather saga.