Vito "Black Bill" Tocco, also referred to as "William Tocco", was one of the founding members of the Detroit Partnership and led the organization from the 1930's until his retirement in the late 1960's. He was the cousin of
Joseph Zerilli
and was related to New York boss
Joseph Profaci
by marriage.
Path to the top
Guglielmo Vito Tocco was born in Terrasini, Sicily, as one of 7 children. His family moved to America in 1910. After World War I broke out in Europe Tocco inlisted in the military and served during the war after becomming a naturalized American citizen. After the war Tocco went back to Detroit and joined the Giannola brothers together with his cousin
Giuseppe Zerilli
and the young and tough gunman
Angelo Meli
. After the Giannola's found themselves at war with
Giovanni Vitale
, violence lay around the corner.
Antonino Giannola
was murdered in 1919 and his brother
Salvatore
was also killed sometime later that year. In August 1920 Tocco and 7 others were arrested for the killing of Antonio Badalementi, a Vitale gangmember, but was acquitted 2 days later. Rival leader Giovanni Vitale was eventually murdered in October 1920. The killing was committed by the "Good Killers", a group of assassins hailing from Castellammare Del Golfo.
After the Giannola's were murdered Angelo Meli headed their organization which became known as the "Eastside mob". Both Zerilli and Tocco were then appointed as his top aides. Tocco also strenghtened his bounds to Zerilli by marrying his sister Rosalie in 1928. The couple bought land in Grosse Pointe Park and had 7 children. Here they lived in an Italian-styled villa which contained 6 bedrooms, 2 kitchens, a formal wine celar and even a library. Meli, Tocco and Zerilli kept on growing in Detroits underworld and aligned themselves with Salvatore Catalanotte, who dominated the Italian underworld in Detroit. During prohibition Catalanotte organized the "Pascuzzi Combine" to unite the gangs in Detroit and to keep the peace. Like many organizations the Meli gang also made massive profits from Prohibition and with that they bought the Pheiffer Brewing company which produced malt products in 1926. However, a couple of years later a federal injunction would order to close the company.
Aftermath of the LaMare murder
Although Salvatore Catalanotte had tried to keep the peace between Detroits gangs, his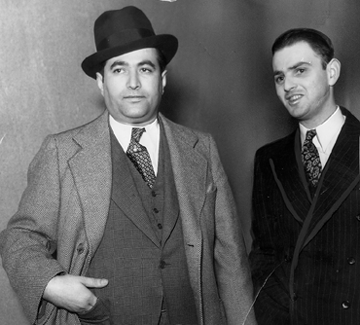 Picture from detnews
Vito Tocco and attorney in 1936
efforts soon vanished after his death in 1930. WestSide mobleader
Chester LaMare
was in for trouble after he had ordered the death of
Gaspar Milazzo
, who was appointed to mediate in a feud between Meli and LaMare. As a result they made a pact with LaMare's bodyguards who murdered him 8 months later. A couple of days after the murder the police arrested both Zerilli and Tocco. While searching their home they found no weapons and both men didn't resist against the arrest. After spending a night in jail they were released again due to lack of evidence. In August 1932 Tocco was arrested again for violations against the Prohibition law. In 1936 Tocco was brought back to court once more on a charge of tax evasion. The federal government counted his income at a total of $180.576, for which he payed less than $300 in taxes. Tocco was released again after paying a bond of $3.000. He was to set trial on January 27, 1937, but his recent operation made him to ill to appear before the court. He never had to return again in front of the court, but they did decide he had to pay up $25.000.
Hazel Park
Automobile dealer Waldo Andrews had set his eye on Hazel Park Stadium in 1948 and wanted to buy in for $40.000. For this he and his partners sought investors who turned out to be Vito Tocco and
Joseph Zerilli
. Together they formed a second operation called Hazel Park Racing Association. Both Hazel Park Stadium Company and Hazel Park Racing Association began as equal partners. Later they expanded their interest in the horse racing industry in June 1957 when they purchased Wheeling Downs Race Track in West Virginia. Waldo Andrews, the man who brought in Tocco and Zerilli was now operating as the vice president of Hazel Park Stadium Company and he and 2 of his partners gave themselves an annual salary increase of $3.000. This however was not authorized and all three of them had to pay up. Truman Hart decided to sell his shares in the project and was replaced by Jack Tocco, the oldest son of Vito. Waldo had his salary cut in and also sold his shares from the company. In 1963 Senate investigators found out that 63 thousand shares belonged to various Tocco family members while another 88 thousand shares were held by his relatives from the Corrado family.
Tocco's wealth also had various legal sources such as the Detroit Italian baking company, which he opened in the 1930's together with Zerilli, Lafayette Motors, an automobile company which sold Chryselers, The Melrose Linen Service, which opened it's doors in 1953, and others. Being one of the Detroit Mafia leaders he also maintained close relations with other families. His son Tony married the daughter of Joseph Profaci in 1952 and in 1953 his daughter married Calo Licata, a member of the Los Angeles Dragna Family.
Later years
In 1955 Tocco and Zerilli moved business to Arizona where they had purchased 2 ranches. By doing that they became the owners of the largest grape growing complex in Arizona. As he was aging Tocco's influence within the Partnership began to slow down. He reduced his participations in board meetings and began to let his oldest son Jack to take his place. During the mid 1960's he moved to Miami where he lived next to old friends such as Joe Bommarito and Joe Massei, a member of
Peter Licavoli's
gambling faction. On May 28, 1972, Vito Tocco died at a hospital in Michigan due to cancer and a bad heart. The funeral was held at the same church which had hosted the services of Sam Catalanotte 42 years earlier. He was buried in Mt. Carmel Cemetary in Detroit.
(Source: www.geocities.com, info.detnews.com, "Motor City" by Scott M. Burnstein)