Vito Rizzuto was the son of
Nicolo Rizzuto
and was the head of the Montreal Mafia.
Rizzuto Family
Vito was born on February 21, 1946, in Cattolica Eraclea. In 1954 his parents moved to Montreal and were soon accompanied by several Sicilian relatives. In 1972 he was charged for arson, which occurred 4 years earlier. Together with brother-in-law
Paolo Renda
he had set fire to Renda's own barbershop to get the insurance money. However, the building caught fire to early and both suffered burns on their body.
During the 1970's the Sicilian faction of Montreal's organized crime, headed by his father Nicolo, and the Calabrese faction began to form a threat to each other. Vito's father left Canada after he learned there was a price on his head and moved to Venezuela to live with a couple relatives who were heavily involved in the drugtrade. Vito in the meantime headed his fathers organization and controlled a large part of Montreal's vast drugbusiness. In 1978, backed by the New York Bonanno Family, the Rizzuto's got the upper hand by killing Calabrese leader
Paolo Violi
. After his death the Calabrese slowly vanished and the Sicilians proved to be superior. However, since the Bonanno's had given their "ok" for the Violi hit, the Rizzuto's owed them a favor.
In 1981 the Bonanno's eventually asked Vito Rizzuto to pay the price. Together with a couple of Bonanno henchmen he had to forge a plan to kill 3 revolting Bonanno capo's because they had tried to overthrow then boss
Phillip Rastelli
. Vito traveled to New York City where he became part of a hitsquad which killed Philip Giaccone,
Dominick Trinchera
and
Alphonse Indelicato
. A crime for which he only would stand trial for after more than 25 years.
Involvement with the Hells Angels
After Paolo Violi was murdered the Sicilians of Montreal became dominant in the million dollar drugbusiness. Their contacts stretched to Venezuela, where Vito's father Nicolo lived, and the United States. Living in New York was
Gerlando Sciascia
, a
Bonanno
member who was also born in Cattolica Eraclea and had close contacts with the Rizzuto's. The demand for heroin grew in years to come and soon they became short of men to keep on selling the drugs in the Montreal area. Therefore Rizzuto sought associates to help them on the street. He eventually found help from bikergangs who would act as drugdealers and bodyguards to the Rizzuto Family. By this the Sicilian mafiosi could keep a low profile without having to bust their $2000 suits. If there were any troubles they could always rely on the rough and violent behavior of the bikercrews.
Soon the Hells Angels took an interest in the drugbusiness and started to battle smaller bikergangs for territory. The Hells Angels were led by a man named Maurice Boucher who wasn't afraid to use violence on whomever stood in his way. In 1994 the Hells Angels and a rival bikergang named Rock Machine started a war which would last for about 8 years. Rizzuto in the meanwhile stayed on the background but did try to reason with Boucher, without success though. On the other hand, as long as the cooperation still managed to gain massive profits there was no need for peace. The "Quebec bikerwar", which would claim over 150 lives, came to an end in 2002 after several members from both sides were arrested and jailed, including Boucher.
Conviction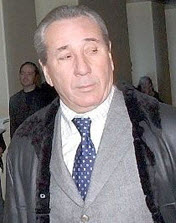 Vito Rizzuto
In 2004 Rizzuto was arrested and two years later he was extradited to the US. On May 25, 2007, he was sentenced to 10 years in prison, not due to his involvement in the narcotics trade, but for his part in a crime which occurred in 1981: the killing of the 3 renegade Bonanno capo's. Sentencing Rizzuto, the judge said: "Today marks the final chapter in the sad story of the execution of three people some 26 years ago in pursuit of power and money. It has been the subject of books, multiple prosecutions and at least one motion picture. Despite such efforts to glamorize these incidents, as the history of these events unfolded in this courthouse it is apparent to the court that such a sordid and cynical act deserves only our scorn and condemnation". His right-hand man
Francesco Arcadi
was believed to have been appointed acting boss during his absence.
The Rizzuto challenge
On December 27, 2009, Vito's oldest son Nick Jr. was shot to death in Montreal in broad daylight. Nick Jr. was believed of having partially taken over his fathers financial business ever since his incarceration, but was not believed to be the next in line to take over the family. Nick Jr's wake was held at a funeral home owned by his mother and was visited by hundreds of people. On the 20th of May brother-in-law
Paolo Renda
was kidnapped near his house, never to be seen again. On November 10, 2010, Vito faced another blow when his father was shot to death in his Montreal mansion. The killing of Nicolo Rizzuto may have been a message that the Rizzuto's were out of business. Other killings occurred leaving the Rizzuto family scattered and broken. Experts in the meanwhile figured that the aggression was not only coming from other gangs, but was in fact boiling within it's own ranks.
On October 5, 2012, Rizzuto was released from prison. The growing tensions were clearly noticed on the streets. Vito was going to struck back, and hard. One month after his release 70 year old Joseph Di Maulo was murdered in front of his house. Di Maulo was a longtime associate of the Rizzuto's but was believed to have turned against them. His brother-in-law
Raynald Dejardins
and others were believed to have formed a rival faction with support from Canadian 'Ndrangheta clans in Hamilton and Toronto. Shortly after the killing of Di Maulo another former associate, Emilio Cordileone, was shot while seated in his Range Rover SUV. Since his release up to 10 old associates have been killed, all of whom were suspected of betrayal. Although he had lost many of his men, things were slowly reforming in his favor.
On December 23, 2013, Rizzuto died unsuspectingly of complications of pneumonia. Prison had taken a big toll on his life and on his health as he also suffered from lung cancer. According to Pierre de Champlain, a former RCMP analyst, Vito Rizzuto was "consolidating his power with violence and it basically worked. There were still tensions, but Rizzuto was well on his way to assuming total control just months after his return". It is to be assumed that Rizzuto already had appointed a successor. Since Francesco Arcadi is behind bars, the probable candidate might be the elder
Domenico Manno
.
("Underworld: Montreal" National Geographic series; "The Sixth Family" by Adrian Humphreys; gangstersinc.tripod.com; ca.news.yahoo.com; cbc.ca, thestar.com, montrealgazette.com)