Vincent Angelo Meli was born in San Cataldo, Sicily in 1921 and moved to Detroit when he was 9 together with his parents. His uncle,
Angelo Meli
, was a high ranking member of the Detroit Outfit and helped his family out.
WOII Hero
While grewing up Vincent attended Howe Military school in Indiana. After that he continued to an ROTC program at Notre Dame University. Because of his capability of speaking Italian, French and English, Vincent asked for a replacement to intelligence. In 1943 he enlisted in the US military. During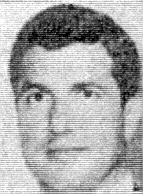 Vincent Meli
the 1940's, when WWII was raging on in Europe, Vincent made it to captain and became commanding officer of a 5 man unit called Team 26. This team was classified 'Overlord' for which only 143 men were passed and qualified, including Eisenhower, General Patton and General Bradley. He and his team were dropped by the 82nd Devision in Normandy, France, in 1944. Their assignment was to destroy a 204mm cannon which was capable of firing as far as England. They destroyed one in Ad Hoc and another in St. Lo (Both are locations in Normandy, France). This is were Vincent recieved his first Purple Heart (this is a medal soldiers recieve after being wounded or killed).
His second Purple Heart was granted to him after he survived a hand-to-hand combat in Namur, Belgium, during the battle of the Bulge. He also helped liberate a concentrationcamp called Buchenwald in Germany on april 1, 1945. For all his efforts in the war Vincent recieved a presidential medal from president Harry Truman.
Detroit Outfit
When Vincent returned home after the war, he married a woman named Grace Mercurio with who'm he had 6 children. Together with his father, who's name was Frank, he owned the now-defunct 'Meltone music' and 'White Music Jukebox' companies in Detroit. During the 1960's Vincent became a capo in the Detroit Outfit, which was ones controlled by his uncle. In 1969 his uncle
Angelo Meli
died but not before he left his business to his nephew Vincent. Vincent became heavily involved in labor racketeering and was a partner of Teamsters president
Jimmy Hoffa
. In 1984 Vincent was arrested for extortion and was sentenced to 3 years in prison. After that he was conscidered to be a high ranking member of the Detroit Mafia by US officials, but his exact position remains a bit unclear. He died on January 7, 2008, due to bone cancer in St. John Macomb hospital in Oakland. He was 87 years old.
(Source: Mafia-News.com, hbo.com/war_stories)