Vincent "Chin" Gigante was the boss of the Genovese family from the mid 1980's until his passing in 2005. He was a pupil of Vito Genovese and was instrumental in his rise to power. During his last few years he was also referred to as the "Oddfather" because of his strange behavior and mental condition.
Early life and boxing career
Gigante was born in the Lower Eastside as son to Esposito Gigante, a watchmaker, and Yolanda Scotta. Both originated from Naples. He had 4 brothers. One of them being Mario, who was born in 1923, and would also join the Mafia. During his teens Gigante was arrested a couple of times for small scale crimes such as theft and gambling, until he started focusing on a career as a light heavyweight boxer. He showed talent and was managed by an affiliate of the Genovese family. He ended up boxing 25 professional matches, winning 21 of them. At the time he frequently sparred with
Dominick Cirillo
, who would also become a leading member of the Genovese family.
Because of his abilities as a boxer he became an enforcer for a Mafia crew in Greenwich Village, which was then being led by
Vito Genovese
and
Tony Strollo
. Gigante looked up to Genovese, who had already made a strong and present name for himself in the city. Genovese took him in as one of his proteges.
Attempted murder and uprising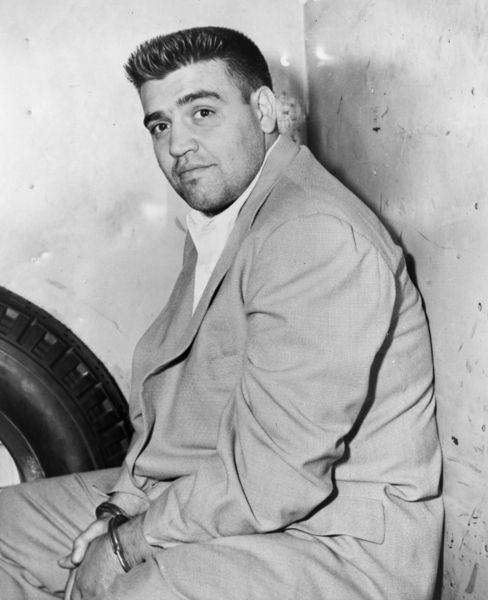 Vincent Gigante in 1957
In order to become a made man and proof his loyalty towards Genovese, Gigante was asked murder none less than
Frank Costello
, the current head of the family, which was then still known as the Luciano family. Gigante agreed and on may 2, 1957, he took aim and shot at Costello while he was leaving the lobby of an apartment in Central Park West. The bullet didn't miss, but because Costello had turned his head it only caused a minor grazing injury. The hit was the result of an increasing discontent about Costello's leadership and Genovese claiming the throne. Although Costello survived it did cause him to step down. Gigante was arrested for the shooting, but was acquitted of the crime. He was now instrumental in leading Genovese to the highest rank of the organization for which he was rewarded.
In 1959 Gigante however was arrested during a large scale anti-drugs operation by law enforcements alongside Genovese and several other members of the New York Mafia. He was sentenced to 7 years, but got out after serving only 5. Since his release he fell under the wing of replacing head
Philip Lombardo
and was appointed as a capo with an own crew to run. His close relation with fellow capo's such as
Louis Manna
and
Venero Mangano
granted him backings and respect.
Becomming boss
Shortly before Lombardo passed away in 1981, he made
Tony Salerno
front boss while he told Gigante it was him he wanted to become the new official head. Salerno, although being high ranked and influential, was only a mere decoy. A couple of years later, after Salerno was locked away in prison, Genovese member Vincent Cafaro revealed that Gigante had been the boss all along. At first the FBI didn't believe his story, since Gigante had been seen on several occasions wandering around in the streets in his pajamas and acting odd. To the outside world it seemed as if he had lost it. Doctors had also diagnosed him with schizophrenia and psychosis.
The FBI regarded Gigante as a nutjob, but nonetheless arrested and charged him in 1990 on charges of racketeering and murder. It lasted another 7 years before he was actually brought to trial though. Throughout those 7 years, Gigante's lawyers produced witness after witness who testified that Gigante was mentally ill and was unfit to stand trial. However, all this suddenly changed when a number of prominent Mafia members became government witnesses and told the truth. Amongst them was
Salvatore Gravano
, the former underboss of the Gambino family. He testified that on two occasions when they met, Gigante was perfectly lucid and clear in his thinking. Other important turncoats were
Phil Leonetti
of the Scarfo family and Anthony Casso, the former underboss of the Lucchese family, who had implicated Gigante in enlisting Casso and other members of the Lucchese family to kill
John Gotti
, Frank DeCicco and
Gene Gotti
, whith who'm he had an extensive rivalry since the unauthorized slaying of
Paul Castellano
.
Gigante was also said to have introduced a new inner structure to control the Genovese family. As official boss he would pass orders through a so called Messenger, who passed it to the streetboss who gave it to the capo's. There were so many buffers in order for him to never be directly involved. This was Gigante's way of keeping a low profile and making sure no one knew who he was.
Imprisonment and death

Gigante was ultimately convicted on several racketeering charges in the summer of 1997 and sentenced to 12 years in federal prison. Despite his lawyers' and psychiatrists' claims that he has been legally insane for more than 30 years, and thus incapable of running a large and sophisticated organized crime operation, the jury convicted him on all but the most serious charges of murder which would have mandated a life sentence without the possibility of parole. Gigante continued to run the crime family from his cell, the administration was organized with a Ruling Committee. By that time his two sons had also joined the organization.
As part of a plea bargain in an obstruction of justice trial stemming from his efforts to delay his racketeering trial, on April 7, 2003, Gigante admitted in court that his insanity was an act. He received a sentence of three years to be served after his current sentence was completed. He was due for release in 2010.
Gigante died on December 19, 2005 from complications of heart disease at the same federal prison hospital in Springfield, Missouri, where
John Gotti
died three years earlier.