Antonino Leonardo Accardo, aka "Joe Batters" and "Big Tuna" , was the boss of
the Chicago Outfit
from about 1945 until shortly before he died of natural causes on May 22nd, 1992. By keeping a low profile and allowing flashier figures such as
Sam Giancana
to attract attention he remained virtually unknown to the general public during his years as boss.
Paul Ricca
once said that Accardo "had more brains before breakfast than Capone had all day." Accardo is credited by many as the best boss the Chicago Outfit ever had.
Early life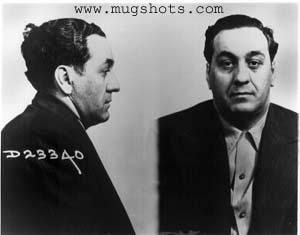 Tony Accardo was born in the Near West Side, Chicago, as the son of a Sicilian shoemaker. One year prior to his birth, the Accardos had emigrated to America from Castelvetrano, Sicily. After being removed from school at the age of fourteen, he took to loitering around neighborhood pool halls before joining the Circus Cafe Gang. The gang, named after a North Avenue saloon, was headed by a man called Claude Maddox (1897-1968) and was the only North-Side gang which allied itself with
Al Capone
and
Johnny Torrio
. During the late 1920's Accardo performed various tasks for the Capone mob and was shortly thereafter recruited into an Outfit crew captained by
Jack McGurn
.
Rising Star on the Streets
Years later, he boasted over Federal wiretaps that he had been one of the triggermen in 1929 St. Valentine's Day Massacre and the 1928 murder of
Frankie Yale
in Brooklyn, New York. Most possible Accardo was not in the garage during the gangland slaying in 1929 of North Side enemies. It is possible he had a hand in the planning and may have been on the lookout during the killings. During this period Accardo became Capone's bodyguard and special enforcer. When Capone moved his business to the Lexington Hotel, Accardo would sit in the lobby with a fully loaded Thompson machine gun to protect 'the big man'. When Al Capone learned about a plot against him by 2 of Chicago's most feared hit men,
Albert Anselmi
and
John Scalise
, he reputidly killed them with a baseball bat and later dumped them near a lonely road in Indiana. It is also possible they didn't die by Capone's hands, but by Accardo's. Conscidering they started to call him Tony 'Batters', refering to his baseball skills... He was later dubbed 'Big Tuna' by the Chicago press.
Rise to leadership
In 1931 Capone was succeeded by
Frank Nitti
after he was jailed for tax evasion, and Accardo was allowed to build a crew of his own. However, some believe Nitti never was boss but just acted as a front boss for
Paul Ricca
. The Accardo crew would include future heavyweights such as
Gus Alex
and
Joey Aiuppa
, another future boss of the Chicago Outfit. During this period Accordo proved himself worthy of membership and was a good earner. In 1943 Chicago front boss Frank Nitti committed suicide after a meeting with Paul Ricca and other members at his house. Accardo was appointed as Ricca's second in command. Accardo again proved his loyalty when he handled the organisation during the time Ricca was jailed. He was handed a rich plum for his abiding loyalty when Ricca got out: he was put in complete control of wire operations and betting parlors from northwest Indiana to the northern suburbs of Chicago. After Ricca managed to get out of prison thanks to his high profile connections in 1945, he wasn't allowed anymore to be in the company of mobsters. However, Ricca remained a advisor to the organisatoin but Accardo was now in the position of boss.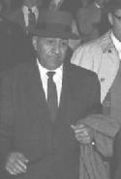 In 1957
Paul Ricca
descided Accardo had to take a step backwards for
Salvatore 'Momo' Giancana
, who was at first conscidered to work on a low-profile. Accardo went back to the background as the families consiglière. But Giancana wasn't that low-profile, he dated Phillis McGuire, one of the singers of the succesfull McGuire sisters and was befriended with Frank Sinatra and other Hollywood bigshots. Giancana was also one of the suspects in the still widely discussed murder of US president J.F. Kennedy and his brother Bobby Kennedy. Accardo probably also knew about this and also may had a hand in the killings there he still was consiglière. In 1966 Giancana's reign came to an end, probably due to his high-profile friends which caused much attention to the Outfit and because he didn't wanted to share his profits of his casino's in Central America. Giancana left Chicago and went to Mexico, where he would life for 7 years. During Giancana's abscense, Accardo took back control with
Joey Aiuppa
as his second in command. Accardo thought it would be better for him to move out of his big estate to a more 'modest' 18-room house in Ashland Avenue. In 1977, six burglars, not knowing who was living there, broke into the house of Accardo to steal jewelry and cash. A year later the burglars were stalked and eventually all murdered and mutilated by members of the Outfit. They got into trouble with a man they should had left alone.
Marriage and Family
In 1934, he met and later married Clarice Pordzany, a Polish-American chorus girl. Their marriage would be a strong one, producing four children. Unlike the majority of his colleagues, Accardo was never known to have been unfaithful to his wife. Accardo's niece Sheilla Simonelli was busted trying to sell $23,5 million in stolen security's somewhere in the 1980's. Sheilla is the daughter of his sister, Marie.
Tony Accardo died in 1992 of congestive heart failure and cancer at the age of 86. He is buried in Queen on Heaven Cemetery in Hillside, Illinois. At the time of his death, almost all of his closest friends and colleagues were dead or in Federal prison. In addition, the Chicago Outfit had degenerated into an absurd parody of the organization which he had once led. Accardo was one of the last men who lived through the fabled prohibition era and was one of the last links to
Al Capone
.