Thomas "Tommy Ryan" Eboli (born Tommaso Eboli) was the boss of
the Genovese crime family
from 1969–1972 .
Early life and prison term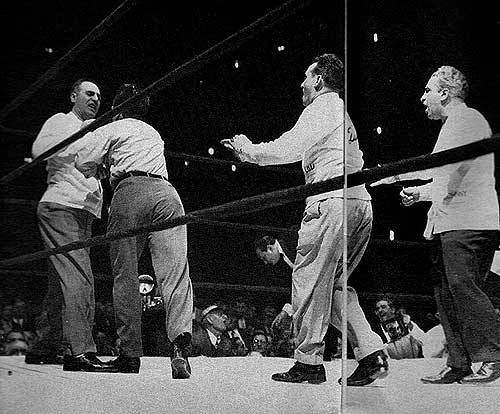 Tommy Eboli in a brawl during a boxing match.
Picture from cernak.sk
Most of Eboli's child life is uncertain, although it is known he was born in Italy. His arrest records go back to 1933 with about 6 cases of gambling and disordely conduct. In his whole life he only spent 60 days in prison for assaulting a boxing referee. The referee, Ray Miller, gave what Eboli thought was a bad call, giving Ernie Durando the victory over Rocky Castellani, who was managed by Eboli. Eboli's subsequent outbreak caused him to be banned from boxing activities.
Rise to power
In order for a mafioso to gain power in the most expeditous way, their superiors must go. The way most go is either death or prison, and sometimes (but very rarely) the members have the option of retiring. Most retire because they are on the run from law enforcement or they are tired of the life of crime; most retire once they start angering members of their family or other families and fear death. This is how Eboli became boss. First,
Joe Masseria
was killed on the orders of
Charles Luciano
, then when Luciano was boss he was forced to take refuge in Italy due to law enforcement trouble. Next
Frank Costello
was run out of the boss position by
Vito Genovese
, and what would make Eboli boss was that Genovese was set up for a drug bust and would die in prison. Now Thomas Eboli was the boss of what some call the most powerful family mostly because they had a boss like Luciano. His power as the acting boss would last for a little less than a decade.
Business interests
His interests included restaurants and vending machines, all within Greenwich Village. Businesses in Midtown and Lower Manhattan were nightclubs targeted for the gay community. Other sources of income were bookmaking, which was said to make $20,000 as well as a partner in the Promo Record Company. Once
Lucky Luciano
was deported, couriers were needed to make sure Luciano received what he needed. Most of what was brought was money and information on what was going on back in New York; sometimes Eboli made these trips with his brother Pasquale. Luciano was not terribly fond of Thomas, mostly because of his friendship with
Vito Genovese
; however, Luciano had no problem with his brother. In 1956, when
Frank Costello
wanted to retire, that news was brought to Luciano to approve. He approved and so did the commission, but Genovese wanted to kill him because he wanted him out of organized crime for good.
Vincent "Chin" Gigante
, who later would become a Genovese boss, was the man to carry out the hit on Costello. When Costello was in his lobby Gigante shot him, the bullet skimmed the side of his face, only injuring him.
Downfall
Eboli was only the official boss for three years, because Genovese ran the family for ten years while he was in prison from 1959 until his death in 1969. Many mafia experts think he wasn't ready for such a big role in the family; however, any potential adversaries with the requisite experience were either in prison or too old to be the boss. Financial trouble would ultimately be responsible for bringing Eboli to ruin. In early 1972, Eboli got wound up in a $4 million drug deal -- he borrowed money from
Carlo Gambino
because he could not raise it all himself. Louis Cirillo, Eboli's partner, was caught with the drugs by the police, sentenced to 25 years and the drugs and money taken. When Gambino told Eboli to repay him he refused; this would prove to be a very unintelligent reply. Some believe Gambino wanted this to happen so one of his close friends
Frank Tieri
could become boss, but that is uncertain. On July 16, 1972, around 1:00 a.m. Eboli was leaving the apartment of a girlfriend. Just as he reached his car he was shot five times, ending his life. No one would ever be arrested for the murder of Thomas "Tommy Ryan" Eboli.
Eboli was buried at George Washington Memorial Park in Paramus, New Jersey.