Tino "Shark Eyes" Fiumara was a capo in the
Genovese family
and controlled all of the families New Jersey rackets. He was rumored to become the next head of the family but died before he could reach that position.
Rise inside the family
Tino Fiumara, also nicknamed "T" and "The Greek", was born in New York in 1941 to Italian immigrants. He had one brother, John. He became known for his quick temper and was feared by many. During his career he was linked to several murders, including one in which a victim was strangled with a piano wire and another where he killed the father of his godson. In the 1960's Fiumara started working for
Ruggiero Boiardo
, a high leveled Genovese member who was head of the New Jersey faction of the family. Later Fiumara became the waterfront leader of Newark, paying off union leaders and extorting shipping companies.
Conviction and parole violations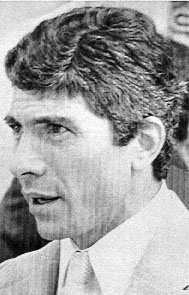 Tino Fiumara in 1979.
In 1979 Fiumara and associate Michael Clemente were sentenced to 20 years for extorting a Parsippany restaurateur for $4.800. The demanded bail was refused after investigators linked him to the 1969 murder of a nightclub owner and bookmaker in Paterson. In 1983 investigators linked him to another 3 murders, including the 1967 murders of 2 brothers of associate Vinny Colluci.
Fiumara was out on parole in February 1994 and returned to New Jersey where he took over from
Bobby Manna
, who was locked up since a couple of years. However, in 1999 Fiumara was back behind bars for violating his parole. He was caught on tape speaking to Michael Coppola, who was a fugitive at the time. He was set for release in 2002 but before he got a chance he was indicted again for helping Coppola avoiding prosecution. He was eventually released in January 2005. Later that year Fiumara was believed to have ordered the murder of Lawrence Ricci, who was found death in the trunk of his car outside a NJ diner. Ricci was killed during his federal fraud trial. Investigators believed he was murdered because he refused to accept a plea agreement in the case, angering his superiors.
Would be boss
When Genovese boss
Vincent Gigante
died in 2005 Fiumara was one of the men ruling the organization, next to consigliere
Domenick Cerillo
and acting boss
Daniel Leo
. After Leo's arrest and conviction in 2007 it is however unclear how long he remained the acting boss. On September 16, 2010, Tino Fiumara, died from a fast-moving cancer. Due to his illness and eventuall death he never made it as the new boss of the family.
(Source: www.nytimes.com, www.huffingtonpost.com, af11.wordpress.com, "Body Found in Car Is Said to Be Mob Figure's" NYtimes December 1, 2005; "Covert: My Years Infiltrating the Mob" by Bob Delaney)