Gaetano "Tommy" Lucchese (Some sources write it as 'Luchese', his tombstone says 'Luckese') was the boss of
the Lucchese crime family
from 1951 - 1967 and bares his name. The family is one of the five Mafia families ruling the New York underground. He was popular and well-liked among his men, and known to value their welfare highly. Lucchese also enjoyed close relations with mayors and other politicians, including Mayor William O'Dwyer and Mayor Vincent Impellitteri. He ultimately became one of the most well-respected Mafia bosses of the era. Tommy Lucchese was five-foot-two with a slight build, but any idea that this may make him less of a threat was quickly dispelled by his ruthless use of extreme violence.
Early life & Prohibition
Lucchese was born in Palermo, Sicily, and moved to the United States some time during the first decade of the 20th century. He lost a finger following an industrial accident in 1915, which earned him the nickname "Three-Finger Brown" (after a popular baseball player at the time, Mordecai Brown (1876 - 1948)). Lucchese started his own window cleaning company when he was 18, which eventually became an extortion racket. As a young man he racked up a long list of arrests including some for homicide, but he managed to avoid conviction in every case, but for a single grand larceny charge in the early 1920s.
The Castellammarese War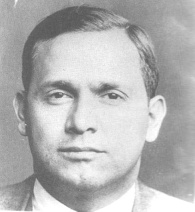 In 1930,
the Castellammarese War
was being fought between two rival crime bosses,
Giuseppe Masseria
and
Salvatore Maranzano
. Lucchese began the war as the right-hand man of
Gaetano "Tom" Reina
, the head of which was at that time a branch of Masseria's organisation but would ultimately become the Lucchese crime family. Reina was killed in February 1930 by
Vito Genovese
, the future head of
the Genovese crime family
, and was replaced in the Masseria organisation by
Joseph Pinzolo
. Lucchese resented Pinzolo from the outset as he had been brought in as an outsider by Masseria. Lucchese's ill will towards Pinzolo ultimately led to the former murdering the latter (though others have been suggested as suspects) - luckily for Lucchese, Masseria attributed the killing to Maranzano.
Though events had not yet been fully played out,
Charles "Lucky" Luciano
would ultimately come out on top at the end of the Castellammarese War having played both sides superbly and ultimately had both Masseria, his own boss, and Maranzano killed. Tommy Lucchese, along with
Gaetano "Tommy" Gagliano
, had been convinced by Luciano to switch from the Masseria camp to Maranzano's, but without telling their current employer. Maranzano thought he now had two spies in the opposing camp - in fact, Luciano was the man who could now claim the two Tommys' loyalty. Lucchese became one of Luciano's favoured hitmen, and is alleged to have been involved in at least 30 murders.
Head of the Lucchese Crime Family
When the war was finally brought to a bloody end with the murder of Maranzano on September 10, 1931, Tommy Gagliano became boss of Reina's gang, with Tommy Lucchese as his underboss. Gagliano remained boss until his death by natural causes in 1953. Having served for 22 years as the loyal underboss to Gagliano, Lucchese finally took control of the organization himself. Concentrating on the core Mafia values of making money and not getting caught, Lucchese took the family into new rackets in Manhattan's garment district and in the related trucking industry, taking control of key union officials and trade associations.
Later Years
Lucchese led a quiet, stable life until he developed a fatal brain tumour and died at his home in Lido Beach, L.I. on July 13, 1967. His funeral at the Calvary Cemetery in Queens, New York, was attended by over 1,000 mourners, including politicians, judges, policemen, racketeers, drug pushers, pimps, and hitmen. He was succeeded as boss by
Carmine Tramunti
, and subsequently
Antonio "Tony Ducks" Corallo
.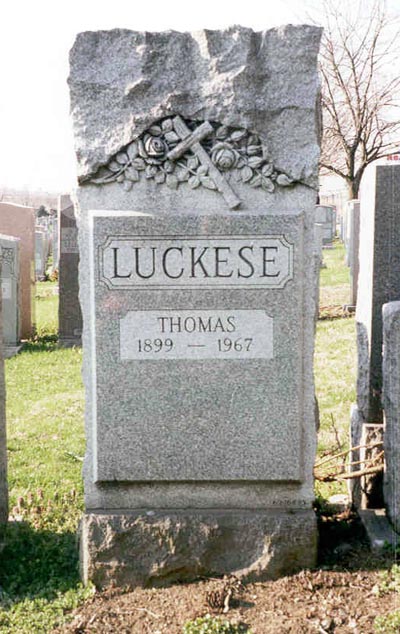 In popular culture
He was portrayed by Jon Polito (Millers Crossing, Highlander, The Big Lebowski, ...) in the 1981 television mini series The Gangster Chronicles (later released as Gangster Wars that same year).