Thomas Edmund Dewey was the Governor of New York (1943-1954) and the unsuccessful Republican candidate for the U.S. Presidency in 1944 and 1948. As a leader of the liberal faction of the Republican party he fought the conservative faction led by Senator Robert A. Taft, and played a major role in nominating Dwight D. Eisenhower for the presidency in 1952. He represented the Northeastern business and professional community that accepted most of the New Deal after 1944. His successor as leader of the liberal Republicans was Nelson A. Rockefeller, who became governor of New York in 1959.
Early Life and Career
Dewey was born and raised in Owosso, Michigan, where his father edited the local newspaper. He was graduated from the University of Michigan in 1923, and from the Columbia Law School in 1925. While at the University of Michigan, he joined Phi Mu Alpha Sinfonia, a national fraternity for men of music. He also wrote for The Michigan Daily, the university's student newspaper club.
During the 1930s, Dewey was a New York City prosecutor. He first achieved headlines in the early 1930s, when he prosecuted bootlegger Waxey Gordon while serving as Chief Assistant U.S. Attorney for the Southern District of New York. Additionally, he relentlessly pursued gangster
Dutch Schultz
, both as a federal and state prosecutor. Schultz's first trial ended in a deadlock; prior to his second trial, Schultz had the venue moved to Syracuse, then moved there and garnered the sympathy of the townspeople so that when it came time for his trial, the jury found him innocent, liking him too much to convict him. Following that trial, Dewey and Fiorello H. LaGuardia found grounds with which to try Schultz a third time, driving Schultz into hiding in Newark, New Jersey. There, Schultz put into action a plan to assassinate Dewey. Crime boss
Lucky Luciano
, fearing that if Dewey was murdered, the FBI and federal government would wage all out war on the Mafia, ordered that Schultz be killed before he had the chance to finalize his plans. Luciano's plan went accordingly, and before Schultz could finish organizing his plot to kill Dewey, Schultz was shot to death in the bathroom of a Newark Bar. Shortly thereafter, Dewey focused his attentions on Luciano, and had him convicted of being a pimp.
In 1936, while serving as special prosecutor in New York County, Dewey helped indict and convict Richard Whitney, the former president of the New York Stock Exchange. That year, Mr. Dewey received The Hundred Year Association of New York's Gold Medal Award "in recognition of outstanding contributions to the City of New York." In 1939 Dewey prosecuted American Nazi leader Fritz Kuhn for embezzlement, crippling Kuhn's organization. Dewey was elected District Attorney of New York County (Manhattan) in 1937.
Governorship of New York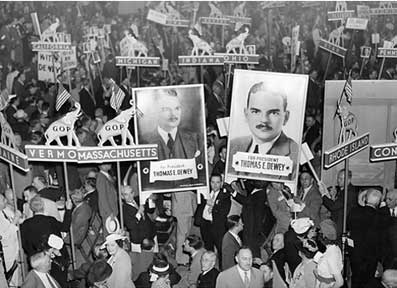 In 1938, at age 36, Dewey ran unsuccessfully for Governor of New York on his record as a criminal prosecutor. While defeated, Dewey's strong showing against popular incumbent Governor Herbert Lehman, FDR's successor, brought him political attention. He won his second race in 1942, and was reelected in 1946 and 1950.
He was regarded as an honest and efficient governor. He cut taxes, doubled state aid to education, increased salaries for state employees, and reduced the state's debt by over $100 million. Additionally, he put through the first state law in the country which prohibited racial discrimination in employment. As governor, Dewey also signed legislation that created the State University of New York. He also strongly supported the death penalty. During his 12 years as Governor over 90 people were electrocuted (including two women) under New York authority.
Presidential candidacies

Dewey ran for the 1940 Republican nomination, but lost to Wendell Willkie, who went on to lose to Franklin Delano Roosevelt in the general election. At the time Dewey was considered an isolationist, like Willkie's other rivals, Senators Robert Taft and Arthur Vandenberg. Dewey's position evolved during the 1940s; he was generally considered an internationalist and classed with the moderates in later years.
Election of 1944
Dewey won the Republican nomination in 1944 but was defeated in the election by Franklin Delano Roosevelt, the incumbent. Alice Roosevelt Longworth, a socialite well known for her wit, called Dewey, alluding to his pencil-thin moustache, "the little man on the wedding cake," a bit of ridicule he could not shake. Dewey campaigned against the alleged inefficiencies, corrupution and Communist influences in New Deal, but avoided military and foreign policy debates.
Election of 1948
He was the Republican candidate in the 1948 presidential election in which, in unanimous predictions by pollsters and the press, he was projected as the winner. The Chicago Daily Tribune printed "DEWEY DEFEATS TRUMAN" as its post-election headline, issuing a few hundred copies before the returns showed conclusively that the winner was Harry S. Truman, the incumbent.
Indeed, given Truman's sinking popularity, Dewey had seemed unstoppable. Republicans figured that all they had to do was to avoid destroying a certain election victory, and as such, Dewey did not take any risks. He spoke in platitudes, trying to transcend politics. Speech after speech was filled with empty statements of the obvious, such as the famous quote: "Your future is bright, very bright indeed, brighter than a bald man's dome." An editorial in the Louisville Courier-Journal summed it up:
No presidential candidate in the future will be so inept that four of his major speeches can be boiled down to these historic four sentences: Agriculture is important. Our rivers are full of fish. You cannot have freedom without liberty. Our future lies ahead. It was believed that Dewey's poor showing in 1944 was partly due to being too aggressive, a fault which his campaign aimed to avoid this time.
Dewey was not as conservative as the Republican Congress, which also proved problematic for him. Truman tied Dewey to the "do-nothing" Congress. However, unlike Robert Taft, a powerful Senator from Ohio and rival for
Later career
Dewey did not run for president in 1952 and instead helped Dwight Eisenhower win the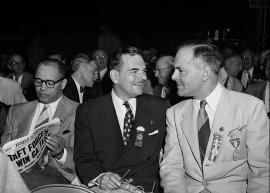 Republican Party's presidential nomination and the subsequent election. Dewey's third term as governor of New York expired in 1954, after which he retired from public service and returned to his law practice, Dewey-Balentine, although he remained a power broker behind the scenes in the Republican Party. It was Dewey who helped elevate a freshman Senator from California named Richard Nixon to the vice-presidency in 1952, having helped convince Eisenhower that Nixon would be the best choice as his running mate. In 1956, when Eisenhower mulled not running for a second term, he suggested Dewey as his choice as successor, but party leaders made it plain that they would not entrust the nomination to Dewey yet again, and ultimately Eisenhower decided to run again.
By the 1960s, as the conservative wing assumed more and more power within the GOP, Dewey removed himself further and further from party matters. Lyndon Johnson had offered Dewey positions on several blue ribbon commissions, as well as a seat on the U.S. Supreme Court, but Dewey politely declined them all, preferring to remain in political retirement. In 1970, widower Dewey began to date actress Kitty Carlisle Hart, and there was talk of marriage between them. However, he died suddenly of a heart attack, aged 68, on March 16, 1971 while vacationing in Florida.
Trivia
He was the first presidential candidate born in the twentieth century.
The house that Thomas Dewey was born in is now the site of a Tim Horton's doughnut shop.
Al Taliaferro, the Disney comic strip artist and creator of the Huey, Dewey and Louie ducklings, named Dewey after Thomas Dewey.
In 1964, the New York State Legislature officially renamed the New York State Thruway in honor of Dewey. The official designation is, however, rarely used in reference to the road, and the naming was opposed by many Italian Americans, who are a relatively large and important demographic presence in the state. However, signs on Interstate 95 from the end of the Bruckner Expressway in the Bronx to the Connecticut state line (and vice-versa) designate the Thruway as being the Governor Thomas E. Dewey Thruway.
In 2005, the New York City Bar Association named an award after Dewey. The Thomas E. Dewey Medal, sponsored by the law firm of Dewey Ballantine LLP, is awarded annually to one outstanding Assistant District Attorney in each of New York City's five counties (New York, Kings, Queens, Bronx, and Richmond). The Medal was first awarded on November 29, 2005.