The Shapiro Brothers
Meyer Shapiro (1908 - September 17, 1931), shown on the picture above
Irving Shapiro (1904 - July 11, 1931)
William Shapiro (1911 - July 20, 1934)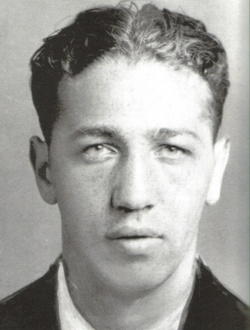 The Shapiro Brothers were a group of New York independent labor racketeers based in Williamsburg who controlled bootlegging, extortion, illegal gambling and prostitution in New York's East Side during the 1920s and 30s. During the 1920's viscious killers
Abe Reles
and
Martin Goldstein
, as teenagers, went to work for the Shapiro Brothers, which would eventually be their downfall.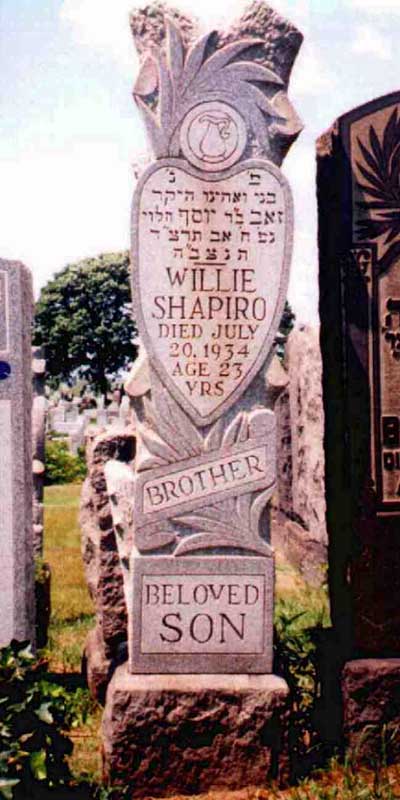 Well established in the local garment industry, long dominated by
Jacob "Gurrah" Shapiro
(was not one of the brothers) and
Louis "Lepke" Buchalter
since the 1927 death of
Jacob "Little Augie" Orgen
, the two began to move against them in the summer of 1931. During this period Reles and Goldstein were under the wing of Buchalter and therefore were on The Shapiro's hitlist. On such occasion Reles, Goldstein and an accomplice were ambushed by the Shapiro brothers but got away injured. Sometime later Meyer Shapiro abducted Reles' girlfriend and took her to an open field were he beat her and raped her. This act angered Reles massivly and the Shapiro's fate was sealed. Iring and Meyer Shapiro were killed by Joseph and
Louis Amberg
; as Irving was gunned down near his apartment on July 11 and Meyer who was found shot to death in the basement of a tenement building on Manhattan's Lower East Side on September 17, 1931. (It is also argued that Reles was the murderer of both men out of revenge for his girlfriend. Nomather what, the Shapiro brothers were killed in order of Murder, Inc.) The following year, on orders from Buchalter, William Shapiro was finally killed by Murder Inc. members
Martin "Bugsy" Goldstein
and
Abe "Kid Twist" Reles
, supposedly being buried alive in a sandpit in the marshland of Canarsie by Reles and the Amberg brothers on the night of July 20, 1934.
Reles would implicate Buchalter in the murders during talks with District Attorney William O'Dwyer (who was also Mayor of NYC from 1946 to 1950) after agreeing to become a government informant in 1941. His later testimony would result in the conviction of Buchalter and the rest of Murder Inc., who were all eventually sentenced to death. Jacob Shapiro was sentenced to 15 years to life on May 5, 1944. Months earlier, when Buchalter was himself on trial for his activities with Murder, Inc. a note from Shapiro was supposedly smuggled to Buchalter stating simply "I told you so", because when
Dutch Schultz
asked for the murder of prosecutor
Thomas E. Dewey
it was denied, leading to the imprisoning of many mobsters.