Salvatore "Sammy the Bull" Gravano was the underboss of
the Gambino crime family
in the 1980s under
John Gotti
. Originally a soldier for the Brooklyn sector of the Gambinos, he was contacted by John Gotti once the plan to murder
Paul Castellano
was contrived. Gravano would play a key role in Gotti's bid to murder Castellano and become the new Gambino boss. Weighing his options, and seeing there was "something in it for him", he teamed with Gotti to kill Castellano in 1985. This dramatic murder would elevate Gravano's position in the family to consigliere, and later, underboss under the new Don, John Gotti. He is also known as "The King Rat" because of his testimony against John Gotti.
Childhood
Born in 1945 in Brooklyn, New York to Gerardo and Katarina Gravano, Salvatore was a small and dyslexic youngster, who was frequently mocked and teased by his peers. He was left behind on two occasions in school. Due to his dyslexia, he could not recognize numbers or letters. He began stealing when he was only 7 or 8 and would take two cupcakes from a corner store, in Bensonhurst every day on his way to school.
His father had a well-paying occupation. He ran a small dress-factory and could sustain a good standard of living for Salvatore. Sal sobbed when he was caught stealing from his corner shop at the age of 8 and was let off with a firm warning by the shop-keeper. He had little physical presence and asserted his power through violence as he grew up. His father tried all possible methods of discipline and even forced Salvatore to attend a local church, yet Salvatore remained incorrigible. He served a term in the US Army during the 1960s.
First Murder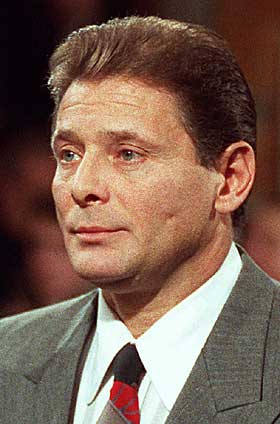 Sammy Gravano
He first became associated with the Mafia in 1968 through Thomas Spero, whose uncle was an associate of
the Colombo crime family
. Gravano was involved in petty crimes, as he almost always had been, such as larceny, hijacking, extortion and armed robbery. Gravano took up boxing. In 1970, he reached the landmark in any mafia associate's career, his first 'hit contract' from his boss, Thomas Spero's uncle in this case. Gravano was ordered to kill Colombo wiseguy Joe Colucci, whose wife Spero had wanted to have. Gravano shot the man twice in the head. Gravano would then become a father figure to Colucci's son Jack Colucci, who would become a mob connected building contractor and Gambino associate. He became recognized and when he first met
Carmine Persico
, a Colombo family Capo, he spoke frankly and didn't flinch. After a fallout with the Speros, Persico released Gravano to the Gambino crime family.
Gravano became a close associate of Gambinos Frank DeCicco, Robert DiBernardo, Liborio Milito, James Failla, and
Paul Castellano
, who would become boss after
Carlo Gambino's
death. Sometime in the late 1970s, Gravano was inducted into the Gambinos and was officially placed in the crew of Toddo Aurello, who supervised the Gambino family's control over Teamsters Local 282, which had jurisdiction over building materials to all NYC construction sites and could effectively shut down the city's construction industry. Gravano had tremendous clout in the construction and trucking industries, and had become a multi-millionaire soldier in the family, which allowed him to build a mansion in New Jersey. Gravano would eventually become close to
John Gotti
, a Queens based Gambino captain who was a protege of underboss
Aniello Dellacroce
, and who had despised Paul Castellano. Gotti had reached out to Gravano, Frank DeCicco, Joseph Armone, and Frank LoCascio, forming the Fist of Five, which plotted the murder of their boss. On December 16, 1985, Paul Castellano and Thomas Bilotti were gunned down in midtown Manhattan outside of Sparks Steakhouse, while Gotti and Gravano watched from across the street.
Gotti was installed as the new boss of the family, and Gravano's importance quickly rose. Gotti named DeCicco his underboss, but just months after Castellano's murder, DeCicco was killed in a carbomb attack outside of Castellano's former social club, which was then operated by captain James Failla. Frank LoCascio became the new underboss, and Gravano was upped to consigliere, his crew was taken over by Louis Vallario. With Gotti's permission, Gravano set up the murders of Liborio Milito, Robert DiBernardo, Tommy Sparrow, and several other Gambino wiseguys and friends. Eventually, Gotti would name Gravano his underboss, and move LoCascio to consigliere. Before their indictments, Gotti decided that if he was sent to prison, he wanted Gravano to take over as acting boss of the Gambinos.
Later Life
In 1991, after he was arrested as a result of a major FBI operation against
the Gambino Family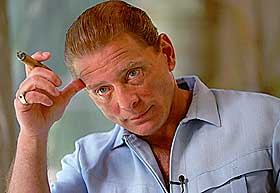 Gravano during interview
, Gravano famously turned state's evidence and testified against
John Gotti
in exchange for a reduced sentence. John Gotti received a sentence of life imprisonment. Gravano, who confessed to taking part in nineteen murders, was convicted of a token racketeering charge and sentenced to five years. As part of Gravano's cooperation agreement, he would never be forced to testify against his former crew, which included Louis Vallario, Michael DiLeonardo, Frank Fappiano, Edward Garafola, Thomas Carbonaro, Joseph DeAngelo, and many other career criminals and wiseguys.
Gravano was released early and then entered the US federal Witness Protection Program, but he left it in 1995 and relocated to Arizona. In February 2000 he was arrested and charged as the ringleader of an ecstasy trafficking organization there. Gravano was convicted in October 2002 and is currently serving a 19-year sentence in Colorado at a supermax prison. His wife, son, daughter and son-in-law were also imprisoned for their roles in the drug ring, along with other gangsters. Ironically, Gravano's downfall was due to informers amongst his own associates.
On February 24, 2003, New Jersey state prosecutors announced they would pursue murder charges against Gravano for allegedly ordering a hit on a police officer during the 1980s. The charges were later dropped, however, when the star witness, imprisoned hit man
Richard Kuklinski
, died of unknown causes before he could testify. Federal inmates who served time with Salvatore "Sammy the Bull" Gravano say the mob turncoat privately admitted to his role in the 1980 killing of a New York cop. Inmates claimed Gravano bragged about killing many more than 19 people. If proved that Gravano lied about how many people he killed, appeals by people he helped put in prison could follow.
Popular Culture
He was portrayed by Nicholas Turturro in the television movie "Witness to the Mob" which was based on his memoirs.
The Mighty Mighty Bosstones song "Mr. Moran" describes Gravano's life, particularly his time in the Witness Protection Program."Mr. Moran" was an alias used by Gravano.
The Lil Chris song "Nobody Got the Z-Man's Back" namechecks Gravano.
GZA of the Wu-Tang Clan referenced Gravano in his 1995 song "Killer Hills 10304" with the lyric "look who's on the witness stand singing, a well known soprano, a smash hit from Sammy Gravano." This linking of Gravano to the term soprano occured several years before the HBO show The Sopranos first aired.