Sam "Momo" Giancana was a reputed boss of
the Chicago Outfit
from 1957 - 1966 after
Tony Accardo
retired. Among his nicknames included "Mo", "Mooney" and "Sam the Cigar". Giancana was brought in connection with the dead of Marilyn Monroe in August 5, 1962, the murder of president John F. Kennedy in November 2 1963, and was called in for help to assassinate the Cuban leader Fidel Castro by the CIA.
Early Life.
He was born Momo Salvatore Guingano (Americanised to Giancana) in Little Italy, 1908, to a poor Italian family. He had one older sister named Lena and a brother called Chuck, who wrote a book about Momo's life in later times. His father Antonio was a native Sicilian who felt it was a mistake coming to America. Momo's mother died when he was only 2 years old. His father always blamed Momo for everything that went wrong and already gave him beatings for only small faults like dropping his spoon. In 1918 he was expelled from school due to unmanageable behavior and was sent to an reformatory institution where he deserted 6 months later. He returned to Little Italy but didn't return home. He slept in the gutters, abandoned basements and fire-escapes hanging to buildings. There he got in contact with his first street gang, called the 42 Gang. There he learned how to steal and fight. Momo was often referred to as 'Mooney' which was an early century word for 'Crazy' because of his loose behavior. Several of the gang members were already vicious killers at an age of 15.
Criminal Career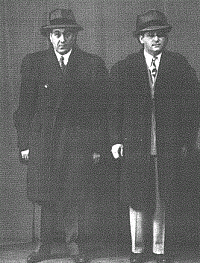 The 42 Gang was a big supporter for
Joseph 'Joe Diamond' Esposito
in the late 1910's and early 1920's. Esposito was one of the biggest extortionists together with
Big Jim Colosimo
. Giancana came one of Esposito's henchmen during that period because he proved himself worthfull. During prohibition Esposito affiliated with
The Genna Brothers
whom he charged with running a network of small basement distilleries throughout Little Italy. The Genna's produced about 300 gallons of (very bad) whiskey in a week, Giancana was ordered to collect the booze and to deliver it to warehouses around Chicago.
When Colosimo was murdered in 1920,
Johnny Torrio
became a powerfull man (Torrio had always been the muscle behind Colosimo and probably ordered his death). In the mean time Esposito and the Genna's were growing in wealth as their business went great. Somethime later Torrio brought
Al Capone
to Chicago for extra muscle. Their Giancana met him for the first time in The Four Deuces, a brothel owned by Torrio. In 1925 Torrio was almost assassinated by the rival North Siders in front of his home, forcing him to retire Chicago early (Eventually he would help
Lucky Luciano
and
Frank Costello
in later times). It is claimed by Giancana's brother, Chuck, that he was the gunman who shot Torrio, because Capone was growing ambitious and wanted the business for himself. (I don't think this was the case because to many sources say otherwise.) Giancana went back home to live with his father and stepmother but this time demanded respect. While his family was working hard for little money, Momo was now driving expensive cars and wore nice clothes. When Esposito was killed in 1928 Giancana was the big shot in Little Italy now.
In 1929 the infamous St. Valentines Murders were planned by
Jack McGurn
in order to kill Capone enemy
Bugs Moran
. Giancana's brother again claims Momo was one of the assassins who killed the 7 North Siders (not including the main target Moran). A month later he was arrested and sent to prison due to bulgary charges and not got out until 1932. When Capone was jailed for tax evasion the family needed a new leader and found him in
Frank Nitti
. Although it is also claimed Nitti was acting boss to keep the eyes away from the real new boss,
Paul Ricca
. Even though Prohibition was over, Momo headed an enterprise that continued to produce bootlegged whiskey but sell it under established labels. He was often summoned by Ricca to persuade either a store owner to become a client in their protection scheme or to remind a factory worker that it was probably smart to vote for a union he may not have ordinarily wanted. Giancana proved to be a loyal member and a good earner and went his way up in the Outfit.
Giancana married in 1933 to Angeline De Tolve and had his first child 2 years later. Angeline was that type of woman who didn't asked questions even if she knew her husband was visiting whorehouses. Also Giancana was an inspiration source for the blockbuster movie 'The Godfather' in 1972. Giancana ones kicked the hell out of his brother-in-law because he beat Lena, Giancana's sister. In the late 1930's he was arrested again and was sentenced to prison. He got out in 1943 and saw a new Chicago. Nitti committed suicide that year making Ricca the official boss but already was released from that duty in December 1943 due to his prison sentence of 10 years.
Tony Accardo
was now the new Outfit leader.
In prison Giancana met a black Chicago man named Eddie Jones, who introduced him to the numbers policy rackets. Something Capone turned down years ago was now to the attention of Accardo. Giancana got the green light and mapped a strategy with Jones when he got out of jail. The deal earned the family millions of dollars and Giancana was rewarded with the Underboss status in 1946. Giancana allied himself and the family with major mobsters such as
Bugsy Siegel
(that time in Los Angeles) an
Carlos Marcello
out of New Orleans. He was getting well known in Chicago and became very respected. Amongst his friends were Mickey Mantle, Jake 'Raging Bull' LaMotta, Ronald Reagan & Ed Sullivan.
The Kennedy situation
In 1954 disaster struck Giancana when his father and his wife died after both having a long illness. In 1955 Accardo was being chased by the FBI leaving Giancana in charge of the Family. Now he was boss of the Outfit he already served for 30 years. Everybody came to him for guidance. Amongst them Joe Kennedy, the Father of John F. Kennedy, who was affiliated with Diamond Joe Esposito in his early days. In 1955 Kennedy went to see Giancana asking him a favor.
Frank Costello
, the New York leader, had put a contract on his head (so is claimed) because he didn't perform a number of favors for the Syndicate. Giancana then went to see Costello and told him to remove the contract of Kennedy because of his son going for president that time. So they would have
'their own man'
in the White House. The contract was called off. But when in 1957 Bobby Kennedy, the then 31 year old son of Joe, was questioning them in front of the television, Giancana was angry. When he had to appear for the comity he only answered:
"I refuse to answer on the grounds it may incriminate me."
Giancana was set off thanks to his connection with Joe Kennedy and forged his friendship with singer Frank Sinatra. During that time he had famous mistresses such as Marilyn Monroe and Judith Campbell, who was Sinatra's ex girlfriend. In 1960 John F. Kennedy won the elections from Richard Nixon and became the 35th president of the United States. Kennedy won with the smallest difference in votes and it is believed the Outfit helped Kennedy becoming President.
Speculated killings
Fidel Castro had taken over Cuba from Batista, who had close connections to mobsters such as
Meyer Lansky
and
Santo Trafficante
, but also with Giancana. This formed a serious blow for the Mafia because Castro removed every gambling house in Cuba that was controlled by mobsters.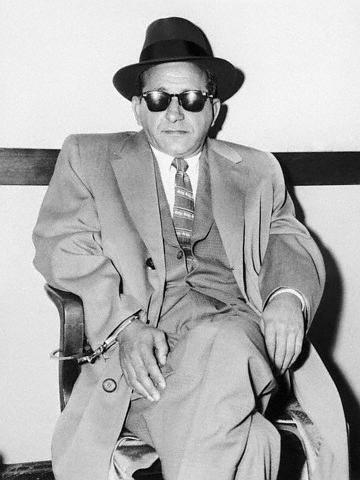 The CIA knew that so they approached Giancana to assassinate their common enemy. The government wanted the disposal of Fidel Castro because he was a dictator and was anti-democratic. Giancana contacted Trafficante for the hit and arrangements were made. The hit eventually never took place because Trafficante refused some time later to kill Castro.
Bobby Kennedy listed the top 30 mobsters in America around that time, including Giancana on the list. The Kennedy's cut down every social contact with anyone associated with the Mafia and even Frank Sinatra was not welcome anymore in the White House. Giancana also heard Bobby Kennedy saying: 'That dago Giancana' on a FBI tape, making him furious. Giancana wanted to strike back, and there was Marilyn Monroe, his former mistress. It is claimed that Giancana ordered the murder of Marilyn Monroe to hit the Kennedy's (Monroe was the famous mistress of John F. Kennedy). Marilyn died of an overdose in her hotel room in 1962, it was always widely speculated that she was murdered but it has never been proved who was responsible. But Giancana didn't worry, he had a new girlfriend that time, singer Phyllis McGuire.
Still, Bobby Kennedy's words 'That dago Giancana' haunted Giancana. His crime partners from the Outfit believed he was going to struck the Kennedy's hard. November 22, 1963, is something Americans will never forget. Chuck, Giancana's brother describes his brother that day:
"He lifted his cigar to his lips and a cruel smile curled like an embrace around it. There was a deadly silence in the room...For the next hour (Momo) shared the darkest and most horrifying of his secrets."
President Kennedy was fatally shot in the head in Dallas that day. The murderer was soon captured, his name was Lee Harvey Oswald. Only days after his arrest Oswald was himself murdered by Jack Ruby live on television. Ruby was a CIA associate who helped to run guns to Cuba during the failed Bay of Pigs, where America had tried to take over Cuba. Ruby never really told why he did it. During his last interview, before his dead of cancer in 1967, he answered: 'yes' when asked 'where the men responsible for the murder in high places?'. This still causes a big mystery of who murdered the 35th president of the US.
4 years later, when Bobby Kennedy was successfully running on the Democratic ticket for the upcoming Presidential elections he was also shot and killed. A strange and disastrous coincidence? Or was the removal of the Kennedy's necessary? Giancana's brother states that Momo's power was bigger than the FBI ever thought. He also claimed that Richard Nixon knew about the whole thing. Chuck's believes are strengthened by a couple of other sources, such as
Frank Ragano
who was a member of the Trafficante mob. There he said also
Carlos Marcello
and
Santo Trafficante
where involved. In another source
Johnny Roselli
is also mentioned.

Downfall
Giancana was forced to step down as boss of the Outfit in 1966. The reasons are believed to have been because of his refusal to share the profits of his casinos in Central America and Tehran with his subordinates. This was a major violation of Outfit protocol. There was also his excessively high-profile personal behavior (openly associating with various popular entertainers like singers Phyllis McGuire and Frank Sinatra) and his serious legal problems. These problems were serious enough to have had the FBI place Giancana under close, intense and relentless surveillance. In response to these setbacks, the dethroned Giancana spent the next seven years (1967-74) in exile on a lavish estate in Cuernavaca, Mexico until the Mexican government (under pressure from the US Justice Department) had him deported to the United States.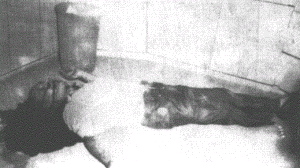 Shortly after returning to Chicago, Giancana was murdered on 19 June 1975 while frying Italian sausage and peppers in the basement of his home in Oak Park, Illinois. His murder took place shortly before he was scheduled to appear before a Senate committee investigating CIA and Mafia links to plots to kill Fidel Castro. The unknown assassin somehow slipped past the surveillance of the house by the FBI and the Chicago police and shot Giancana in the head seven times with a silenced .22 caliber handgun. Some have alleged that the CIA was responsible for the shooting as Giancana had a somewhat troubled history with the agency. However, CIA Director William Colby has been quoted as saying, "We had nothing to do with it."
Most investigators believe Colby's claim, suggesting that it seems much more likely that Giancana's onetime friend and Chicago Outfit boss
Joseph "Joey Doves" Aiuppa
ordered the hit on the disgraced former Godfather. Giancana had reportedly continued in his refusal to share the profits from his offshore gambling operations. According to former Outfit associate Michael J. Corbitt, Aiuppa seized control of Giancana's casinos in the aftermath of the murder. It is widely believed that longtime friend and associate Dominick "Butch" Blasi was his assassin. Other suspects are
Harry Aleman
, Chuckie English, and
Anthony Spilotro
. Giancana was interred next to his wife in a family mausoleum at Mount Carmel Cemetery in Hillside, Illinois.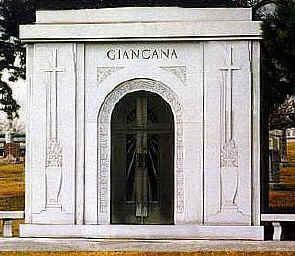 Popular Culture
Giancana is the subject of several biographies, one of which, Mafia Princess, was written by his daughter Antoinette and filmed in a poorly reviewed TV movie starring Tony Curtis as Giancana. A 1995 HBO movie named Sugartime depicts Giancana's relationship with Phyllis McGuire of The McGuire Sisters, with Sam being played by John Turturro. Other movie portrayals of Giancana include Oscar winner Rod Steiger in the miniseries Sinatra and Robert Miranda in the HBO movie The Rat Pack. Cable company TNT is working on a six hour miniseries of the life of Sam Giancana.