Simone Rizzo DeCavalcante, known as "Sam the Plumber" was born on April 30, 1912. He always claimed that he was a descendant of a family of Italian royal lineage and as such also bore the nickname The Count. The Kefauver hearings (1950, hearings with about 600 witnesses, amongst them
Joe Adonis
and
Frank Costello
) later named his crime family
the DeCavalcante family
since he was the boss of the family current to those hearings. He also once served as liaison between the Mafia Commission and
the Bonanno crime family
during the 1960s in an attempt to prevent upheaval.
A relatively minor organized crime figure, as New Jersey's crime boss Decavalcante oversaw the New Jersey mafia involved in gambling, loansharking, and labor racketeering. Living in Lawrenceville, NJ but based in the Newark, NJ area, Decavalcante commanded around sixty mafiosi while operating out of a local plumbing supply store in Kenilworth, NJ. Shortly after becoming leader of the New Jersey mafia in 1960, Decavalcante acted as a liaison between the Mafia Commission and the Bonanno crime family after the beginning of the Bonanno War between the New York Five Families.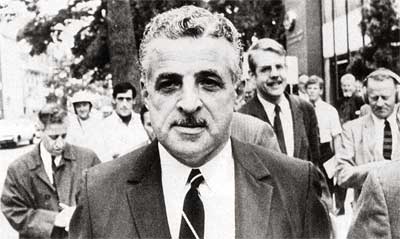 Sam DeCavalcante
It was during this time in the early 1960s that Decavalcante became the subject of an FBI investigation known as the "Goodfella Tapes" which, taking place between 1961 to 1965, confirmed claims by informant
Joe Valachi
providing crucial information on what federal authorities referred to as La Cosa Nostra and revealing the existence of the Mafia Commission. After compiling almost 2,300 transcript pages of taped conversations, the records were publicly released in 1969. Following the release of the tapes, Decavalcante was convicted of extortion-conspiracy and sentenced to fifteen years imprisonment. Following his release in 1976, Decavalcante retired to southern Florida and attempted to open resort casinos. However, Florida voters decided against the legalization of gambling. DeCavalcante continued to live in retirement, although suspected of continued involvement within the family with
John Riggi
, until his death in 1997 at the age of 84.
Since Simone's death, the DeCavalcante crime family has crumbled and, as of 2000, the organization remains largely powerless in part to successful FBI raids and surveillance.