Salvatore Maranzano was the "Boss of Bosses" for a brief period in 1931 and controlled all Mafia activity within the United States. He was the leader of the Castellammarese who raged to war against the
Morello/Masseria family
in 1930. He is widely regarded as the man who organized the 5 New York families although they allready existed years before.
Position in the Sicilian mafia
Maranzano was born in the Sicilian town of Castellammare Del Golfo in July 1886. He went to school to become a priest but once back at his town he used his skills to operate as some sort of Military Mafia commander during an ongoing feud between the Bonanno familie and the Buccelato family. Maranzano married a woman named Elizabetta Minore, the daughter of a respected Don in Trapani, and by this also established stature inside the Mafia. When exactly Maranzano entered America is not really known. Many sources however keep repeating 2 years in particular, 1925 and 1927.
Joseph Bonanno
claimed in his autobiography that his life changed in 1925 when Maranzano entered New York, a man to who'm he looked up to. So it is widely believed 1925 is the year of his arrival. Maranzano first entered Canada and from there on moved from Buffalo to New York. The Sicilian community in Williamsburg, headed by
Cola Schiro
, already existed for about 3 decades at the time Maranzano arrived and one of it's first leaders,
Stefano Magaddino
, was an old associate of his back in Sicily.
After arriving in New York Maranzano set up a large alcohol distillery in Dutchess County which became one of the largest in it's kind. The distillery proved to be very worthy during the prohibition era. When Manhattan boss
Giuseppe Masseria
wanted to suppress the growing power of the Castellammarese by demanding cash funds, Schiro was said to have paid once before he "went into hiding". The next in line to become leader was
Vito Bonventre
, who had led a vicious murder crew by the name of 'the good killers' many years before. The 1928 murder of
Salvatore D'Aquila
also sparkled hate and vengeance towards the ignorant and dictatorial Masseria . Maranzano was then again appointed to be the chief leader for the upcoming violence. The Castellammarese could also rely on many allies throughout the country, the most prominent of these men were Stefano Magaddino from Buffalo,
Joe Aiello
from Chicago,
Gaspar Milazzo
from Detroit and
Salvatore Sabella
from Philadelphia.
The war
Masseria and Maranzano began to challenge each other and trucks were being stolen and breweries were being destroyed. By doing this both gangs often got into fights and shootings. On the streets there was a battle raging on, and that battle was dubbed the
Castellammarese War
. The violence however also led to the deaths of many prominent Castellammarese members such as
Vito Bonventre
, which led to the elevation of Maranzano. He wasn't the only one who lost important men as Masseria was hit back hard. With Salvatore Bonanno's son,
Giuseppe Bonanno
, close by his side they became victorious. Maranzano also forged an alliance with
Gaetano Gagliano
which led to the death of
Al Mineo
. Masseria was on the losing side when many of his crew were murdered or deserted him.
Nicola Gentile
later stated in his memoirs that the Castellammarese were the 'aggressors' causing the war. Maranzano kept on going and even Masseria's lieutenant
Charles Luciano
decided to betray his own boss. He went to see Maranzano and made a deal. On April 15, 1931, Luciano and Masseria were having dinner at a restaurant in Coney Island. Luciano excused him from the table and went to the toilet. As 'coincidence' 4 men popped in and blasted Masseria of his chair. Masseria's death eventually led to the end of the war.
Downfall
In the following weeks and months Maranzano held meetings to celebrate victory and to make it clear who was in charge. Bosses from all over the country were invited to come and pay their respects to their new leader. This also meant that they had to pay him funds as an act of respect. During one of those meetings he recognized the 5 New York families and it's current or new bosses.
Charles Luciano
was given the former
Masseria organization
in Manhattan,
Gaetano Gagliano
had taken over the
Reina family
Joe Profaci
stayed the boss of the
Profaci family
in Long Island
Frank Scalise
got control of the former
D'Aquila/Mineo Family
,
Joseph Bonanno
, Maranzano's second in command, became head of the
Castellammarese organization
.
Maranzano himself was now the overall and official boss of bosses. However, the coalition once made with Maranzano was about to burst as many began to distrust his misplaced speculations and dishonesty. Many of the funds made towards Maranzano weren't used for the promised compensations, but just disappeared into his own pockets.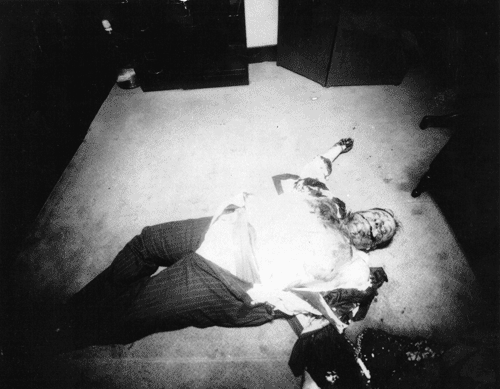 The dead body of Salvatore Maranzano
Maranzano also made it clear to his most trustworthy allies that he needed to get rid of big shot gangsters who could form a threat in the future. Those on that list were Charles Luciano,
Al Capone
,
Joe Adonis
,
Frank Costello
and
Dutch Schultz
(probably because of his ties to
Ciro Terranova
, a former leading member of the Morello/Masseria family). Luciano was informed of the plot and needed to act first. Together with his closest associates they decided to make it a Jewish-Italian cooperation. Maranzano however was also taking steps to plan the murders of his enemies. therefore he hired a young Irish hitman called
Vincent Coll
to murder Luciano, possibly because he had no ties to the Irish gunman. Things would eventually turn disastrous for Maranzano as he was unexpectedly hit first.
On September 10, 1931, only six months after the murder of Masseria, Luciano and his right hand man
Meyer Lansky
sent five men to the 9th floor of the Helmsley building were Maranzano had his main office. The men were dressed as officers and disarmed the guards. It was reported that
Thomas Lucchese
was accompanying them to point out Maranzano because the hitteam had never seen the boss before. Once in the office they started stabbing and shooting Maranzano who was reportedly struggling as a beast against his attackers. As the men fled the scene they ran into Vincent Coll, who was going to meet with Maranzano to discuss the murder of Luciano. Coll also immediately fled the scene when he heard someone yelling that the cops were coming. Coll had no needs to feel bad because he was already payed a part by Maranzano for the killing that never would take place. Amongst the murderers of Maranzano were
Red Levine
, a member of the Lansky mob, and
Bo Weinberg
, representing Dutch Schultz.
Bonanno later stated in his book that he didn't knew about the plans to kill Maranzano until after his death. Both Bonanno and Luciano however made a pact that there would be no revenge actions. The Castellammarese organization, known as the Bonanno Family, remained a very strong side of the Cosa Nostra with interests and allies all over America and Sicily. It is also the only family from which many of it's members still originate from Castellammare Del Golfo. Maranzano's wife Elisabetta died 33 years later. She was also placed in the same grave as her husband. Maranzano is buried in Saint John's Cemetery near the graves of Luciano and
Vito Genovese
. Three men who would all hate each other during their lifetimes.
Important allies of the Maranzano faction during the Castellammarese War:
-
Joseph Bonanno
, succeeded Maranzano after his murder.
-
Vito Bonventre
, financier and early leader of the Castellammarese.
-
Stefano Magaddino
, Buffalo based and early leader of the Castellammarese.
-
Joe Aiello
, Chicago based allie of Maranzano.
-
Salvatore Sabella
, Philadelphia based allie.
-
Gaspar Milazzo
, Detroit based and early leader of the Castellammarese.
-
Joseph Magliocco
, brother-in-law to Profaci.
-
Buster from Chicago
young but very effective and feared gunman.
-
Joseph Profaci
, headed one of the 5 families but was in fact neutral during the war.
-
Vincent Mangano
, former
Frankie Yale
gangmember.
-
Gaetano Gagliano
, deserted Masseria and headed one of the 5 families.
-
Tommy Lucchese
, deserted Masseria and succeeded Gagliano.
-
Frank Scalise
, strongly supported Maranzano.
-
Anthony Strollo
, defected from Masseria to Maranzano during the war.
-
Joe Valachi
, a soldier loyal to Maranzano. 30 years later he would reveal the secrets of the Cosa Nostra in public.