Born Raffaele James Capone, Ralph "Bottles" Capone was the second son of Theresa Capone and Gabriel Capone who came to the United States in 1894. Ralph had 3 brothers,
Salvatore Capone
(1895),
Alphonse Capone
(1899) and Vincenzo Capone(1892). Vincenzo Capone changed his name to Joseph Hart and moved to Nebraska to become a law enforcement officer, never talking to people about his real family and background.
Ralph was brought to Chicago by his brother Al, and placed in charge of syndicate bottling plants as Al's
Chicago Outfit
was attempting to gain a virtual monopoly over non-alcoholic beverages and soft drinks (specifically ginger ale and soda water, commonly used in mixed drinks) during Prohibition. In 1924 his brother
Salvatore "Frank" Capone
was murdered by policemen in Cicero. In April 1930, he was one of several organized crime figures to be included in Frank J. Loesch's "public enemies" list in 1930, he was Nr. 2 after his brother Al. Ralph Capone made large profits, and was the dominant vendor of soft drinks other than Coca-Cola during the 1933 World's Fair, hence the nickname "Bottles".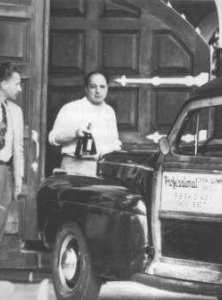 Following Al Capone's conviction for tax evasion in 1931, Ralph Capone remained with the Chicago Outfit as the host to several high-level syndicate conferences from his brother's residence in Palm Island, Florida. As the manager of Chicago's Cotton Club, Ralph was reportedly involved in syndicate gambling and vice districts and, in 1935, Ralph was convicted of tax evasion as his brother had been. Although considered by the public and federal authorities as an "elder statesman" of sorts, described in 1950 by the United Press as "…in his own right … one of the overlords of the national syndicate which controls gambling, vice, and other rackets", Ralph Capone held relatively little power in the Chicago Outfit and the crime syndicate, as demonstrated during his appearance before the Kefauver Committee in 1950. A month after his testimony, his son, Ralph Capone, Jr. committed suicide after swallowing a number of cold tablets and vodka.
Following his death in Hurley, Wisconsin on November 22, 1974, Ralph Capone was cremated at Park Hill Cemetery and his ashes sent to a funeral home. He was later portrayed by Ed O'Ross in the 1987 film The Verne Miller Story and by Titus Welliver in the 1990 television movie The Lost Capone.