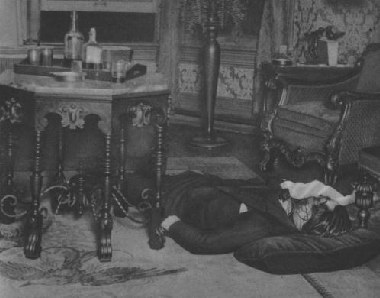 Pasqualino LoLordo was the head of the Chicago chapter of the Unione Siciliana during the late 1920s and was a close associate of
Al Capone
. Lolordo was the bodyguard of
Antonio Lombardo
during his tenure as leader of the Unione Siciliana. He was with Lombardo when he was murdered in September 1928. Lolordo was present at what is believed to be the first National crime meeting in 1928, Cleveland. The meeting was hosted by Clevelands new boss
Joseph Porello
. Lolordo represented
Al Capone
, but was arrested when the police intervened the meeting. Amongst the other attendees were
Joseph Profaci
and
Joseph Magliocco
.
On Januari 8, 1929, Lolordo and his wife were returning home from a trip downtown as they met with 2 men outside their place. Lolordo's wife later said she recognized the men, but couldn't remember their names. The men were invited in their house to eat a plate. After they were done they left. A couple of minutes later their was a knock on the door. Lolordo opened and let them in. As Lolordo's wife was ironing in the kitchen, the 4 men were talking business and were laughing and drinking in the living room. As they stood up and toasted one more time, 2 men suddenly opened fire on Lolordo. His wife came in screaming as the 3 murderers fled the scene. Like many crime-related murders in Chicago, the brothers
Peter
&
Frank "Tight Lips" Gusenberg
came in mind as the killers. The murder was probably set up by North Siders gang leader
Bugs Moran
or by
Joe Aiello
.