Nicodemo "Little Nicky" Scarfo was the boss of the Philadelphia Mafia, referred to as the Scarfo Family, from 1981 until 1991. During his reign the Philadelphia Mafia became one of the most violent organizations in America.
First touch with the Philly Mob
Nicodemo Scarfo was born in Brooklyn, New York, on March 8, 1929. Scarfo's father was a member of the
Genovese Family
and his uncle, Nicholas Piccolo, was a member of the Philladelphia Mafia. During his teens Scarfo parked cars to earn a few extra bucks and also went boxing, without success, until his uncle brought him to Philadelphia. Under his uncle's wing he began to run a small bookmaking operation during the early 1950's and so became part of the organization.
Atlantic City
In 1959
Angelo Bruno
, backed by the commission, became the new boss of the organization. Scarfo wouldn't benefit from this and would be part of a series of events which would cause frictions between him and others from the family. At one point Scarfo was approached by consigliere Joe Rugnetta to marry his daughter. Scarfo however refused Rugnetta felt embarrassed and humiliated. Not long after, in 1963, Scarfo had a fight at a restaurant where he stabbed a man to death. He was arrested for the crime and pleaded guilty. After only serving less than a year he was already set free.
In 1964 Angelo Bruno sent Scarfo to Atlantic City, New Jersey, to handle some enterprises. It was most likely that Bruno actually sent Scarfo away because of the frictions between him and Joe Rugnetta. While in Atlantic City Scarfo had little financial successes and also had problems on a personal level due to a divorce from his first wife. In 1971 bad luck continued as Scarfo was called to appear in front of the commission of investigation, where he refused to answer any question. Therefore he was arrested and jailed for one year.
In 1976 New Jersey legalized gambling which finally opened new doors for Scarfo. He brought his nephew
Phillip Leonetti
in and set him up in a cement company named Scarf, Inc. In the meanwhile Scarfo lived up to his reputation of a hotheaded an non tolerating gangster, which he proved by ordering the killing of contractor Vincent Falcone in 1979 after he had made some insulting remarks about Scarfo and his company. He appointed his pupil Leonetti as the man to commit the crime. Both were later charged for murder, but were acquitted. The police however did discover a gun inside Scarfo's home, which they immediately used to convict him for possession of illegal firearms, leading to a 2 year sentence.
Making benefit from power struggles
During the early 1980's the Philly Mafia went through a power struggle. In 1980 boss Angelo Bruno was murdered in order of consiglieri,
Antonio Caponigro
. Caponigro himself was also murdered within weeks as punishment and
Phillip Testa
became the new leader of the family. One of the first things done by Testa was bringing back his friend Scarfo to Philadelphia and giving him the spot of consigliere. Scarfo had now been promoted from a minor captain to one of the leading members of the Family. However, in 1981 also Testa was murdered by a bomb stashed inside his house. It was later revealed that the bombing had been ordered by Peter Casella and Frank Narducci, who hoped to take over the family. Scarfo didn't hesitate and send
Ralph Napoli
to set up a meeting with
Bobby Manna
, the consigliere of the Genovese family. The Genovese family then supported Scarfo of running things and although once banished to Atlantic City, he was now the new boss of the Philadelphia mafia.
Scarfo - Riccobene war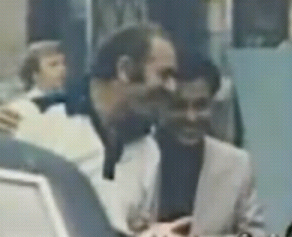 Surveillance photo of
Frank Monte and Nicky Scarfo
As boss Scarfo restructured the family by sending Casella to an early retirement and appointing his longtime friend Salvatore Merlino as the new underboss and
Frank Monte
as the new consigliere. Between 1982 and 1986 Scarfo earned about 5-7 $million by running all sorts of scams, bookmaking operations and extortion. He was living the goodlife: he drove around in a white Rolls Royce, owned a yacht and frequently stayed in Florida on vacation. In 1982 Scarfo had a minor setback when he was sent to a Texas prison to begin serving his 2-year sentence for having possession of illegal firearms.
During his absence long going capo
Harold Riccobene
took the advantage and started to oppose Scarfo's leadership which led to an internal war, leaving several men death. In May consigliere Frank Monte was murdered by Riccobene gunmen and as revenge Scarfo made an attempt on Riccobene's life, but he survived. Riccobene was shot again in August that year but again managed to escape. Scarfo was angered and because of that hitman Pat Spirito, who didn't succeed in killing Riccobene, was murdered himself. In 1983 Riccobene's younger brother Robert and another loyalist were killed, leaving Riccobene to grow desperate. He however wanted to act a last time by ordering to kill 3 scarfo men, which also failed. Another Riccobene brother,
Mario
, then eventually became a government witness after his son had committed suicide and sent his brother and several others to jail. Scarfo had won the war.
Arrest and conviction
In 1984 Salvatore Testa, son of former boss and Scarfo friend Phillip Testa, was murdered in order of Scarfo himself. An act which seemed strange to many because the young Testa was well liked by him and was best friends with his nephew
Philip Leonetti
. Why exactly Scarfo ordered his murder is not exactly known, but it could had to do with the rising popularity within the family of Salvatore. In 1987 Scarfo's empire slowly began to crumble. He was arrested again on extortion and conspiracy charges for attempting a $1 million shakedown. Longtime Scarfo loyalist Nicholas "Nicky the Crow" Caramundi then became a federal witness leading to his sentencing in the extortion case to about 14 years. Scarfo and Leonetti were also charged with the murder of Salvatore Testa, but were acquitted.
In 1988 Scarfo was again set on trial for RICO charges. The jury eventually found him guilty on 32 accounts, including 8 murders and 15 extortion-related charges. He was eventually convicted to another 55 years in prison. That same year he also had a personal drama when his 17 year old son committed suicide at the Scarfo, Inc. office. This however didn't end the series of bad luck as his set of trials continued. In 1989 he was trialed again for the murder of Frank D'Alfonso. Scarfo and 7 others were found guilty and were given a life sentence, however, at the 1997 re-trial they were acquitted.
Scarfo passed away on January 13, 2017, aged 87, at the Federal Medical Center in Butner, N.C..
(
Source: www.biography.com, www.ipsn.org, www.mafianj.com, "Blood & Honor: Inside the Scarfo Mob" by George Anastasia)