Meyer Lansky, also nicknamed "the Brain", was a close associate of
Arnold Rothstein
and the American Mafia, in particular
Charles Luciano
. Lansky operated on the highest bootlegging level during Prohibition and helped in forming the Commission in 1931. In later years he was active in the hotel and casino world as a main investor for the Mafia in cities as Las Vegas, Miami and Havana.
Childhood
Meyer Lansky was born in the city of Grodno (in modern day Belarus) as Majer Suchowlinski. His family emigrated to the United States in 1911 where they settled in the Lower East Side of Manhattan. While Lansky was a child and often wandered in the streets he met with
Bugsy Siegel
. At a young age both often held dice games with other youngsters earning their first bits of cash. However, older boys who declared the street was theirs meant trouble in which Siegel stood up for Lansky on numerous occasion. One of the older boys they encountered was the Sicilian born Lucky Luciano. Noticing the courage of the small Lansky both became friends and started a lasting partnership. The men forged close ties to Jewish ganglord Arnold Rothstein during the Prohibition era. Up until Rothsteins murder in 1928, Lansky had high regards for Rothstein and regarded him as his mentor.
Gambling operations
By 1936 Lansky had established gambling operations in Florida, New Orleans and Cuba. In the meanwhile Luciano had risen to top of the American Mafia in after settling the Castellammarese war between
Giuseppe Masseria
and
Salvatore Maranzano
. The Thanks to Prohibition the organization was worth millions. Money which was used to invest in several legal ventures with Lansky as their main investor. By that time Bugsy Siegel, his old companion, was living in Los Angeles in order of gaining control of the Trans-American Wire service, in which he succeeded. Siegel, flamboyant as ever, had high ambitions. On his recommendation Lansky visited the Nevada desert where Siegel believed they could earn future profits from the tourist industry. Since the construction of the Hoover Dam was finished in 1935 more and more tourists had found their way to the remote area. Siegel was supported by Lansky who managed to gain the financial resources from the New York Mafia. They bought the El Cortez hotel and also bought shares of the Golden Nugget hotel and casino. Since that moment the Mafia had entered Las Vegas and wasn't thinking of leaving.
Siegels ambition's however continued. His ultimate dream was building a bigger-than-life casino from scratch. Lansky followed his idea and became a big investor in Siegels project. The construction was finished in 1947. The hotel and casino, named the Flamingo, was the starting point of what would become known as the Las Vegas Strip. But by the time the construction was finished, the cost had moved up to about three times the original price. The grand opening wasn't successful and Siegel, who had more eyes for his money stealing girlfriend, didn't seem to care much. The Commission was angered for their massive loss of money and Siegels behavior. On June 20, 1947, Siegel was assassinated in his house in Beverly Hills. The control of the Flamingo hotel then passed to Lansky who put his co-workers Gus Greenbaum and Moe Sedway in day to day control. However, Lansky would always feel bad about the sad ending of his old pal, certainly when the Flamingo ultimately did prove to be profitable after all.
Cuban revenues
In following of what happened in Las Vegas, another important chapter in Lansky's life would soon find it's way. Through the guidance of several contacts Lansky sought for new opportunities and landed in Havana, Cuba. With a wallet full of cash he was rapidly introduced to Cuban dictator Fulgencio Batista, who was eager to turn his country into a tourist hub and therefore needed to attract the attention of foreigners through luxury hotels and casino's. Since Lansky was the perfect man for the job, he was granted permission to develop and control several casino's in in the city. Batista himself received a percentage of the profits. Lansky's Cuban revenues grew and the gambling business blossomed, also letting several associated Mafia members to find their way to Havana. However, after the Cuban revolution of 1959 Batista was overthrown by Fidel Castro and all foreign investors were ordered to leave Cuba at once. Those who didn't, for instance
Santo Trafficante Jr.
and Lansky's brother Jake, were held in prison camps for some period. The rise to power of Castro's rebels basically ruined Lansky's assets on the island, as well as the assets of several Mafia families who had lent him millions of dollars.
Later years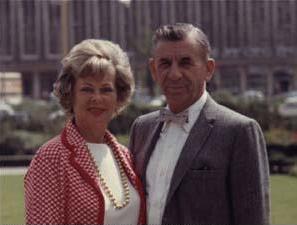 Meyer Lansky and his wife
Returning from Cuba, Lansky moved to Miami where he lived with his wife and children. He kept a low profile and although he was one of the leading members of the American Mafia, was one of the few who stayed out of the hands of justice. The FBI had a tough time pursuing him. His associates usually met him in malls and crowded locations. Lansky's chauffeur was known to drive him around town to look for payphones. So elusive was Lansky, He kept very little in his name and seemed to be just another struggling old man. However, the same weapon which took down
Al Capone
some 40 years earlier, would soon come after Lansky as well. That weapon was called tax evasion.
To escape the charges Lansky fled to Israel, where he stayed for about two years before being expelled from the country. The government's best shot was a loan shark from Boston named Vincent Teresa, an informant with little significance. The jury was unreceptive, and Lansky was acquitted in 1974. His last years were spent quietly at his Miami home. On January 15, 1983, he succumbed to lung cancer. At the time, the FBI was convinced he left behind over $300 million in hidden bank accounts, but the money never turned up. On paper, Lansky was worth almost nothing.