Matthew "Matty The Horse" Ianiello was a leading member of the
Genovese family
and was the acting boss from 1998 until 2005.
Youth and War
Matthew Ianiello was born in New York and was raised in Little Italy. As a youngster he was a skilled baseball player and played for a local team. During one of these games Ianiello earned his nicknamed when during a fight he knocked down a boy who was taller and older than he was. People said "he is as strong as a horse", so his nickname was born, although other sources say he was named like that because of his appearance. When World War II broke out Ianiello assigned for the military and went to the South Pacific in 1941. When returning back home he chose a life of crime and joined the Genovese family in Manhattan, as member of a crew headed by
Vincent Alo
.
King of Manhattan's nightlife
In 1951 Ianiello was arrested for selling 22 pounds of heroin. He was indicted but eventually acquitted. During the 1960's he started a web of sex shops and bars. Although he was a married man, he also controlled several gay bars such as G.G. Barnum's Room, the Gilded Grape and the Peppermint Lounge. He oftenly worked together with
Sonny Franzese
and Robert DiBernardo, who were both also very active in the pornographic underworld. Next of operating several bars Ianiello also ran a dice game in Shelton towers and was involved in classic crimes such as loansharking and extortion.
Ianiello did business with all of the 5 families because of his dominance in Manhattan's nightlife. In the early 1970's he and his brother Roberto purchased Umberto's Clam House, a restaurant in Little Italy. This would become the place where
Colombo
capo
Joey Gallo
was assassinated in 1972. Ianiello, who had probably nothing to do with the killing, was also present during the rubout but was in the kitchen at the time. Not to the worry of Ianiello though, who earned millions a year through his operations and had become a capo in the Genovese family.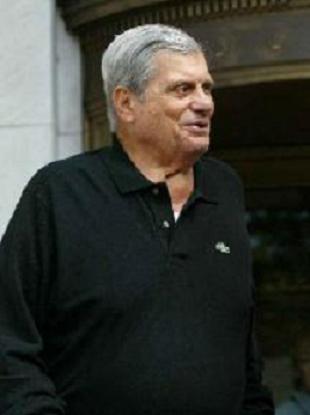 An aging Matty the Horse
In 1985 the FBI nabbed him and 13 others in Florida for RICO charges. The FBI had placed bugs inside C&I Trading, where Ianiello shared an office with Benjamin Cohen, one of the other defendants. He was eventually sentenced to 6 years. During his jail-time he was trialed again for other racketeering charges and received an additional sentence. He was eventually freed in 1995. Back on the street Ianiello became heavily involved with Teamster Union Local 1181, a bus drivers union. Although being 75 years old back then, he was far from retiring.
Acting boss
In 1998 boss
Vincent Gigante
was sent to jail and Ianiello was appointed as acting boss, a position he kept until the death of Gigante in 2005. That same year he was indicted for racketeering charges and was succeeded by the younger
Daniel Leo
as acting boss. One year later Ianiello also pleaded guilty for extorting the trash hauling industry. In 2007 he was sentenced to 2 years and was freed again on April 3, 2009.
On August 15, 2012, Ianiello died at his Long Island home due illness and old age.
(Source: "The Sultans of Midtown" by Thomas Collins Jr., "U.S. Attorney Reports Indictment of Ianniello" NYtimes May 16, 1986, www.ipsn.org, edition.cnn.com, gangstersinc.tripod.com, af11.wordpress.com)