Louis Eppolito was a New York police officer and associate of the
Lucchese
and
Gambino
family. He and his longtime collegue Stephen Caracappa were sentenced to life for murder in 2009.
Career as a policeman
Louis Eppolito was born in Brooklyn, New York in 1948. In 1969 he started his career as an officer and became part of the Brooklyn Robbery squad. Eppolito had connections in the mafia through his uncle Jimmy "The Clam" and father Ralph. In 1983 Eppolito was suspected of passing through intelligence to
Rosario Gambino
after police discovered he owned a copy of his criminal records at home. Eppolito was however cleared of the charges.
Eppolito retired in 1990 and in the next decade tried a career as writer and actor. He played small roles in movies like Predator 2 and Goodfellas. In 1993 he published a book called "Mafia Cop: The Story of an Honest Cop Whose Family Was the Mob". During the early 1990's Eppolito went to live in Las Vegas near the home of Caracappa, who then worked as a private investigator. However, their peacefull Vegas retirement was about to change badly.
At bidding of the Mafia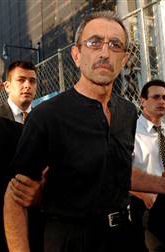 Stephen Caracappa.
Photo: AP/Louis Lanzano
In 1986 Lucchese gangster Anthony Casso demanded Eppolito and Caracappa to track down a 29year old man named Nicholas Guido so he could be killed. Guido was a Gambino associate who had tried to kill Casso in a failed murder attempt. Caracappa used the Police Department computer database to find Guido but accidently tracked down the wrong man. As a result that man was killed by assassins on December 25, 1986. He was only 26 years old and was just about to show his uncle his new car. According to Guido's mother her husband was so upset by his death that he also died 3 years later. It would last several years until the family finally knew the sad truth of why he was killed. The actual target was eventually murdered later that year.
Later it was revealed that Eppolito and Caracappa used a unmarked police vehicle to pull over men allongside the road who were needed to be taken care of. 3 of those men were Israel Greenwald, James Hydell and Eddie Lino. Both Greenwald and Hydell were kidnapped in 1986. Hydell was brought to Casso where he was tortured for hours and was eventually killed. Greenwald, who was a jeweler, was brought to a parking garage where he was killed by Frank Santoro, a Lucchese associate. Gambino capo Eddie Lino was shot death in his car by Caracappa himself in 1990. They were payed about $65.000 by the Lucchese family for the murder of Lino allone. The amount of money for other killings also ranged in that sum.
Eppolito and Caracappa helped the Lucchese family in another 4 murders. In 1987 they gave information which led to the murder of John "Otto" Heidel, who was killed while changing a tire on his car. Anthony Dilapi, who was killed in California and Bruno Facciola, who was found with a canarie in his mouth. They also gave information to Casso which led to the murder of Bobby Boriello, another Gambino member, who was killed in 1991. In the late 1990's it was also discovered they were conspiring to kill
Sammy Gravano
, the former Gambino underboss who became a federal witness.
Arrest and conviction
Eppolito and Caracappa had helped Casso in such a way he could avoid arrests, avoid investigations and prepare several murders. While working under the payroll of Casso each of the former detectives earned about $4.000 every month. In addition to that they earned thousands of dollars more for information which led to the murder of enemies. They thought to live the good life in Vegas afterwards, but that was short lived.
In 1994 Casso became a federal witness after his arrest in hopes to get out of prison through the witness protection program. He explained the involvement of Eppolito and Caracappa in the murder cases and himself admitted his role in multiple murders. However, the government found several statements unreliable and therefore he was not called upon to testify in court.
However, due to testimonies of Burton Kaplan, who was a contact point between Casso and the policemen, both Eppolito and Caracappa were arrested in 2005. They were charged with 8 murders, several racketeering counts, kidnapping and conspiracy. Judge Jack Weinstein however threw out their convictions in June 2006, citing the statute of limitations in the racketeering case. Prosecutors appealed, and the convictions were restored in September 2008. On March 6, 2009 both men were sentenced to life. Eppolito recieved 100 years in addition and Caraccapa another 80 years. Each was also fined over $4 million.
When being convicted Eppolito responded:
"The federal government can take my life,"
"I'm a man. They can't take my soul. They can't take my pride. They can't take my dignity."
"I was a hardworking cop. I never hurt anybody. I never kidnapped anybody. ... I never did any of this."
(Source: americanmaffia.com, wcbstv.com, thechicagosyndicate.com, ipsn.org, query.nytimes.com nydailynews.com, Picture above: AP)