Louis "Lepke" Buchalter was a notorious gangboss known for labor racketeering and above all as being the boss of Murder, Inc. He was executed for his crimes in 1944.
Early career

Buchalter was born in 1897 in the Lower East Side of Manhattan to Jewish parents. His nickname "Lepke" was taken from the word "Lepkeleh", which means "Little Louis" in Yiddish language. his mother had called him that when he was a small boy. As a boy, Lepke began a path of crime by stealing from pushcarts and stores in his neighborhood. By 1919, at the age of 22, he had already served two prison terms.
Upon his release, he and best friend
Jacob Shapiro
went to work for
Little Augie Orgen
, a gangleader in Manhattans Garment District. Orgen and his crew were often hired by factory owners to break up strikes for which they usually used violence. The unions were a profitable venture and Augie Orgen was oftenly challenged by other gangs for control. In 1927 Orgen was eventually murdered by two of his own men; Buchalter and Shapiro.
Establishes alliances

In the early 1930s,
Charles Luciano
, Lepke Buchalter, and
Johnny Torrio
formed a loose alliance. To take care of any "problems" that arose, Luciano's associates
Bugsy Siegel
and
Meyer Lansky
formed "The Combination", a band of Brooklyn killers of mostly Jewish origin. Because the gang was based in Brooklyn, it largely fell under the jurisdiction of crimeboss
Vincent Mangano
. Mangano's right hand man,
Albert Anastasia
, became responsible for the Combination and acted as an in-between towards the commission.
The gang which was now under control of Buchalter started to carry out all sorts of contract killings throughout the country, including the slaying of Bronx Beer baron
Dutch Schultz
. Murder Inc. consisted of mainly Jewish members, although there were also a couple of Italians involved such as
Frankie Carbo
and
Frank Abbandando
. Buchalter commanded his men to murder others without blinking an eye. He would be on the phone calling from his grandmother's house to order a hit. As many as a hundred corpses have been attributed to the Combinaton, which was ultimately known as Murder Inc. once a journalist started to use that name. The rubout of
Dutch Schultz
on 23 October 1935 was a major killing for the group, as was the murder of labor racketeer
Louis Amberg
, who competed against Buchalter and his associates. Because the group was well structured it lasted several years until the FBI was able to take measures.
Downfall

Buchalter's downfall began in the mid-1930s when he went on the lam after he was wanted on a narcotics charge. Then, even before it was known he was in fact the boss of Murder, Inc. he was dubbed Public Enemy nr1. Buchalter was eventually tricked by a companion into surrendering to the federal government in exchange for him not being turned over to Dewey and thus keeping himself safe for further investigation which could have led to Murder, Inc. Lepke ended up being incarcerated at Leavenworth Federal Penitentiary on a 14-year term for narcotics trafficking. The sentence was later extended to 30 years on account of Buchalter's involvement in union racketeering.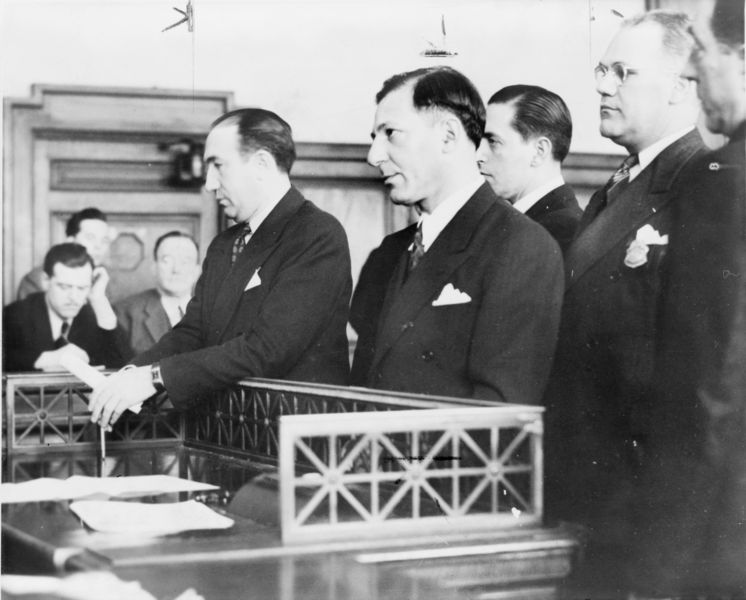 Lepke Buchalter in court
In 1940 however the curtain fell. That year, the state of New York indicted him for a murder committed over four years earlier, on 13 September 1936. On that early Sunday morning, a crew of Murder, Inc. killers, acting on Lepke's orders, had gunned down former associate Joseph Rosen, who now owned a candy shop. He had aroused Lepke's ire by failing to heed Lepke's warnings to keep quiet and leave town. Lepke's order for the Rosen hit had been overheard by
Abe Reles
, who turned informant in 1940 and fingered Buchalter for several murders. In november 1941 Reles was however found dead after he fell out of a apartment window. Whether it was suicide or murder has never been cleared out. Brought back from Leavenworth to Brooklyn to stand trial for the Rosen slaying, Buchalter's position was worsened by the testimony of another turncoat, Albert Tannenbaum. A mere four hours after they were handed the case, the jury arrived at a verdict at 2 a.m. on November 30, 1941, finding Buchalter guilty of murder in the first degree. The penalty at the time for such a crime in the state of New York was death by electrocution. Also convicted and sentenced to die for the same crime were two of Lepke's lieutenants who had participated in the planning and carrying out of the Rosen murder,
Emanuel Weiss
, and Louis Capone).
Conviction

Buchalter's trial took place in December 1941, and the New York State Court of Appeals, upon review of his case, upheld his conviction and death sentence in October 1942. At the time, Buchalter was serving out his racketeering sentence at Leavenworth, and New York State authorities demanded that he be turned over to them for execution in 1944. Buchalter and his lieutenants Weiss and Capone were electrocuted within minutes of each other at New York's infamous
Sing Sing prison
.