William "Klondike" O'Donnell was a Chicago bootlegger and leader of the West-Side of Chicago, together with his older brother Myles and Joe Saltis. They were raised on the streets of Cicero, Illinois, and started their career with petty crime. Both were bitter enemies of
Al Capone
.
The Hawthorne Park Inn
At the start of prohibition a former boxer named Edward Tancl (b.1886) went in business starting a club named 'Tancls' in 1920 and another club, the Hawthorne Park Inn, in 1922. Tancl was both a feared and loved man. During his boxing years he killed a man during a fight in 1906. He became a hero after he saved 2 children out of a burning house in May 1922. His club became a popular place with the Hawthorne race track crowd. It wasn't for long untill West-Side gangleaders Klondike and Myles O'Donnell wanted to move in. Klondike established himself in a saloon called McElliot's inside Tancl's territory. Tancl acted by ordering him to get out. In August 1924 a bartender working in Tancl's club, the Hawthorne Park Inn, saw 2 men who tried to burn down the place. The bartender smothered the burning fuse and tried to catch both men with the help from others in the club. Both men, Charles McGill and Phillip Corrigan, were captured and were identified as members of the O'Donnell gang. Tancl didn't press charges but told police the O'Donnells probably targeted him because he changed from beer supplier. Tancl however did react. Two months later Corrigan was found death and McGill went into hiding, fearing for his life. Klondike's brother Myles and gangmember James Doherty had enough of Tancl and went to seek him at his club.
After having a couple of drinks both returned home with their wives around 1 o'clock, however, they returned a couple of hours later. Tancl was still sitting at a table together with his wife and 2 friends. O'Donnell and Doherty went to sit next to them and ordered some drinks. When the waiter asked them to pay the $5 bill, they refused. Tancl whispered to his waiter to let it go, but nonetheless O'Donnell and Doherty went after the waiter and struck him down with their revolvers. Tancl jumped up and reached for his gun but was shot first. Both Doherty and O'Donnell ran away from the club and the wounded Tancl and his waiter began chasing them. Tancl met up with O'Donnell under a bridge where both men emptied their guns on eachother. Tancl later died of his injuries and O'Donnell was arrested. On May 11, 1925, O'Donnell and Doherty were again free men. Tancl's club, the Hawthorne Park Inn, was badly damaged after a fire broke lose 3 months earlier in February.
(
Source:myalcaponemuseum.com)
Al Capone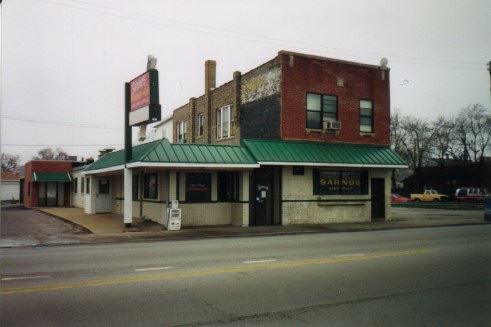 Scene where Klondike and his brother were shot in 1926
In the spring of 1926, Billy McSwiggin, the young 'Hanging Prosecutor' who had tried to pin the 1924 murder of Joe Howard on Al Capone, met with an accident. He left his home of his father, a veteran Chicago police Detective, and went with Duffy to play cards at one of Capone's gambling joints. O'Donnell associate Jim Doherty picked them up in his car. Doherty's car broke down and they hitched a ride with Klondlike O'Donnell. The four Irish lads went on drinking binge in Cicero (where Capone's headquarters were) with O'Donnel and his brother Myles. They ended up at a bar close to the Hawthorne Inn, where Capone was having dinner. O'Donnel cruising around in Cicero was a territorial insult to Capone. Capone and his henchmen, not realizing that McSwiggin was in the bar with Myles & Klondlike O'Donnell, waited outside in a convoy of cars until the drunken men staggered out to kill the O'Donnell brothers. Then out came the machine guns and by mistake McSwiggin and Doherty were murdered.
Capone was blamed. Despite the blot on McSwiggin's integrity for keeping company with bootleggers, sympathy was with the dead young prosecutor. There was a big outcry against gangster violence and public sentiment went against Capone. On April 24, 1930 the chicago tribune printed a list of the first Public Enemies. Al Capone headed and O'Donnell was 14th on the list. O'Donnell's brother Myles was 10th on the list. In 1934 Klondike was suspected in the murder of Jack White, a Capone associate. He was found slumped over a dresser drawer whilst reaching for 2 guns. There had been a struggle between him and 2 men after they had a drink. 2 days after the shooting a witness pointed out O'Donnell and Murray Humphries on police photographs as the killers. Klondike O'Donnell died in December 1976 of natural causes. His brother Myles met his end 35 years earlier.