Joseph "Skinny Joey" was the boss of the Scarfo family and now lives in Florida. He is the son of former underboss Salvatore "Chuckie" Merlino.
Early years
Joseph Merlino was born in South Philadelphia to Rita and Salvatore Merlino. His father and uncle Lawrence were both members of the Philadelphia Mafia and had worked with
Nicodemo Scarfo
in Atlantic City throughout the 60's and 70's. His father became the underboss of the organization in 1981 after Scarfo had become the new boss, but was demoted again 5 years later due to alcohol problems.
During the late 1980's Merlino began his rising and was eager to prove he meant business. On Halloween night 1989 Merlino visited a crowded Italian restaurant in Philadelphia where Scarfo's son, Nicky Jr. was eating. As Marlino walked in, masked, he shot Scarfo Jr. in the chest and neck, but failed to kill him. It is believed that Merlino shot him as revenge for a botched hit earlier on his father, although others believe he shot him in an attempt to take over the organization since Scarfo himself was jailed. Little Nicky then decided to move his son out of South Philadelphia. Not much later Scarfo Jr. was arrested due to secretly recorded tapes made by
George Fresolone
. Whatever the case, Merlino and his associates had South Philadelphia for themselves. However, in 1990 he was arrested and sent to prison for an armed robbery he had committed back in '87. While in prison he befriended elderly capo Ralph Natale, a man who had waited to become the next boss of the Scarfo family for a long time.
When the Philadelphia family rushed into the 1990's it ran out of leadership. Boss Nicodemo Scarfo was jailed for life, his underboss
Philip Leonetti
had become a federal witness and consigliere Nicholas Piccolo had recently passed away. The New York bosses decided took matters in their own hands and supported
John Stanfa
, a Sicilian born mobster who recently got out of prison, to become the new boss of the Philadelphia family. As the new boss Stanfa brought in street taxes for his crews and demanded more profits from them. It was all part of a new and improved organization where discipline and honor would once again prevail. Merlino and his associates, referred to by the press as "the Young Turks", however disapproved these new conditions. Their ideas clashed with the old Mafia codes that Stanfa held so close.
Stanfa - Merlino war
In September 1991 Merlino finally became a made member of the Philadelphia family and was inducted by John Stanfa. However, Stanfa had been advised not to make Merlino a made member because he would mean trouble, but Stanfa did it nonetheless because he believed it would result in a truce. That proved to be wrong. In 1992 Merlino ordered the murder of Felix Bocchino, a 73 year old cash collector who was loyal to Stanfa.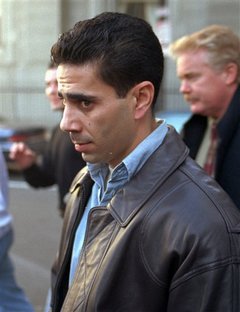 Joseph Merlino in 1997.
AP Photo/H. Rumph Jr
As a revenge Stanfa ordered the murder of Merlino associate Michael Ciancaglini, but the hit failed. Merlino kept on harassing Stanfa and he and his crew refused to pay their debts. In addition Merlino again ordered a hit on one of Stanfa's men, this time the target was underboss Joseph Ciancaglini Jr. Three men, including Ciancaglini's own brother Michael, ran inside his restaurant in the early morning and shot him. Ciancaglini survived but was badly wounded.
Stanfa knew he had to make an end to the uproar and planned a final ambush on Merlino. In August 1993 both Merlino and Micheal Ciancaglini were shot while walking down the street. Ciancaglini died but Merlino, who was hit in his back, survived. Everybody was now anticipating the next move, which didn't take long for it to occur. That same month Stanfa and his son were shot when a white van containing gunmen drove next to them and opened fire. Both also survived but Stanfa's son was badly injured. In months to follow Merlino was targeted over and over again by Stanfa's hitmen but they didn't succeed in eliminating him. Stanfa also turned against other Merlino henchmen such as Frank Baldino, who was shot dead in September 1993. In November that year the FBI eventually interrupted the battle and took Merlino of the street by arresting him for parole violation.
Taking the lead
During the time Merlino was back behind bars also Stanfa and several of his men had been arrested and convicted for RICO charges. Stanfa got up to 5 life sentences and was out of Philadelphia for good. To great joy of Merlino it was Ralph Natale who got promoted to succeed Stanfa as the new boss of the Scarfo family. After he was released from prison Natale immediately promoted Merlino to become his underboss, although many believe it was actually Merlino who was in charge. Both worked out of a coffee shop and oversaw classic mob rackets such as loansharking and gambling. During that time Merlino had become somewhat of a celebrity in Philadelphia as he hosted several charity events, showed off with money and visited popular clubs. He was well liked amongst youngsters in Philadelphia, some even regarding him as their idol.
During the mid 1990's Merlino got in yet another dispute, this time with with Louis Turra, an independent druglord from Philadelphia. In 1998 Turra's father Anthony was shot dead in front of his home by orders of Merlino and Natale. The man was awaiting trial at that time for conspiracy to murder Merlino. His son Louis had committed suicide the year before, which his father probably blamed on Merlino. The death of Turra's father was meant as a warning to all other independent drugdealers who would cross their paths.
In June 1999 Merlino was arrested on drug related charges and for running a fencing operation that sold stolen goods. Between July 1997 and August 1998 Merlino and his crew had received $405.000 worth of goods that had been stolen from the harbors of Philadelphia. 2 years later he and 6 others were acquitted of yet another murder charge but was however sentenced to 14 years for extortion and illegal gambling. To make matters worse, his old friend Ralph Natale had testified against him, although Natale kept his mouth shut when asked about the alleged murders the duo had ordered. Also Natale was sentenced to prison.
With both Merlino and Natale back in prison the leadership shoved to Joseph Ligambi, who slowly brought back stability to the Scarfo family. The FBI however did believe that Merlino was still calling the shots of the family and Ligambi merely worked as an acting boss. In March 2011, after serving 10 years, Merlino was freed from prison. He moved out to Florida with his girlfriend and said to have resigned from criminal life, claiming there are "too many rats" out there. In 2014 however, he was taken back to prison for violating his parole after meeting with Philly mobster John 'Johnny Chang' Ciancaglini at a local cigar bar. The Scarfo family is currently believed to be headed by Steven Mazzone, an old friend of Merlino.
(Source: "Underworld: Philadelphia" National Geographic series; "Philadelphia Braces for Increase in Mob Violence" NYtimes September 5, 1993; "U.S. Says Reputed Mobsters Fenced Bikes and Baby Goods" NYtimes December 17, 1999; www.americanmafia.com, www.bop.gov)