Early life
Barbara came to the United States from his native Castellammare del Golfo, Sicily in 1921 soon working as a hitman for
the Bufalino crime family
. Arrested in connection to several unsolved murders during the 1930s, including the 1933 death of rival bootlegger Sam Wichner, he was never brought to trial. After his conviction of illegally purchasing 300,000 pounds of sugar, Barbara entered the soft drink distribution business. In the post-Prohibition years, he gained control of the beer/soft drink distribution in the Binghamton, New York region. Operating in up-state New York, he owned the 58 acre (24 hectare) Apalachin, New York estate that was the site of 1957's
Apalachin convention
.
The Apalachin Conference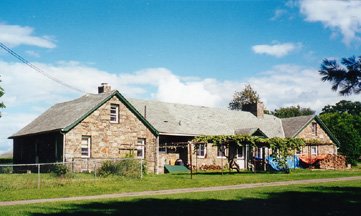 Joseph Barbara's Apalachin ranch
After suffering a heart attack the previous year, the conference was held under the excuse that the members were visiting a sick friend. Police raided the gathering, arresting most of those present (a large minority of Mafiosi managed to escape through the woods surrounding the Barbara estate). Among those apprehended were guests such as
Carlo Gambino
,
Vito Genovese
, and
Joseph Bonanno
. For those Mafiosi that were apprehended, many of them told authorities that they were at Barbara's home to look in on him after his recent heart attack.
Aftermath and final years

After the police raid, Barbara gained national attention and later ordered to testify before the New York State Investigation Committee however, at the time of the 1957 conference, Barbara had a severe heart condition that prevented him from traveling. Using this reasoning, his lawyers were able to delay his appearance until Barbara died of a heart-attack in June 1959, but his old house still exists with new owners.