Giovanni "Johnny" Torrio was one of the first bosses of the
Chicago Outfit
and was a mentor to future gangleaders
Frankie Yale
and
Al Capone
. In his later life he helped forming the National Mafia Commission and was a senior adviser of both the Chicago Outfit and the
Luciano Family
.
Early life
Giovanni Torrio was born in the village of Irsina, near the city of Matera, Italy. His father died when he was only 2 years old and as a result his widowed mother emigrated with him to New York. Growing up in the slums of Manhattan's Lower East Side, his first job was as a porter at his new stepfather's grocery store, which was just a front for moonshine and beer drinkers. Sometime later he became a bouncer at a rough bar.
As a teen, Torrio became the leader of a youth street gang called the "James Street Gang". He saved enough money to open a billiards parlor for the group, out of which grew illegal activities such as gambling and loan sharking. His shrewd business acumen caught the eye of
Paolo Vaccarelli
(a.k.a. Paul Kelly), the leader of the famous
Five Points Gang
. In 1905, the James Street Gang was transformed into the Five Points Juniors, a sort of "training ground" for future Five Pointers, and Torrio eventually became Kelly's number-two. Torrio greatly admired Kelly, who taught him much about organized crime culture; he convinced the younger man to dress conservatively, stop swearing, and set up a front as a legitimate entrepreneur. The lessons Torrio learned from Kelly stayed with him throughout his career, and in time earned the moniker of "The Fox" because of his cunning and diplomatic ways.
Soon, however, Torrio formed a splinter operation of his own on the Brooklyn docks. It ran legitimate businesses, but its main concern was the numbers game, supplemented by incomes from bookmaking, loan sharking, hijacking, prostitution, and opium trafficking. Torrio often paid younger neighbourhood kids to run errands for him; one of these boys was Al Capone, whom he soon came to trust immensely. Capone was a member of the Juniors and soon graduated up to the Five Points Gang itself, and Torrio hired him to bartend at the Harvard Inn, a bar on Coney Island owned by Torrio's business associate
Francesco Ioele
(a.k.a."Frankie Yale).
Life in Chicago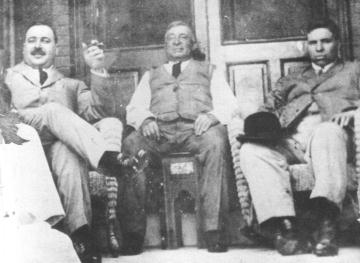 In 1909, Torrio was summoned to Chicago by his aunt, Victoria Moresco, who was a highly successful madam there. The life of her husband, crime boss and pimp
Giacomo "Big Jim" Colosimo
, was being threatened by
Black Hand extortionists
who had been bothering him ever since he made it big. Torrio arranged for payment to be made to the Black Hand, but when they attempted to collect it on Archer Avenue, they were murdered by Torrio-led gunmen. Yale became Torrio's chief lieutenant, and took care of The Fox's NYC operations after the latter left for the Windy City. Torrio became manager of the headquarters of Big Jim's gang, Colosimo's Cafe, located at 2126 South Wabash Avenue. In 1919, he would open a new saloon, gambling den, and whorehouse called The Four Deuces, situated just up the street at 2222 South Wabash, and move his operations there. He also married a Jewish girl named Anna Jacob, whom he loved dearly and never cheated on, although he never let her know of his business dealings.
In 1918, Frankie Yale contacted Torrio and requested him to take
Al Capone
into Chicago; "Scarface" was on the lam from a murder investigation and needed to tidy up his image. Capone joined the racket as a bouncer at one of Johnny's brothels and soon rose to become manager of The Four Deuces. Two years later, Prohibition came into effect, making all manufacture, purchase, or sale of alcoholic beverages illegal. Torrio immediately realized the immense profits bootlegging could bring and urged Colosimo to enter the business. Big Jim, however, would have none of it; he was happy pimping and felt expansion into other rackets would only draw more attention from the police and rival gangs. In addition, he had fallen in love with pretty young singer Dale Winter, for whom he divorced his wife Victoria, remarrying three weeks later. Dale convinced him to settle down, dress more conservatively, and stay out of the news. All of this, Torrio believed, was a serious impediment to the mob's fortunes. With approval from Colosimo allies,
The Genna Brothers
and
Aiello brothers
, he invited
Frankie Yale
to Chicago to kill Big Jim. The murder took place on 11 May 1920, right in the main foyer of Colosimo's Cafe. No one was ever prosecuted, and with the killing, Torrio took over his mentor's vast criminal kingdom and ventured into bootlegging.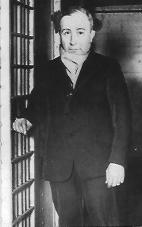 As the 1920s progressed, Torrio, with Capone as his lieutenant, presided over the expansion of his outfit, as it raked in millions from gambling, prostitution and, now, bootlegging. It soon came to control the Loop (Chicago's downtown area), as well as much of the South Side. However, it was also intent on seizing the profitable Gold Coast territory, which drew the ire of the North Side Gang led by
Dion O'Banion
. The two sides began a fragile alliance, but tension between O'Banion and the Gennas (who were Torrio/Capone allies) over territorial rights mounted and, furthermore, O'Banion double-crossed Torrio in a brewery acquisition deal. Torrio ordered O'Banion killed, and the hit was carried out on 10 November 1924, in the Irishman's North Side flower shop by Frankie Yale,
John Scalise
, and
Albert Anselmi
. This sparked a bloody, brutal gangland war between the North and South Sides that would last throughout the decade.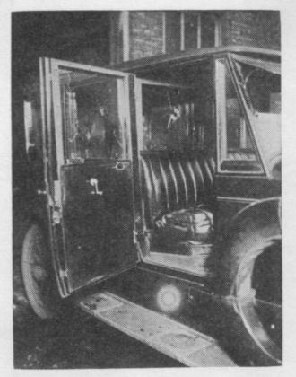 O'Banion's friends and gangmates (
Hymie Weiss
,
Vincent Drucci
, and
George "Bugs" Moran
) were hell-bent on seeking revenge for their leader's murder and almost got it on 24 January 1925. Torrio was returning to his apartment at 7106 South Clyde Avenue from a shopping trip with Anna when a hail of gunfire from Weiss and Moran greeted his car, shattering its glass. His chauffeur was struck in the leg, and Torrio himself was struck in the jaw, lungs, and abdomen. Moran attempted to deliver the coup de grace into Torrio's skull, but was out of bullets. Drucci soon signalled that it was time to go, and the three North Siders split.
Torrio, having undergone emergency surgery, recovered slowly from the assassination attempt. Capone had men guarding The Fox around the clock to make sure his beloved mentor was safe. Throughout this entire ordeal, Torrio never mentioned the names of the assailants. After his release, he served a year in jail for Prohibition violations. Throughout his reign as boss of the Chicago mob, Torrio witnessed the massive increase in violence amongst organized crime. The near-death experience, prison sentence, and increasing difficulty in his work, forced Torrio into retirement. He moved away to Italy with his wife and mother, where he no longer dealt directly in mob business. He turned over his entire outfit to his number-two man,
Al Capone
.
Later Years
"Papa Johnny" returned to the U.S. in the 1930s to testify in Capone's trial. He also suggested to top New York City-based crime lords such as
Lucky Luciano
that they should create one huge crime syndicate instead of all the smaller gangs constantly being at each other's throats. His idea was well-received and he was given great respect, as he was considered an "elder statesman" in the world of organized crime. Once Luciano implemented the concept, the National Crime Syndicate was born. In his later years, Torrio returned to America to live in the city where he was raised, New York City. In 1957, he had a heart attack while sitting in a barber's chair waiting for a haircut and died several hours later in an oxygen tent. The media did not find out about his death until three weeks after his burial.