John Gotti, also known as "The Dapper Don" and "The Teflon Don", was boss of the
Gambino Family
from 1986 until his arrest in 1992. He became widely known for his outspoken personality and flamboyant lifestyle which even put him on the cover of Times Magazine.
Early Life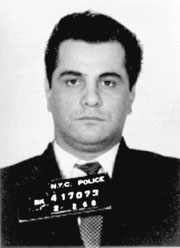 1973: John Gotti
mugshot
Gotti was born on October 27, 1940, to John Gotti Sr. and Philomena "Fannie" Gotti in The Bronx, New York. Gotti's grandfather was an immigrant from Campania in Southern Italy. When Gotti was 12 years old his family moved to Sheepshead Bay, Brooklyn, a tough Italian neighborhood back then. Together with his brothers he joined a local street gang which worked petty crimes in order of a couple of Mafia associates. At this time in his life he befriended
Angelo "Quack-Quack" Ruggiero
and
Wilfred "Willy Boy" Johnson
. In 1957 he was arrested for the first time after a big fight. One year later he was convicted for burglary. All the charges were eventually dismissed.
Criminal career
In 1960 Gotti met and fell in love with Victoria DiGiorgio, and on March 6, 1962 they got married. They had five children, Angela, Victoria, John A., Frank and Peter. John and his family moved to a humble house on 85th Street in Howard Beach.
For some time Gotti tried working legitimate jobs, but was always drawn back to a life of crime. In 1963, he and Salvatore Ruggiero were arrested for being seen in a stolen automobile which had been missing from a rental car agency. Gotti spent 20 days in jail. In 1966, he spent several months in jail for an attempted theft. For all his actions he got noticed by Carmine Fatico, a member of the Gambino family who worked for
Aniello Dellacroce
, the underboss of the Gambino Family. Gotti's career with the Gambino's began with fencing stolen goods from Idlewild Airport. On November 27, 1967, Gotti and Angelo Ruggiero stole $30,000 worth of merchandise from the airport. A few days later the FBI began surveillance on
Ruggiero
and Gotti and caught them loading up more goods. Once outside the terminal Gotti's brother
Gene
pulled alongside his truck and they began to transfer the goods. The FBI swooped in and arrested all three.
After he was released from prison he was placed on probation and ordered to find a legitimate job. Gotti was placed on the payroll of his wife's stepfathers' construction company where he reportedly never showed up for work but remained on the payroll. Meanwhile he returned to his old crew at the Bergen club still working under Fatico. When Fatico was indicted on loansharking charges, he used Gotti to oversee his day-to-day activities at the club. At this point he occasionally met Dellacroce. Gotti looked up to the veteran mobster. In 1973 he was indicted for the murder of James McBratney, an Irish-American gangster who had killed the cousin of boss
Carlo Gambino
.
When Carlo Gambino passed away in 1976 many thought Dellacroce would become his successor, but instead Gambino had appointed his cousin
Paul Castellano
as his successor. On top of that Castellano's rule inside the family was one which irritated many. After Dellacroce passed away in 1985 this immediately gave Gotti and his crew the opportunity to get rid of him. On December 16, 1985, Castellano and his new second in command Thomas Bilotti were on their way to the Sparks Steak House in Manhattan where they would meet with
Thomas Gambino
. When Castellano stepped out of the vehicle he was approached by two gunman who fired six bullets in his body. When Bilotti jumped out to help he was also shot to death. John Gotti and
Sammy Gravano
were the once who had mastered the plan, leading to Gotti's elevation inside the family. The Commission was divided because of his actions. The
Lucchese
and
Genovese
families were not in favor for his elevation and in fact targeted him in 1986 by blowing up his first underboss Frank DeCicco and executing two of his associates in 1990 & 1991. Things however did get settled. Back in his Queens neighborhood he was extremely popular, because he had a reputation for keeping street crime at a low level since no independent gangs were allowed to operate on his turf.
Gotti was arrested several times throughout his career, and although he served time in both state and federal prison, in the 1980s he was referred to by the media as the "Teflon Don" as he avoided conviction on racketeering and assault charges. Gotti bribed or threatened jurors in several trials. He also made use of police informants to keep a step ahead of investigators. While in prison he allegedly hired the Aryan brotherhood as a murder-for-hire. Gotti became something of a celebrity, and would frequently shake hands and pose for pictures with tourists outside the Ravenite Social Club in Manhattan, where he conducted business.
The Last Trial
Gotti was long under intense electronic surveillance run by the FBI. His club,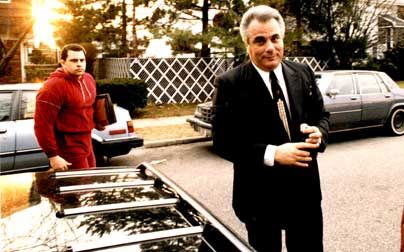 John Gotti with son
phones, and other places of business were all bugged. To get around this, he held meetings while walking down the street. Eventually the FBI caught him on tape in an apartment above the club allegedly discussing a number of murders and other criminal activities. The FBI also caught him denigrating his underboss
Salvatore "Sammy The Bull" Gravano
. On December 5, 1990 FBI agents and New York City detectives raided the Ravenite Social Club and arrested Gotti, Gravano, Frank Locascio, and Thomas Gambino. The day after The New York Times featured an editorial sympathizing with Gotti over the arrest. Gotti was charged with 13 counts of murder, conspiracy to commit murder, loansharking, racketeering, obstruction of justice, illegal gambling, tax evasion, and, for the first time, he was charged with the murder of Paul Castellano and Thomas Bilotti.
The federal prosecutor's evidence was overwhelming. Not only did they have Gotti on tape, they also had several witnesses to testify against him.
Philip Leonetti
, former underboss of the Philadelphia Crime Family was prepared to testify that Gotti bragged to Philadelphia crime leaders that he had ordered Castellano's execution. Prosecutors also persuaded Gravano to testify against his boss with the promise of being entered into the Witness Protection Program. Crowds gathered outside the courthouse to lend support to Gotti, and the court was filled with spectators including
Peter Gotti
,
John "Jackie Nose" D'Amico
, and celebrities like Mickey Rourke.
Prison
On June 23, Gotti was sentenced to life imprisonment without possibility of parole. It was assumed that Gotti would serve his sentence at the new federal "supermax" facility at Florence, Colorado, but instead he was sent to the older United States Penitentiary at Marion, Illinois, where he was kept in a cell 23 hours a day. His cell was underground and measured eight feet by seven feet. He was allowed out of his cell one hour per day for solitary exercise in a concrete-walled enclosure. In other words, he was in solitary confinement. While in Marion he had been confined along with convicted spies Jonathan Pollard and Christopher Boyce. Four days after he was imprisoned at Marion, his father John Gotti Sr. died of heart failure at the age of eighty-five. Gotti appointed his son
Junior
as the family's acting boss.
Death
Gotti died of throat cancer on June 10, 2002 at the United States Medical Center for Federal Prisoners in Springfield, Missouri, where he had been transferred once the cancer was diagnosed. His family claimed he had not received proper care in jail and that faulty dental work had aggravated the disease. Following his death, the Roman Catholic Diocese of Brooklyn announced that Gotti's family would not be permitted to have a Mass of Christian Burial for Gotti. The church said that Gotti's family would be allowed to have a Mass for the Dead for Gotti only after he had been buried. The Catholic Church had taken similar action against other organized crime figures such as
Paul Castellano
; but unlike Castellano, Gotti's family were permitted to have him buried in the mausoleum at Saint John's Cemetery in Queens, next to his son Frank. Although his popularity, his wake wasn't attended by many.