Joseph 'Joe Cargo' Valachi was a
Genovese Family
soldier and the first Mafia member to publicly acknowledge the existence of the Mafia. He also was the person who made Cosa Nostra (meaning "this thing of ours") a household name.
Life before the testimony
Valachi was born to Napolitan parents in Brooklyn, New York, in 1903. He was arrested for burglary when he was 20 years old and was jailed for 9 months. In 1925 he was again arrested and was send to the infamous
Sing Sing prison
. There he met
Camorra
leader
Alessandro Vollero
, who participated in the
Mafia-Camorra
war in 1914-1917 against the
Morello gang
. According to crime reporter Tom Hunt Vollero warned Valachi not to get mixed up with the Sicilians. He advised Valachi to go to Chicago and to join the troups of
Johnny Torrio
and
Al Capone
, who were both of Italian origin. Valachi was released in 1928 but ignored the advise of Vollero by joining a Sicilian crew. Probably thanks to the conversations and warnings of Vollero he was fearfull for
Ciro Terranova
, the Sicilian Harlem boss who's family included the legendary
Peter Morello
and
Ignazio Saietta
. Thanks to some friends Valachi was brought into the Bronx organisation of crimeboss
Tom Reina
through his lieutenant
Gaetano Gagliano
. During this period the
Castellammarese war
was raging on in New York. The Reina organisation began leaning away from boss of bosses and former associate
Joe Masseria
and as a result Tom Reina was murdered. Masseria then put his associate
Joseph Pinzolo
in charge of Reina's organisation which was not to the likes of it's members. Therefore Pinzolo was murdered shortly after in order of Gagliano.
Now that the former Reina organisation sided with Masseria's rival
Salvatore Maranzano
, they started to do work for the Castellammarese. During this period Valachi met a man introduced to him as '
Buster from Chicago
'. Valachi later described Buster as a college boy looking fella. Buster took part in the slayings of Masseria allies Steve Ferrigno and
Al Mineo
in November 1930, together with gunman
Nick Capuzzi
. Buster also took part in the murder of
Joseph Catania
, the cousin of Ciro Terranova, in February 1931 while Valachi drove the getaway car. By this time Valachi became a part of Maranzano's personal staff as one of his bodyguards. However, after both Masseria and Maranzano were eventually murdered in order of
Charles Luciano
, Valachi felt he was also targetted and feared for his life. He He later claimed that Buster was murdered because of his actions during the war. Valachi was inducted into the Mafia as a made man with Maranzano's second in command
Joseph Bonanno
as his Godfather. He became a member of the new
Luciano Family
and was assigned under captain
Tony 'Bender' Strollo
. Although being a made member and being married to the daughter of former crime boss Gaetano Reina, Valachi remained a small time hoodlum. He started to ran small numbers rackets and also became involved in the French Connection to smuggle heroin into the United States from France. Underboss
Vito Genovese
and Tony Strollo demanded much of the sale profits for themselves. During this period
Lucky Luciano
lived in Excile in Italy and
Frank Costello
was running the Luciano family. In 1959 Valachi was arrested for narcotics charges and was sentenced to 15 years in a
Atlanta prison
. In 1962 he was again sentenced for 25 years. Vito Genovese, who became boss after a botched hit on his former boss Frank Costello, was also jailed in Atlanta (Some say he was betrayed by Luciano and Costello who wanted revenge for his move for power). Genovese also felt betrayed and ordered, amongst others, the murder of his captain Anthony Strollo in 1962. Soon Genovese began thinking his fellow organisation member was going to talk to the government to shorten his sentence. Valachi heard about a murder plot and soon began fearing for his live.
On September 22, 1962, Valachi felt threatened by a fellow inmate, named Joseph DiPalermo, and murdered the man with a pipe. Because of the murder Valachi faced the death penalty. Knowing he reached a dead end he descided to make a deal with the government and would therefore betray the Mafia's code, Omèrta. While Valachi had claimed to be testifying as a public service and a way to expose a powerful criminal organization that he blamed for ruining his life, it is also possible he was simply hoping for US government protection to avoid the death penalty for the murder he committed on his celmate.
Government Informant
In October 1963, Valachi testified before Arkansas Senator John L. McClellan's congressional committee on organized crime that the Mafia did exist. Although the low-ranking Valachi's disclosures never led directly to the prosecution of many Mafia members, he was able to provide many details of it's history, operations and rituals, aiding in the solution of several uncleared murders, as well as naming many members and the major crime families. The effect of his testimony, which was also broadcast on radio and television and published in newspapers, was devastating for the mob, which was still reeling from the November 14, 1957,
Apalachin Meeting
where state police had accidentally discovered several Mafia bosses from all over the United States holding a meeting. After the Apalachin exposures and then Valachi's testimony, the mob was no longer invisible to the public eye.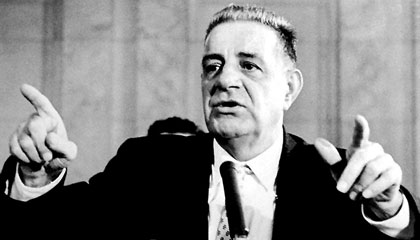 Joe Valachi in Court
After the U.S. Department of Justice first encouraged and then blocked publication of Valachi's memoirs, a biography heavily influenced by those memoirs and by interviews with Valachi was written by journalist Peter Maas and published in 1968 as The Valachi Papers, forming the basis for a later movie of the same title starring actor Charles Bronson as Valachi. Valachi also reportedly inspired the character of Willie Cicci (Joe Spinell) in the hit film The Godfather Part II (1974). In 1966, Valachi attempted unsuccessfully to hang himself in his prison cell, using an electrical extension cord. He died of a heart attack in 1971 at La Tuna Federal Correctional Institution in Texas, having outlived his chief nemesis Vito Genovese by two years. The $100,000 bounty placed on Valachi's head by Genovese went uncollected.