Giuseppe 'Joe' Profaci was the first boss and founder of the
Profaci family
, nowadays known as the Colombo Family. Profaci ruled the family for over 30 years with his brother-in-law,
Giuseppe Magliocco
, close by his side. His brother Salvatore worked as his adviser.
Forming the family
Not much is known about Profaci before his arrival in America. Most likely he was associated with the Mafia in the Villabate region and may have worked for them while growing up. One of his early associates was
Antonio Cottone
, who would become an important associate in the drug trade during the 1950's. Profaci shipped towards the United States on September 4, 1921, on the same boat which brought over
Vincent Mangano
, Phillip Mangano and their father. Profaci was naturalized as an American citizen on September 27, 1927, in Brooklyn. He started a legal profession as an olive oil and tomato paste importer. Here he recieved his nickname 'the Olive Oil king'. During the mid 1920's he made Long Island his territory and formed an organization which primarily dealt in extortion, bootlegging and counterfeiting. His connections with men such as Vincent Mangano gave him the opportunity to form alliances with other crime groups outside Long Island. The Profaci organization soon rose to become one of the 5 leading Mafia organizations in New York. Profaci was associated with many other gangs but most likely he was closest to the Castellammarese community from Brooklyn, the criminal organization led by
Nicolo Schiro
.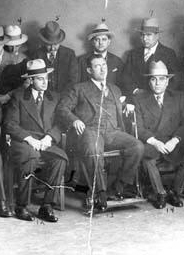 1928: Joseph Profaci(mid) was
amongst the Sicilians arrested
at the Statler Hotel
The Statler Hotel Meeting

In 1928 Profaci was invited at the Statler Hotel in Cleveland. He was one of the Sicilian Mafia bigshots who attended this gathering. The host of the meeting was
Joseph Porello
, who had recently taken over the Cleveland Mafia. Others present were
Pasqualino Lolordo
, who represented
Al Capone
, Profaci's brother-in-law and underboss
Giuseppe Magliocco
and
Vincent Mangano
, then member of the
Al Mineo
family. It proves that Profaci and Mangano were already well known gangsters in the criminal underworld and were treated with enough respect to be invited to a national crime summit. It wasn't for long however until the group was noticed by the police. When the police checked their profiles they soon found out many of them were bootleggers with a large criminal history. The police immediately reacted and arrested about 23 men. When host Joseph Porello heard about the arrests, he immediately went to the police station and payed bail for his associates. All but one were released (another mobster from New Jersey was held for murder charges).
Connections with the Greco Family
In the late 1940's a feud was getting out of proportion between the Giardini and
Ciaculli
clan from Sicily. In 1946 2 prominent members of the Ciaculli side were murdered. They immediately knew who was behind the hit, Salvatore 'Piddu the Lieutenant' Greco. Not much longer 2 men belonging to the Salvatore Greco cosche were killed in retaliation. In 1947 the war got at it's height when a gun battle raged on in the streets of Ciaculli. A man was attacked and shot as 2 women saw it all happen, the women were the wife and daughter of a murdered capo, who died the year before. When they saw the wounded man was still alive they ran outside and stabbed him to death with knifes. Suddenly they were shot as well by the sister and brother of their victim. Rosalia (Born 1928) was murdered as her mother Antonina (Born 1896) was badly wounded. The other mafioso in Palermo advised Salvatore Greco to stop the war because of the heat it brought on them. Greco decided to call in the help of a powerful Villabate capo, Antonio Cottone, becaue he had close ties with the American Mafia, in particular Joseph Profaci. Sometime later Profaci was spotted in Sicily and the dispute was settled. Profacy reportedly played a key roll in the Giardini-Ciaculli peace.
Devoted Catholic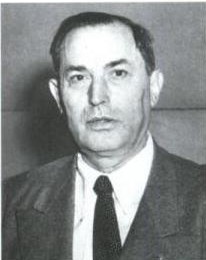 Joseph Profaci
The Profaci family grew to become a wealthy and strong family during the 1930's and 40's. The alliance between the Profaci family and the
Bonanno Family
was also strengthened with the marriage of Profaci's niece Rosalie and
Salvatore Bonanno
, the son of Brooklyn boss
Joseph Bonanno
. Bonanno and Profaci were in fact close friends as well as they often visited each others house with their wives and children. Both weren't fond of going to parties or bars like other gangsters did. They believed in the traditional and old Sicilian manners and most of the time also talked Sicilian to each other. Profaci was also related to Detroit leader
Vito Tocco
after his daughter married Tocco's son.
During the 1950's Profaci ran into trouble with the Department of Justice as they tried to revoke his American citizenship and claimed that he had given false testimonies on entering the United States. Also in 1954 his brother and adviser Salvatore Profaci died in a boat crash. 2 years later his Sicilian friend and drug trade associate
Antonio Cottone
was gunned down near his villa in Sicily. Profaci was reportedly despised by many of his underlings because he implemented a "slush" fund, whereby members of his family had to give him $25 per month that would supposedly go towards supporting mobsters' families should the mobster go to prison. Those who refused to pay received hard beatings or were even killed because they disobeyed. However, Profaci simply added it to the other huge amounts of money obtained through his criminal enterprise. He lived a life of luxury; at the height of his power Profaci had a home set in a 328-acre estate. Said to be the most devout Catholic of Mafia leaders he even had his own altar build inside one of the rooms. He often donated a great deal to Catholic charities, however, he once had two thieves tortured to death for stealing from a local church.
The Abbatemarco murder
In 1959 Profaci ordered the murder of
Frank Abbatemarco
because he failed to pay his debts. After his murder Profaci also ordered the killing of his son, but one of Profaci's members refused to hand him over. This man was
Joe Gallo
. Gallo teamed up with his 2 brothers and other unhappy Profaci members in an attempt to take over the family. This led to the Gallo-Profaci war in 1960. Gallo eve, kidnapped a couple of important Profaci members, including
Joseph Magliocco
, but freed them again sometime later. The Gallo's were backed with
Carmine Persico
, an upcomming gangster from the Profaci Family and bosses
Thomas Lucchese
and
Carlo Gambino
. In May 1961 several gunman tried to murder Gallo but didn't succeed. Not much longer Gallo was arrested and convicted of extortion. He was sent to prison for 10 years, Profaci had won. However, in 1962 Profaci lost his battle against cancer and died on June 7, 1962, only 6 months after the death of
Charles Luciano
. He was succeeded by his brother-in-law Joseph Magliocco which was not to the likes of other New York bosses.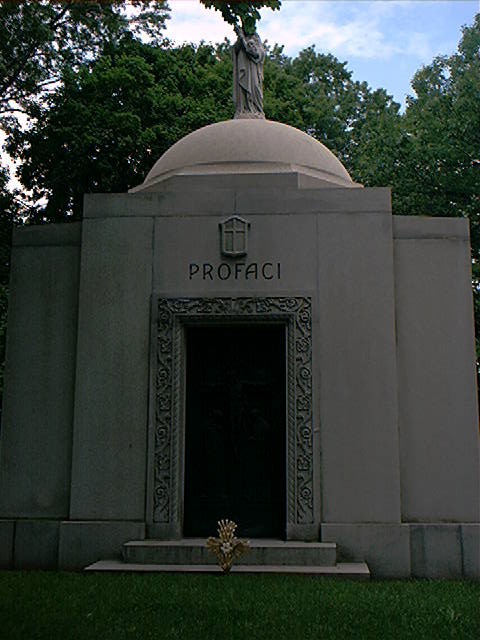 Mausoleum of Joseph Profaci
(
Source: topmobs.com, "The History of the Sicilian Mafia" by John Dickie; "Five Families" by Selwyn Raab; "Profaci Dies of Cancer; Led Feuding Brooklyn Mob" Nytimes June 8, 1962; "Syndicate cities listed by valachi" Nytimes October 10, 1963)