James Riddle "Jimmy" Hoffa was a labor union leader. As the president of the International Brotherhood of Teamsters from the mid-1950s to the mid-1960s, Hoffa wielded considerable influence. He is also well-known in popular culture for the mysterious circumstances surrounding his unexplained disappearance and presumed death.
Early Life

Hoffa was born in Brazil, Indiana, as the son of a poor coal miner. His father died when he was young and Hoffa could not stay in school. Hoffa moved to Lake Orion, Michigan to work in a warehouse. He developed a reputation as a tough fighter who always stood up for his fellow workers against management. Because of this, Hoffa was fired from his warehouse job but later hired as an organizer for Local 299 of the International Brotherhood of Teamsters (IBT). He and other IBT organizers fought with management in their organizing efforts in the Detroit, Michigan, area. Hoffa used organized crime connections to shake down an association of small grocery stores. This led to his first criminal conviction, for which he paid a fine. After he rose to a leadership position in Local 299, Hoffa continued to work with organized crime in Detroit, using the threat of labor trouble to induce business to use a mobster controlled clothier (Friedman and Schwarz, 1988). He was a natural leader who was upset at the mistreatment of workers. In 1933, age 20, he helped organize his first strike of "swampers", the workers who loaded and unloaded strawberries and other produce on and off delivery trucks.
Union activities

The Teamsters union organized truckers, first throughout the Midwest and then nationwide. It skillfully used quickie strikes, secondary boycotts and other means of leveraging union strength at one company to organize workers and win contract demands at others. The union also used less lawful means to bring some employers into line.
Hoffa took over the presidency of the Teamsters in 1957, when his predecessor, Dave Beck, was convicted on bribery charges and imprisoned. Hoffa worked tirelessly to expand the union and in 1964 succeeded in bringing virtually all North American over-the-road truck drivers under a single national master freight agreement. Hoffa then pushed to try to bring the airlines and other transport employees into the union. This was of great concern to the United States bourgeoisie as a strike involving all transport systems would be devastating for the national economy.
For all the benefits that Hoffa and some Teamsters delivered for over-the-road drivers, other Teamsters locals did little more than sign sweetheart deals that made union officers rich and left workers poor. In industries such as garment delivery, organized crime took over locals, and then used their power to strike, bringing the entire industry either under the Mafia's control or at least vulnerable to blackmail. Hoffa had a working relationship with these racketeers, some of whom had played an important part in his election as general president of the Teamsters. Several Teamster chapter presidents were convicted for mob-related crimes but often would continue serving as union leaders, such as
Anthony "Tony Pro" Provenzano
in New Jersey. Cleveland Corn-Sugar War survivor
Moe Dalitz
and Allen Dorfman bankrolled many mob casinos, hotels and other construction projects from the Teamsters pension fund.
President John F. Kennedy and his successor Lyndon B. Johnson both put pressure on Hoffa through John's brother
Robert F. Kennedy
, the Attorney General, attempting to investigate his activities and disrupt his ever-growing union. The Kennedys in particular were sure that Hoffa had pocketed a great deal of union money. Having expelled the Teamsters in the 1950s, the AFL-CIO also disliked Hoffa and aided the Democrats in their investigations. Ultimately, Hoffa was not nearly as beholden to the Mob as to his successor and longtime crony Frank Fitzsimmons, who would have been jailed if he had not died from cancer. While Hoffa was a brilliant tactician who knew how to play one employer off against another and who used the union's power to rationalize the industry by driving out weaker employers, "Fitz" was content to gather the other benefits of high office. The deregulation of the trucking industry pushed by Edward Kennedy and others during Fitzsimmons' tenure eventually destroyed much of what Hoffa had won for his members under the National Master Freight Agreement by making it much harder to maintain the standards Hoffa had achieved. Hoffa's son, James P. Hoffa, is the Teamsters' current leader; his daughter, Barbara Ann Crancer, currently serves as an associate circuit court judge in St. Louis, Missouri.
Conviction and disappearance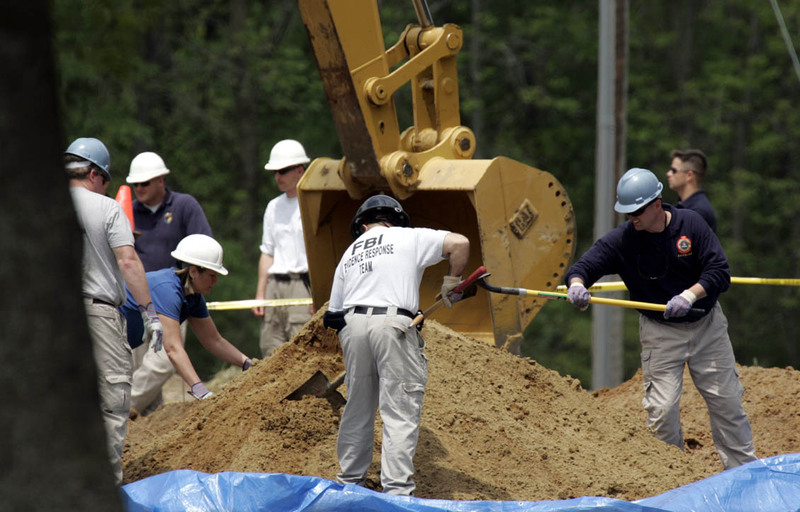 A team searching for the body of Jimmy Hoffa.
In 1964, Hoffa was convicted of attempted bribery of a grand juror and jailed for 15 years. On December 23, 1971, however, he was released when President Richard Nixon commuted his sentence to time served on the condition he not participate in union activities for 10 years. Hoffa was planning to sue to invalidate that restriction in order to reassert his power over the Teamsters when he disappeared at about 2:30 pm on July 30, 1975, from the parking lot of the Machus Red Fox Restaurant in Bloomfield Hills, Michigan, a suburb of Detroit. He had been due to meet two Mafia leaders, Anthony "Tony Jack" Giacalone from Detroit and
Anthony "Tony Pro" Provenzano
from Union City, New Jersey and New York City.
His fate is a mystery that continues to this day. Among the theories are:
- Hoffa's assassination was allegedly ordered at Brutico's, an Italian restaurant in Old Forge, PA.
- Former Mafioso
Bill Bonanno
claimed in his book, Bound by Honor, that Hoffa was shot and put in the trunk of a car that was then run through a car compactor.
- Convicted mob hitman Donald Frankos, alias "Tony the Greek," has claimed that, while on furlough from prison (where he was incarcerated for a previous murder), he committed numerous hits, including that of Hoffa. Frankos claims that Hoffa was murdered in a house belonging to Detroit mobster Anthony Giacolone by a team consisting of Frankos and Westies gangster Jimmy Coonan, and that the body was subsequently buried in the foundations of Giants Stadium by another hitman, Joe "Mad Dog" Sullivan.
- Mob hitman
Richard Kuklinski
also claimed in one of his televised interviews that Hoffa was now a "car bumper". He claims that Hoffa was stabbed in the back of the head and placed in a steel barrel. The barrel was buried, but dug up due to the possibility of its discovery by police. According to Kuklinski, the barrel — with Hoffa's body still in it — was compacted and melted down, to become part of a shipment of recycled steel sold to a Japanese car manufacturer.
- Hoffa's body was said to have been buried in concrete in or near the Straits of Mackinac bridge.
- Hoffa's body could have been buried in what is now Giants Stadium in the Meadowlands, New Jersey. Several sites in the stadium were tested for an episode of Mythbusters but revealed no signs
- Mob muscleman and union member Frank Sheeran claimed in his autobiography that he was the one that shot Hoffa. He however didn't know what happened with the body afterwards since the cleanup job was done by Salvatore Briguglio, one of
Tony Provenzano's
boys who himself was killed a few years later.
None of these theories have been proven and his body has never been found. Hoffa was declared legally dead and a death certificate issued on 30 July, 1982, seven years after his disappearance. Rumors of sightings have persisted for years.