James "the Gent" Burke was an associate of the Lucchese Family and reputed mass murderer. He was a mentor to
Tommy DeSimone
and
Henry Hill
. He and his crew were responsible for the 1978 Lufthansa heist, which is noted as one of the largest robberies of the 20th century.
Starting a life of crime
James was born in Queens, New York, in 1931 and was put up for adoption at the age of 2. After stranding in various foster homes he was eventually taken care of by the Burke family. It is stated that Burke did not experience a good childhood and sought his refuge on the streets. His first arrest warrant dated back from 1949, when he was 18 years old. Over the years he would be convicted numerous times, giving him only 86-days of freedom in a period of 4 years. Since his early 20's Burke was no stranger no more to the NYPD.
During the 1950's Burke got in touch with
Paul Vario
and his brothers, who were running a crew of Lucchese gangsters in Brooklyn. He was often hired to steal whatever was needed, from trucks to loads of cigarettes. It was clear that this was his top business. He also started to commit murder on behalf of the Vario brothers. One of his early victims was an ex-boyfriend of his wife whom he killed and dismembered. In 1963 he also murdered Dominick Cersani, a close friend of his, as revenge for being double crossed over a stolen load of cigarettes.
The Roberts Lounge
Although Burke couldn't be a full member of the Lucchese family because of his Irish descent, he was treated with all the respect he could get inside the Vario crew. He was a good moneymaker, gave large tips to waiters and was generous to his friends. Although having the reputation of a killer and a thief, he was a proud man and always dressed dapper. His nickname "The Gent" was never far away.
During his involvement with the Vario brothers he met 2 ambitious youngsters named
Tommy Desimone
and
Henry Hill
. Both became close to Burke and mostly worked for him. They went on hijacking trucks, drug dealing and loan-sharking and became good earners. The main base for the Burke crew was a bar he owned in Queens, called "Roberts Lounge". The place was much used to stash stolen goods and meet with fellow gangsters. There was also a small stage in the corner on which
Parnell Edwards
often performed.
The Roberts Lounge however also had a more chilling twist. Burke's pupil, Tommy DeSimone, once committed murder inside the bar. The victim was Michael Gianco, a bartender. Gianco was bullied before by DeSimone and in an effort to stand up for himself had openly insulted DeSimone in front of others. This short piece of action proved him costly. Gianco was shot to death and was buried in the cellar, much to the dislike of Burke. Henry Hill later claimed that Gianco was not the only body buried there. His former friend Dominick Cersani was also buried in the cellar. The Roberts Lounge grew in it's notoriety not only for it's concrete cemetery, but also because of it's fine location. It was strategically based near the John F. Kennedy air cargo center in which Burke and his gang would commit multiple thefts over the years.
The Lufthansa Heist
In June 1970 Burke, DeSimone and Hill were present at a club called "the Suite" in Queens. It was a popular hangout for gangsters from the Lucchese and Gambino family. That night there was a welcoming party for
William Devino
, nicknamed "Billy Batts", who had recently gotten out of jail. However, Burke was not there to party, but to settle scores. In the early hours of June 11, while everybody had left the bar and Billy Batts was way over his head, they took their shot. DeSimone smashed his head while Burke held him tight. They quickly moved the body in the trunk of their car and went to bury him in the nearby woods. The murder would remain unsolved for many years but did rose suspicion inside the Gambino Family to which Billy Batts belonged.
On December 11, 1978, America got news that one of the biggest American robberies in history had taken place. The gang had stolen up to $6 million dollar from JFK cargo belonging to the German airliner Lufthansa. The crew of thiefs consisted out of James Burke, his son Frank James, Tommy DeSimone, Angelo Sepe, Louis Cafora, Paolo LiCastri, Robert McMahon and Joe Manri. Parnell Edwards drove the getaway car. However, Edwards made a critical mistake. Instead of disposing the van he decided to go celebrate the success with his girlfriend, leaving the van parked outside her apartment. The next morning the police discovered the van and identified it as being part in the heist. This was a major setback for Burke and his crew and therefore Edwards had to be punished. One week after the heist Edwards was shot to death in his apartment by Tommy DeSimone and Angelo Sepe. He wouldn't be the last.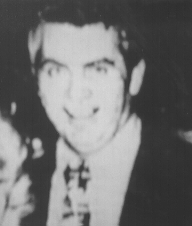 James Burke
The idea for the heist originated from
Martin Krugman
, a barber by profession, who was associated with Burke. He was the second to go. Krugman reputedly irritated Burke so badly by constantly demanding his piece of the money while Burke wanted to wait a bit so things could cool down. Krugman however didn't want to wait and was therefore murdered on January 6, 1979, by Burke himself and Angelo Sepe. His body was dismembered and buried in the basement of the Roberts Lounge. A third participant in the Heist, Tommy DeSimone, was killed 1 week later but not by the doings of Burke. It was an act of vengeance by the Gambino Family for the murder of Billy Batts. Burke was said not to be aware of the contract dangling above DeSimone's head and was devastated after hearing the news.
In May 1979 police discovered the body of a woman named Theresa Ferrara. She was a mistress of DeSimone and was killed because she reputedly began to cooperate with the FBI. She may have snapped after she heard that DeSimone had been killed. In May another gangmember went missing; Louis Cafora. He was a former cellmate of Burke and had been appointed to launder the money of the heist. However, Cafora was rapidly living the good live instead: Buying a brand new pink Cadillac for his wife and buying expensive clothes and jewelry. He drew to much attention. Burke was enraged by his behavior and ordered his death and that of his wife Joanna. The bodies were never found. On May 16 Joe Manri, who also helped orchestrating the heist, was killed too. He was reputedly approached by the FBI to become a witness but had refused the offer, although he better had. He was found dead next to the body of Robert McMahon, an airport night shift supervisor who had helped the robbers. Both were killed with a shot through the head.
In June the body of Paolo LiCastri was found. He was a member of the Gambino family and was appointed to make sure the Gambino's got their share of the heist because it had taken place on their turf. The aftermath of the heist eventually led to a dozen murders, all ordered by Burke.
Henry Hill
, who was not present during the heist, began to distrust his mentor and began fearing for his live since he knew everything about the heist. Believing he and his wife were in danger, he decided to enter the witness protection program.
Arrest and conviction
At first the FBI searched the Roberts Lounge, but found no bodies. Hill later claimed in the book "Wiseguy" that Burke had been tipped about the search and therefore had re-located the bodies from the basement. In April 1980 Burke was arrested. Even Paul Vario, the Lucchese capo, was arrested due to Henry Hill's testimonies. Although Burke is believed of having murdered over 25 men, he was only convicted for the killing of Richard Eaton, a con-man who was strangled to death after a money losing cocaine deal. Burke was sentenced to life in February 1985. Hill also stated that Burke murdered Billy Batts in 1970, but being the only witness the case was dropped. Burke was imprisoned in a Maximum security prison in Alden, New York, and died of lung cancer in 1996. His parole was dated for 2004.
Jesse and Frank James Burke
Burke had 2 sons, one by the name of Jesse James and the other Frank James. He also had a daughter Cathy who married
Anthony Indelicato
, a Bonanno soldier. Frank James Burke was found shot to death in 1987 at the age of 26. His murder was contributed as drug related. It is said that his father didn't show any grief.
Burke was portrayed by Robert De Niro in the hitmovie Goodfellas in 1990.
(Source: nytimes.com, independant.co.uk, en.allexperts.com, trutv.com, findagrave.com, 3.bp.blogspot.com, "Wiseguy" by Nicholas Peleggi)