James "Whitey" Bulger was a gangboss in Boston who oftenly worked together with the New England Mafia. He was on the FBI's 10 Most Wanted list from 1999 until his arrest in 2011.
Early life and crimes
Jams Bulger was born in Boston in 1929. After his father, a longshoreman, lost his arm in a working accident, the family lived in poverty. Bulger was first arrested in 1943 for larceny and in the following years also for armed robbery and assault. From that time in life, he was a member of the Shamrocks, a street gang. For his crimes he was sentenced to 5 years in prison (from 1943 till 1948). When he was released from prison in 1948 he joined the airforce. After he completed his training Bulger was stationed in Idaho and Kansas. In 1952 he was discharged from his duty due to a couple of crimes he commited, and returned to Massachusetts.
The Winter Hill Gang
It wasn't for long untill he returned to his old activities. In 1956 he was a member of a gang who robbed banks in the area of Rhode Island and Indiana. In March 1956 he was arrested and sentenced to 25 years in prison. Bulger was sent to the Atlanta Penitentiary untill 1959. There it is said that Bulger was injected with LSD in order to find a truth serum by the CIA. Some of the inmates who had the same 'threatment' went insane and some of them even committed suicide. It is said that Bulger suffered Insomnia and hallucination for the rest of his life.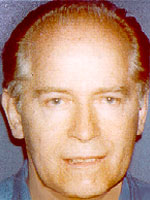 In 1959 Bulger was sent to another prison, Alcatraz. The infamous prison were gangsters such as
Al Capone
and
Waxey Gordon
were once imprissoned. There he met and befriended Clarence Carnes (1927 - 1988, an Choctaw Indian who was sentenced to life at the age of 16 and forced the failed 'bloody Alcatraz escape' in 1946, where 3 inmates and 2 officers were killed). When Carnes died in 1988, Bulger paid for his body to be exhumed to Indian territory in Oklahoma. Bulger was shipped out of Alcatraz in 1962 and was sent for another year in Leavenworth Federal Penitentiary. And shipped again for another 2 years at the Lewisburg Penitentiary. He was released in 1965 after serving 9 years of his sentence. When he was released he worked as a janitor for a while, before becomming an enforcer to Donald Killeen (1924 - 1972), who was leader of the so called Killeen gang. In 1971 a war broke out between the Killeen gang and the Mullen gang, leading to a couple of slayings througout Boston. It is claimed that Bulger was the one who killed his boss in 1972 to stop the war. But the former boss of the Mullen's claimes it was not Bulger who was the gunman but an enforcer of the Mullens crew. After a while the 2 gangs were summoned by
Howie Winter
, to both join his Winter Hill gang. The 2 gangs agreed.
The Winter Hill gang controlled gambling in the North of Boston with the help from Bulger. By 1973 Bulger was in control of the rackets in South Boston. Special Agent Condon, Bulger's contact in the FBI, noted in his log, in September 1973, that Bulger had been heavily shaking down the bookmakers in the area. Beginning in 1973, he began to use his influence to remove opposition by persuading Howie Winter to sanction the killings of those whom he viewed as having "stepped out of line." These included former Mullen associate, Spike O'Toole, who was killed by Johnny Martorano and former Mullen Gang veteran Paulie McGonagle, who was shot in the head by Bulger and buried in a shallow grave in Boston's Tenean Beach. It is also alleged that he had direct involvement in the murders of Eddie Connors, in January 1975, as well as those of Tommy King and Buddy Leonard in November 1975. After 1975, he began to also use his FBI deal to send his rivals to prison. In 1979, Howie Winter was arrested, along with many members of his inner circle, on charges of fixing horse races. Bulger, who was left out of the indictments, stepped into the vacuum and took over the leadership of the gang. He transferred its headquarters to the Lancaster Street Garage in South Boston.

Drug Trafficing
Howie Winter and most of his organization's leadership were sentenced for fixing horse races in 1979, the FBI persuaded Federal prosecutors to drop all charges against Bulger and Flemmi. Bulger and Flemmi then took over the remnants of the Winter Hill Gang and used their status as informants to eliminate competition. The information they supplied to the FBI in subsequent years was responsible for the imprisonment of several Bulger associates whom Bulger viewed as a threat. But the main victim of their relationship with the Federal Government was the Italian-American Patriarca crime family, which was based in the North End, Boston and in Federal Hill, Providence. After the 1986 RICO indictment of Underboss Gennaro Anguilo and his associates, the Patriarca Family's Boston operations were in shambles. Bulger and Flemmi stepped into the ensuing vacuum to take control of illicit gambling and drug trafficking in and around Boston.
By 1988 Bulger headed an organization that ran all of the rackets (e.g., extortion, loansharking, bookmaking, truck hijackings and arms trafficking) not just in Boston but throughout New England. They were also the main narcotics distributor in the state, receiving their drugs from a Cuban-American gang based in South Florida. They were earning so much money that they set up "The X Fund," which was used for payoffs of individuals in politics and law enforcement. It has since been revealed that members of the Boston Police Department, the Massachusetts State Police and the Federal Bureau of Investigation accepted bribes from the X fund.
The Bulger, Kevin Weeks and
Steven Flemmi
trio became heavily involved in narcotics trafficking in the early 1980s. Bulger began to summon drug dealers from in and around Boston to his headquarters. Flanked by Kevin Weeks and Stephen Flemmi, he would inform each dealer that he had been offered a substantial sum to assassinate them. He would then demand a large cash payment as the price for not doing so. Eventually, however, the massive profits of drugs proved irresistible. Bulger began to micromanage the New England drug scene. In South Boston, most of the gang's drug trafficking was managed by a hand picked crew of prize fighters led by John Shea, Edward MacKenzie Jr., a former member of Shea's crew, has stated that this was done because Bulger viewed athletes as less likely to abuse the drugs they were selling.
Bulger enforced very strict rules over his dealers, allowing them to sell cocaine and marijuana, but forbidding heroin and PCP. According to Bulger's reasoning, a cocaine addict can still function, while heroin junkies "become zombies." Those dealers who refused to obey Bulger's rules were beaten and driven out of the neighborhood. To those who obeyed, however, business was good. The Boston drug scene thrived as "Red" Shea and his crew arranged massive drug deals with Colombian and Cuban-American suppliers based in South Florida. In 1990, however, "Red" Shea and his associates were arrested as part of a joint investigation involving the Drug Enforcement Agency (DEA), the Boston Police Department and the Massachusetts State Police. The entire crew refused to violate the neighborhood code of silence by informing on Bulger, to the fury of investigators who had hoped to build a case against him. It would not be until the 1999 cooperation of Kevin Weeks that Bulger, by then a fugitive, was conclusively linked to the drug trade by investigators.
Downfall
In 1994, a joint task force of the Drug Enforcement Agency (DEA), the Massachusetts State Police, and the Boston Police Department launched a probe of Bulger's gambling operations. The FBI, by this time considered compromised, was not informed. After a number of imprisoned bookmakers agreed to testify to having paid protection money to Bulger, a Federal case was built against him under the RICO Act.
The following December, Bulger was allegedly informed by John Connolly that sealed indictments had come from the Department of Justice and that the FBI were due to make arrests during the Christmas season. In response, Bulger fled Boston on December 23, 1994 accompanied by his common law wife, Theresa Stanley. According to Kevin Weeks, this was something that Bulger had long prepared for. As early as 1977, he had acquired documents for himself under the name Thomas F. Baxter. He had also set up safe deposit boxes, containing cash, jewelry, and passports, in cities across North America and Europe including Florida, Oklahoma, Montreal, Dublin, London, Birmingham (UK) and Venice.
Bulger and Stanley initially spent four days over Christmas in Selden, New York before spending New Year's Day in a hotel in New Orleans' French Quarter. On January 5, 1995, Bulger prepared to return to Boston, believing that the tip offs had been a false alarm. That night, however, Stephen Flemmi was arrested, outside his restaurant, by the DEA. Michael Flemmi, a Boston police officer and Stephen Flemmi's brother, informed Kevin Weeks of the arrest. Weeks immediately passed the information on to Bulger, who altered his plans accordingly.
Fugitive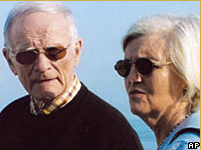 Bulger and Stanley then spent the next three weeks traveling between New York, Los Angeles and San Francisco before Stanley decided that she wanted to return to her children. They then traveled to Clearwater, Florida, where Bulger retrieved his Tom Baxter identification from a safety deposit box. Bulger then drove to Boston and dropped off Teresa Stanley in a parking lot. He then met Kevin Weeks who had brought with him one of Bulger's favorite mistresses, Catherine Greig. Bulger and Greig then went on the run together. James J. Bulger is currently on the FBI Ten Most Wanted list and a reward for US $1 million is being offered for information leading to his capture. Bulger has been on the television show America's Most Wanted 12 times. He was first featured in 1995.
The last confirmed sighting of Bulger was in London in 2002, though in late July 2005, FBI agents were sent to Uruguay to investigate a lead. FBI Agents were also sent to stake out the 60th Memorial of the Battle of Normandy celebrations as Bulger is an enthusiastic fan of military history. In April 2007 eyewitnesses also spotted him in Italy. The FBI was seeking to confirm the sighting; footage shot in Taormina, Sicily, allegedly showed him and his lover, Catherine Greig, walking in the streets of the city centre. As of September 2008, the FBI raised the reward to $2 Million for information leading to Bulger.
Arrest
On June 23, 2011, the FBI captured Bulger in Santa Monica, California, where he was living in a modest appartment. The golden tip came after the FBI had launched a new tv campaign to capture him. Bulger and his girlfriend both surrendered in silence. Inside the appartment agents found hidden guns and cash. Bulger was living under the alias Charlie Rosenzweig, while his girlfriend went through life as Heather Fein. She was known by neighbours as friendly and open, while Bulger was described as having a bad temper.