Jack "Legs" Diamond, also known as Gentleman Jack, was the alias of Jack Moran, an Irish-American gangster based out of New York City. A bootlegger and close associate of gambler
Arnold Rothstein
, he survived a number of attempts on his life between 1919 and 1931, causing him to be known as the "clay pigeon of the underworld." In 1930, Diamond's nemesis
Dutch Schultz
remarked to his own gang, "Ain't there nobody that can shoot this guy so he don't bounce back?" Diamond entered crime as a member of a gang called the Hudson Dusters. In 1918-1919, he was jailed for being a US Army deserter. Hired by
"Little Augie" Jacob Orgen
to murder an enemy, Diamond became Augie's personal bodyguard. He was shot twice when
Louis Buchalter
, seeking to move in on the labor rackets that Orgen was running in the garment district, shot and killed Orgen.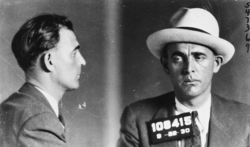 Jack Diamond 1930 mugshot
Diamond then went to work overseeing bootleg alcohol sales in downtown Manhattan. That brought him into conflict with Dutch Schultz, who planned to move beyond his base in Harlem. He also ran into trouble with other gangs in the city, and on one occasion, after failing to make a payment, he was shot at in the Hotel Monticello. He then moved up to the Catskills to get away from the threat of Shultz and the others. It wasn't enough. Diamond was shot five times on one occasion when Schultz's men surprised him at a private dinner. He managed to escape, getting bullets torn into the back of his car, as well as various locations on his body. On another occasion in early 1931, Schultz' gunmen opened up with machine guns at the Aratoga Inn near Cairo, New York, killing two bystanders in the process.
Prohibition Era
During the late 1920's, Prohibition was taking place. The sale of beer and other alcohol was illegal in the United States. This however, did not stop Diamond, nor anyone else in the crime business. He travelled to Europe for a couple months, hoping to score beer and narcotics that way, but he came back unsuccessful. In 1930, Diamond and two henchmen kidnapped Grover Parks, a local truck driver, and demanded to know what kind of beer or alcohol he was carrying. After he denied that he was carrying anything, they beat and tortured him. They eventually let him go. A few months later, Diamond was brought up on kidnap charges. He was sent to Catskill, New York for his first trial, but was acquitted. However, a federal case on related charges case turned out different, and he was sentenced to four years in jail. A third trial, in Troy, New York however, also saw an acquittal.
Death

On December 18, 1931, Diamond's enemies finally caught up with him, shooting him after he had passed out at a hideout on Dove Street in Albany,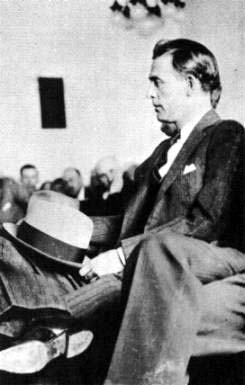 In court
New York after a night party on the day of his trial in Troy. The killers shot him three times in the back of the head at approximately 5:30 AM. However, there were six shots heard, so there's reason to believe a minimal struggle took place. Had he not been killed, he would have gone on to serve the jail time mentioned above. There has been much speculation as to who was responsible for the murder, including
Dutch Shultz
, the Oley Brothers (local thugs), and the Albany Police Department. According to William Kennedy's O Albany, Democratic Party Chairman Dan O'Connell, who ran the local political machine, ordered Diamond's execution, which was carried out by the Albany Police. The following are Dan O'Connell's own words recorded during a 1974 interview by Kennedy and appears on pages 203 and 204:
"In order for the Mafia to move in they had to have protection, and they know they'll never get it in this town. We settled that years ago. Legs Diamond...called up one day and said he wanted to go into the 'insurance' business here. He was going to sell strong-arm 'protection' to the merchants. I sent word to him that he wasn't going to do any business in Albany and we didn't expect to see him in town the next morning. He never started anything here. "Prior brought him around here...but he brought him around once too often. Fitzpatrick finished Legs." O'Connell added that Fitzpatrick (a Police sergeant and future chief) and Diamond were "sitting in the same room and (Fitzpatrick) followed him out. Fitzpatrick told him he'd kill him if he didn't keep going."
Given the power that the O'Connell machine held in Albany and their determination to prevent organized crime from establishing itself in the city and threatening their monopoly of vice, most people accept this account of the story. In addition it has been confirmed by other former machine officials. The first of William Kennedy's Albany series, "Legs," follows Diamond to his death. Diamond was also the subject of director Budd Boetticher's 1960 film The Rise and Fall of Legs Diamond starring Ray Danton and Warren Oates as well as a 1988 broadway musical later based on the movie.
After the murder of Jack Diamond a interview with his wife followed. A reporter asked her some questions, such as 'how did he treath you?'. It was very obvious she read the answers from a board or something like that. She probaly didn't really said what she wanted to say, the media just wanted to show how bad it was for young girls to get mixed up with gangsters. You can view the short interview on the extra features of the film classic 'Little Ceasar' (which was filmed the same year as the murder of Legs Diamond).