Ignazio Lupo Saietta was a feared
Black Hander
and one of the founding members of the
Morello Gang
, which is known today as the Genovese Family. He ruled the early New York Mafia alongside his relatives
Giuseppe Morello
and the
Terranova brothers
during the early 1900's.
Coming to America
Lupo was born in the small peasant town of Corleone, Sicily. He fled to the United States in 1899 after killing a man named Salvatore Morello. He went to live in Brooklyn where he opened a shop where he sold olive oil, cheese and wine. He sold the store in 1901 and moved to Manhattan. During this period he became heavily involved in counterfeiting and together with Morello ran a large counterfeiting ring. In 1902 Lupo was a suspect in the murder of Giuseppe Catania, a Brooklyn grocer who was found stuffed in a potato sack. Lupo was one of the last men seen together with Catania. However, he managed to escape conviction. In 1903 Lupo married 23 year old Salvatrice Terranova and by this the Morello-Terranova-Saietta blood bound was born which strengthened their alliance. That same year he was also one of the suspects in the infamous Barrel murder. Inside a barrel the corpse of Benedetto Madonia, an associate of the Morello gang, was found with his throat cut open. Lupo, Morello and about 8 other gang members were arrested for the crime but were quickly released.
The Murder Stables
In Harlem, Lupo reportedly owned a property known as the "Murder Stables". In these horrific stables numerous of rivals were said to have been killed and tortured. Much of this appears to be gang-legend, although it is believed there could have been such a stable because Lupo did own one. Whether or not it existed, it did gave Lupo an enormous and fearful reputation. In 1906 Lupo was arrested in connection with the kidnapping of Tony Bonzuffi, the son of a baker. The Morello-Terranova-Saietta criminal group was active in Black Hand extortion and protection rackets, counterfeiting, smuggling and forgery. One of their early associates was
Vito Cascio Ferro
, who spent some years in New York before going back to the old country where he would rise to become Boss of Bosses. Lupo also had run-ins with New York supercop
Joseph Petrosino
and is believed to have had a part in Petrosino's murder in 1909.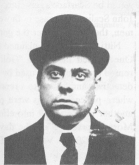 Arrest
During his lifetime Lupo was arrested several times for crimes such as murder and kidnapping. Every time he managed to get away with minor sentences or nothing at all. All of that was about to change. Giuseppe Morello, leader of the Morello gang was arrested at his house for counterfeiting in 1909. Lupo Saietta was also arrested but at first got away with it after a witness failed to show up in court. When a new arrest warrant spreaded out against him, he fled. In January 1910 he was arrested an trialed. Both Morello and Lupo got long prison sentences. Lupo was sentenced up to 30 years in jail and Morello to 25 years. Next to them at least another 13 members of their organization were arrested and convicted. Amongst them were Giuseppe Palermo and Antonio Cecala. Now that the main leaders of the gang and other heavyweights were behind bars,
Nicholas Terranova
and Ciro Terranova looked after the Morello business in the Harlem and Bronx areas. However, the arrests led to the weakening of the gang and other Italian communities in New York began to opress the dominant Morello gang. As years went by and tensions grew the Morello gang found itself at war with the Brooklyn
Camorra
.
In 1920, President Harding's attorney general, Harry Daugherty, arranged for the conditional commutation of the remainder of Lupo's counterfeiting sentence. He was released from
Atlanta Federal Prison
after serving about 11 years. Lupo announced that he was returning to Sicily, which suited both the U.S. government and the Mafia leadership of the time. Lupo was looking to return to the United States in 1922. Claiming to be a wine merchant (an odd claim for a known criminal to make during Prohibition), he was detained several weeks at Ellis Island beginning in May of that year as the authorities prepared to deport him. Surprisingly, the government ordered that Lupo be allowed to enter the country on June 12. But the underworld was a far more complicated and more populous place in 1922 than it had been when he dropped out of the scene in 1910. That same year one of his brothers-in-law, Vincent Terranova was murdered by a young rival named
Umberto Valenti
.
The leading members of the Morello gang agreed to let Lupo work some minor extortion rackets as a sort of pension, but The Wolf was excluded from Mafia leadership and from bootlegging operations. Law enforcement agencies discovered that he was meeting with mob enforcer Anthony Forti to create an Italian bakers' "union" in December 1923. Lupo made several visits to Sicily around that time, and authorities believed, probably correctly, he was stockpiling money for an early retirement.
Though his previous partners
Giuseppe Morello
and
Ciro Terranova
figured prominently in
the Castellamarese War
of 1930-1931, Lupo kept a relatively low profile. He was arrested in 1931 for allegedly killing a man named Roger Consiglio a year earlier, but nothing came of the charge. Lupo and his son Rocco were nabbed again in July 1935 when his bakery extortion racket was exposed. A year later, July 15, 1936, FDR's Administration decided that Lupo had violated the conditions of his "keep-yer-nose-clean" sentence commutation and threw him back behind bars in Atlanta, where he already did time 15 years prior. While in jail Lupo learned of the death of his brother-in-law Ciro Terranova in 1938. Shortly thereafter Lupo was released from Atlanta in poor health, but he clung to life for another nine years. Upon his death of natural causes on Jan. 13, 1947, he was buried in the in the Terranova family plot in Brooklyn's Calvary Cemetery beside Ciro, his wife and son, who died one year later.