Henry Hill was an associate of the
Lucchese Family
, more particular to the branch of
Paul Vario
and Irish compagnon
Jimmy Burke
. He was the subject of the 1990 hit movie Goodfellas.
Henry Hill grew up poor in the East New York section of Brooklyn. His father was an electrician of Irish descent, his mother was of Sicilian stock, and they, Henry and his six siblings lived in a small apartment. From an early age he admired the local mafiosi, who included Paul Vario, a capo in the Lucchese Family. In his early teens, he began running errands at Vario's cabstand and pizzeria.
Hill's first arrest came when he attempted to use a stolen credit card to buy tires at a gas station. He was quickly released after the arrest and a trial, which earned him the respect of many fellow mobsters and big-shot truck hyjacker
Jimmy Burke
, who saw great potential in young Henry, who dropped out of high school to become a gangster-in-training. Burke, like Hill, was unable to become a "made" member of the Mafia due to his Irish ancestry.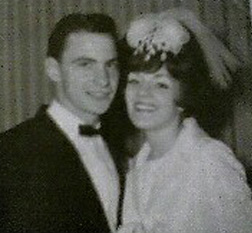 In 1960, Hill joined the army and was stationed at Fort Bragg for three years. He was a member of the 82nd Airborne paratrooper unit there, but he maintained contact with Vario and his other friends in New York the entire time. Hill continued to hustle while in the service, selling extra food, loan sharking salary advances to his fellow soldiers, and selling tax free cigarettes. Before being discharged Hill spent two months in a military stockade for brawling and stealing a sheriff's car. In 1963, he returned to New York and began a life of crime. Hill, Burke, and
Tommy DeSimone
were entrusted by Vario to steal trucks, plan airport heists (carrying out the Air France Robbery in 1967 and the huge Lufthansa heist in 1978), and carry out mob killings. In 1965 Hill met his wife Karen. The two first eloped to North Carolina, and later had a large Jewish wedding, to which most of Hill's gangster friends were invited.
Hill served four and a half years of a ten-year prison sentence for his role in shaking down a gambler before being paroled. Burke and Vario were also imprisoned in connection with the same incident. For a while, Henry tried to stay away from other mobsters. He was constantly moving from neighborhood to neighborhood, mostly ones in Queens. He moved to a residence on Queens Boulevard and mobsters followed him by moving into a place near his. He moved to Ozone Park and the same thing happened. This happened until the day he went into "the program".
Hill had made contacts with drug dealers while in jail. Vario strongly opposed the trade of drugs in his "crew," fearing the extra police attention that would result if anyone associated with him was found trafficking drugs. After his parole, Vario revealed he knew about the dealings and Hill was warned not to deal behind the family's back. Hill had become a cocaine addict and continued dealing in marijuana, cocaine, heroin, and quaaludes. He grew increasingly at odds with the organization after the disappearance of
Tommy DeSimone
, who Hill believed had been delivered into the hands of
the Gambino family
by Vario because he murdered a made guy.
Government Informant
In 1980, Hill was arrested on a drug charge, and shortly afterward re-arrested as a material witness and/or suspect in the Lufthansa heist. He became convinced that his former associates planned to have him killed; Vario, for dealing drugs without permission and Burke, to prevent Hill from implicating him in
the Lufthansa heist
. Hill chose to become an informant to avoid a prison sentence and possible execution by the Mafia. Hill's testimony was important in the convictions of Burke, Vario, and the rest of his "crew."
He, Karen, and their two children entered the U.S. Marshals' Witness Protection Program, changed their names, and moved to undisclosed locations in Omaha, Nebraska, then Independence, Kentucky, and eventually Redmond, Washington. Hill was arrested in 1987 in Seattle, Washington on narcotics-related charges. In 1989, Hill and his wife Karen were divorced after 25 years of marriage. Karen received custody of their children. Hill is no longer in the Witness Protection Program.
After the Seattle incident, Hill claimed to be clean until he was arrested in North Platte, Nebraska in March 2005. Hill had left bags at Lee Bird Field Airport in North Platte, Nebraska containing drug paraphernalia, glass tubes with cocaine and methamphetamine residue. Hill worked for a time as a chef at an Italian restaurant in Nebraska and his spaghetti sauce, Sunday Gravy, was marketed over the internet. As of February 2007 the website had been taken down. Hill was at the center of a controversy in 2006 concerning his allegation, made during an appearance on the Howard Stern Show, that two men had drugged, beaten and raped him with a sex toy while he was living in Nebraska and that they had videotaped the incident. On January 26, 2006, Hill brought a copy of the videotape to Stern's show. His estranged wife, Kelly, claimed for a time that Hill had set the incident up in order to sell the videotape, an allegation she subsequently recanted. Hill battled alcoholism for years, claiming at one point that prison had saved his life. In fall 2006, Hill appeared in a photo shoot along with Ray Liotta for Entertainment Weekly. The small section beneath the photo stated that Hill had turned to drinking and was bouncing in between prison and homelessness in Venice, California. According to the article, Liotta convinced Hill to enter alcohol rehabilitation.
Henry Hill passed away on June 12, 2012, at a hospital in California. He had been suffering from heartdisease for a long time.