The Havana Conference was a meeting attended by most the major figures of United States organized crime, held during the week of 22 December 1946 at the Hotel Nacional in Havana, Cuba. This meeting was considered the most important mob summit since the 1929 Atlantic City conference,and the decisions made at this conference would have a notable outcome on American organized criminal activity in the ensuing decades.
Background
A leader of organized crime in the U.S.,
Salvatore "Charlie Lucky" Luciano
, had been serving a 30-to-50-year prison term for pandering when he was asked to assist the U.S. government during World War II in 1942. After the war ended, New York Governor
Thomas E. Dewey
agreed to release Luciano on condition that the mobster was deported to his native Sicily and never again allowed to set foot on American soil. Lucky complied and set sail in February 1946, settling in his hometown of Lercara Friddi, Sicily, then moving to Palermo, Naples, and Rome, lastly settling back in Naples for good after being kicked out of Rome. However, he never lost hope of someday returning to America, and planned to that end relentlessly. In early fall 1946 Luciano received word in Rome from a new U.S. deportee in the form of a sealed envelope. The message consisted of three words, "December-Hotel Nacional." In late September Luciano obtained two Italian passports made out in his real name, Salvatore Lucania, with visas for Mexico, Cuba, and several South American nations.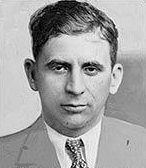 Meyer Lansky
In late October, Luciano vanished from the Italian scene, first arriving in Caracas, Venezuela. From there he flew to Mexico City. He then boarded a private plane to Havana, where he was greeted by close friend and fellow crime lord
Meyer Lansky
. Lansky had organized the summit for the week of 22 December on Luciano's orders. Lansky quickly suggested to Luciano that he should purchase a $150,000 interest in the Hotel Nacional and a casino operated and owned by Meyer and his silent partner, Cuban President Fulgencio Batista. All the conference invitees brought Luciano envelopes full of cash to welcome him back from exile. The money was used to finance Luciano's interest in the Hotel Nacional and casino with Meyer Lansky. These "Christmas presents" were in excess of $200,000, and were given to Luciano on a first night dinner hosted by Lansky,
Frank Costello
, and
Joe Adonis
. The meeting concerned mainly La Cosa Nostra business, but several National Syndicate Bosses were also invited to attend.
Frank Sinatra
was also invited to Cuba the week of the conference for a gala party, but he was not there as a conference attendee. Sinatra's party was, however, used as a pretext for the Bosses to be in Havana. Sinatra flew to Havana with three members of the Chicago delegation, Capone cousins, Charlie, Rocco and Joseph Fischetti. Joseph Fischetti was there as Sinatra's chaperone, while Charlie and Rocco attended the meeting and also had the job of delivering a suitcase with $2 million to Lucky Luciano, his share of the U.S. rackets he still controlled. On the agenda for the Bosses were topics such as the Havana casino and business interests they controlled, the "Boss of Bosses" title, narcotics operations and the "West Coast" operations of
Benjamin "Bugsy" Siegel
. Charlie Luciano also had a couple of personal items to address.
22 December, 1946
The "Havana Conference" convened on December 22 with delegates from New York, New Jersey, Buffalo, Chicago, New Orleans and Florida. Of course the largest delegation of Bosses were from the New York, New Jersey area, with Jewish Syndicate interests being represented by several major Bosses who were invited to attend the conference to discuss joint La Cosa Nostra, Jewish Syndicate business. The Jewish representatives would not have a deciding vote on Rules or policies at this meeting since the most important matters to be discussed concerned La Cosa Nostra business. Luciano opened up the discussion by thanking all the delegates for their envelopes, and then brought up the "Boss of Bosses" or "Capo di tutti Capi" subject. He decided it was finally time for him to take that title and hoped the bosses would acknowledge his claim. Luciano ally
Albert "The Mad Hatter" Anastasia
seconded the motion, since both he and Luciano wanted to send a message to
Vito Genovese
.
New York's Vito Genovese, who was trying to muscle in on Albert Anastasia's waterfront rackets since returning to the U.S. from a ten year self-imposed exile in Italy had also begun to plot his take over of the Luciano Family in order to be crowned the new "Boss of Bosses". Vito had suggested to
Lucky Luciano
in a private meeting before the conference started that he should retire, to which Luciano emphatically responded that he had no such intention. Furthermore, Lucky encouraged Albert Anastasia and Vito Genovese to settle their differences, so that another mob conflict, such as the bloody
Castellammarese War
of 1930-1931, would not break out, but little did Lucky know what the future held in store for the great Syndicate he helped create. Luciano's next item on the agenda was the Mob's narcotics operations.
The Narcotics trade
One of the most important topics the Bosses had for discussion the was the narcotics trade. The biggest myth or falsehood ever associated with the U.S. La Cosa Nostra was that they never dealt in narcotics and that
Charlie "Lucky" Luciano
was against narcotics dealing. Only a few Bosses such as Luciano Family Acting Boss Frank Costello and the other Bosses who controlled lucrative gambling empires were against narcotics and felt La Cosa Nostra would eventually be affected negatively by added media and law enforcement attention because of it. The truth of the matter was that the potential profits from narcotics dealing were far greater than any other racket that La Cosa Nostra controlled and would eventually start to lose power and influence in the underworld if they allowed other crime groups to control the narcotics trade. Salvatore "Charlie Lucky" Luciano had come up from a street dealer in the late 1910s to eventually take over
Arnold "The Big Bankroll" Rothstein's
large narcotics empire with
Louis "Lepke" Buchalter
after Rothstein's assassination in 1928. La Cosa Nostra has long been involved in the narcotics business and was the biggest importer of narcotics (heroin, cocaine, marijuana) in the United States from the 1920s-80's, until the emergence of the Latin, Asian and Middle East drug lords (Colombians, Mexicans, Chinese, Vietnamese, Turkish & Pakistani) and their organizations. The Havana Conference was the beginning of Lucky Luciano's and the Mob's move to monopolize the narcotics business. Charlie Luciano's deportation put him in a position to lead the one of the largest narcotics importation and distribution operations ever,
"The French Connection."
He then organized the first U.S. and Sicilian La Cosa Nostra Summit at The Grand Hotel des Palmes in Palermo, Sicily from October 10-14, 1957, which led to the eventual formation of the "Pizza Connection" narcotics operation.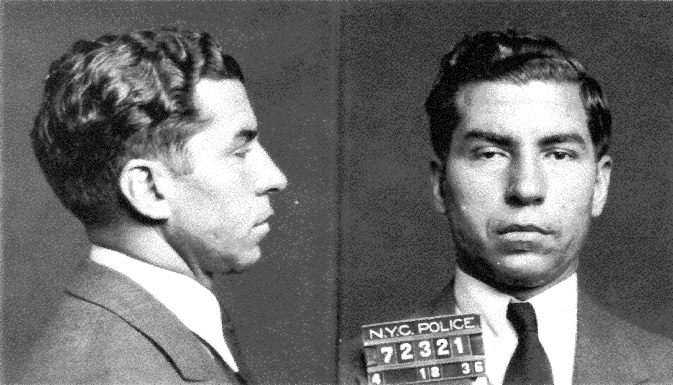 Charles Luciano
Upon Lucky's 1946 deportation he made connections with Sicily's biggest Bosses such as
Don Calogero Vizzini
who had the greatest political and business connections of all the Sicilian Bosses. Also
Don Pasquale Ania
, a powerful Boss in Palermo that had connections to legitimate pharmaceutical companies due to the fact that large scale heroin manufacturing in Italy was legal at the time. Luciano's narcotics network was big and complex and he had many of his old, deported former U.S. allies to help him run his empire throughout the late 1940s until he died in 1962. The main drug imported by Luciano's network at the time was heroin and the main source was 2 French underworld "Clans" that made up the core of the Unione Corse Syndicate or French Mob. The "Corsican Clan" was headed by powerful Bosses Antoine D'Agostino, Jean Baptiste Croce and Paul Mondolini, while the "Marsielles Clan" was made up of 4 Groups. These 4 powerful groups included brothers, Antoine & Barthelemy "Meme" Guerini, brothers, Dominique & Jean Venturi, brothers, Marcel, Xavier & Jean Francisci, and Joseph Orsini. Auguste Joseph Ricord was another Boss that became part of the Unione Corse in the 1960s-70's. These 2 "Clans" ruled the French underworld from the late 1940s to the late 1960s, supplying Charlie "Lucky" Luciano and his La Cosa Nostra allies with large amounts of heroin.
During the Havana Conference, Salvatore "Charlie Lucky" Luciano detailed the network to the Bosses and how he and his Italian allies would export the narcotics to Cuba, then to be shipped to the United States, mainly the New York, New Orleans and Tampa ports controlled by the Mob. The narcotics shipped to the New York docks in Manhatten and Brookyn were overseen by
The Luciano (Genovese) Family
and The
Mangano (Gambino) Family
, In New Orleans they were overseen by
Carlos Marcello's
Family and in Tampa the narcotics shipments were overseen by Luciano allies in
The Trafficante Family
. One of Luciano's narcotics Lt. in Trapani, Sicily was his old New York pal, Nicola "Zu Cola" Gentile who oversaw all drug operations in the Agrigento province for Lucky Luciano and his partner
Don Giuseppe Settecase
, the Capo provinca of Agrigento. In mainland Italy, Luciano had set up "The Caneba Network" with Don Pasquale Ania and his nephews, Ugo and Salvatore Caneba. Their New York to Italy laison Antonio Farina would then ship and distribute the narcotics to their U.S. partners
Albert "Don Alberto" Anastasia
,
Frank "Don Cheech" Scalise
, Jack Scarpulla, Peter Beddia and Matthew "Matty' Cuomo.
Long time Charlie "Lucky" Luciano ally Frank "Fingers" Coppola ran the Sicilian "Partinico Clan" with his Detroit allies John "Papa John" Priziola,
Angelo Meli
, and Rafaelle Quasarano who then shipped the narcotics to their New York contacts, Giovanni "Big John" Ormento, of
the Lucchese Family
,
Carmine "Lilo" Galante
and Natale "Joe Diamonds" Evola of
the Bonanno Family
, Frank Lavorsi of
the Luciano (Genovese) Family
, and
Joseph "Joe Bandy" Biondo
of the
Mangano (Gambino) Family
, who would then distribute it along the East Coast. Lucky Luciano also had Lt.'s working mainland Italy, like Frank Barone and Giuseppe Arena in Rome, Frank Pirico, Frank Saverino and Giovanni Maugeri in Milan, Salvatore DiBella in Naples, and Joseph "Joe Peachy" Pici in Milan and Genoa. Others U.S. distribution groups that worked with Luciano and his allies were "The Bellanca Gang", brothers, Antonio, Joseph and Sebastiano "Benny Blanca" Bellanca and Gaetano "Tommy" Martino of The Mangano (Gambino) Family. Then there was the group of Settimo "Big Sam" Accardi, Joseph "Hoboken Joe", brothers Frank and Anthony Stassi, Anthony Granza, Vincent Ferrara and Louis Cirillo who worked for Albert 'The Mad Hatter" Anastasia and
Carlo "Carl" Gambino
. Lucky Luciano couldn't leave out
Vito "Don Vito" Genovese
who had his group of distributers
Anthony "Tony Bender" Strollo
, Vincent "Vinnie Bruno" Mauro, Frank "The Bug" Caruso, Salvatore "Sam" Maneri,
Vincent "Chin" Gigante
and even
Joseph "Joe Cago" Valachi
.
Salvatore "Charlie Lucky" Luciano's narcotics empire became continued to grow and prosper with the help of the U.S. Bosses all around the country. The "Havana Conference" Bosses such as
Joseph "The Old Man" Profaci
who used his food importation business to smuggle narcotics,
Gaetano "Tommy Brown" Lucchese
and his Family's 107th St. Crew which controlled all heroin distribution in Harlem, New York.
Joseph "Joe Bananas" Bonanno
and
Stefano "The Undertaker" Magaddino
who's Families in New York and Buffalo opened up Montreal, Quebec and Toronto, Ontario in the 1950s for "The French Connection", all helped destroy the myth that Charlie Luciano and La Cosa Nostra were against narcotics. When Fulgencio Batista was eventually overthrown by Fidel Castro, the mob had to look elsewhere for a landing and storage facility for their narcotics shipments, but "The Big Time" in the narcotics business for La Cosa Nostra all started with Cuba and the "Havana Conference."
Bugsy Siegel
The next item up for business was what
Meyer Lansky
called the "Siegel Situation".
Benjamin "Bugsy" Siegel
had been purposely excluded from the Havana proceedings because he was to be one of the main topics discussed. In the mid 1930s, Siegel was sent to California and Nevada to set up the Commission's racewire, and to oversee gambling activities in Los Angeles and Nevada and narcotics shipments coming in from Mexico. Very popular in Hollywood's most glamorous circles, he became obsessed with the idea of constructing a casino and hotel – the Flamingo Hotel – in Las Vegas, and persuaded National Syndicate financial advisor and money launderer, Meyer Lansky and several La Cosa Nostra Bosses, mostly from New York and Chicago, to finance the project. The hotel's estimated building costs were around $1.5 million, but they eventually reached $6 million. Siegel had terrible business sense, and no construction experience. He was used to robbing, stealing and gambling, not building a hotel and casino and running them as legitimate businesses. Builders were selling him materials one day, stealing them back from the building site, then selling them back to him.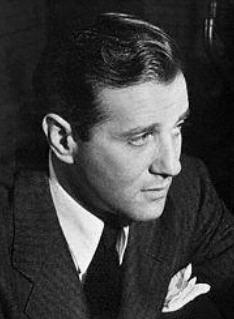 Bugsy Siegel
Meyer Lansky had information that Siegel's girlfriend,
Virginia Hill
, was taking frequent trips abroad and depositing money in a Zurich, Switzerland bank account. Lansky had reason to believe his friend Siegel was skimming money from the capital received from Luciano, Lansky and those Bosses who had invested in the project, and might possibly even leave the U.S. if the Flamingo failed. Following a vote in which the Jewish Syndicate Bosses did not participate, being that they had not invested in the Flamingo and casino, it was decided that Siegel would be killed, and the Conference's council of La Cosa Nostra Bosses chose
Chicago Outfit
Consigliere, Charles "Trigger Happy" Fischetti to oversee the contract and give it to
Jack Dragna
, the Los Angeles Boss. Jack Dragna, who despised Siegel then gave the contract to Mob hitman Paul "Frankie" Carbo. Meyer Lansky convinced the other delegates that they should wait until the Flamingo opened on 26 December to see how the casino fared. The gangsters then took a break for Christmas.
On the 26th, word reached the assembled hoods in Havana that the Flamingo had flopped. The enraged mobsters demanded Siegel's head on a platter, but Lansky once again convinced them that Bugsy could save the casino. Following a closure for repairs, the Flamingo reopened a few months later. It soon began churning out a profit, but Siegel was assassinated in Hill's Beverly Hills mansion by a hitman with an army carbine on 20 June 1947.
Luciano - Genovese
The tension between
Charles Luciano
and
Vito Genovese
reached a boiling point at the conclusion of the Havana Conference. In Luciano's room, Vito told him that the U.S. government knew that Lucky was in Cuba, and was putting pressure on the Batista regime to have him expelled. Genovese then declared his desire to inherit Lucky's holdings, since Luciano would be back in Italy.
Luciano snapped, sure that Vito had tipped off the Washington authorities about his whereabouts. He proceeded to beat Genovese and eventually broke three of his ribs; it was three days before Vito could travel again. Luciano and
Albert Anastasia
then put Genovese on a plane and Charlie Luciano threatened Vito Genovese with death if he ever mentioned the altercation to anyone.
In February 1947, the New York City papers got wind of the fact that Lucky was in Cuba, and U.S. drug agent Harry Anslinger or Asslinger as Luciano called him, demanded that Charlie "Lucky" Luciano be deported back to Italy. Anslinger even went so far as to seek support for Luciano's expulsion from President Harry S. Truman when the Cuban government refused to comply with his request. The U.S. government halted all shipments of medical supplies to Cuba until Luciano left; Lucky, Lansky, and Batista tried to concoct a counter to this embargo by trying to halt all Cuban sugar shipments to the U.S., but it failed. Luciano was arrested that month, and arrested again once he landed on Italian soil in April.
Salvatore "Charlie Lucky" Luciano died on January 26, 1962 of a heart attack at the Naples, Italy airport, with Vito Genovese dying in an Atlanta prison in 1969. They ended up buried 100 feet from each other in the same cemetery.
The Conference
Hosts

Charlie "Lucky" Luciano, Luciano Family Boss, Charter Commission member and founder, defacto "Boss of Bosses".

Meyer "The Brain" Lansky, Jewish Syndicate Boss, financial and gambling operations advisor, casino front man (Las Vegas, Cuba, Bahamas)

New York - New Jersey Delegation

Frank "The Primeminister" Costello, Luciano Family Acting Boss,Commission member.
Quarico "Willie Moore" Moretti, Luciano Family Underboss.

Albert "The Mad Hatter" Anastasia, Mangano Family Underboss.

Joseph "Joe Bananas" Bonanno, Bonanno Family Boss, charter Commission member.

Gaetano "Tommy Brown" Lucchese, Gagliano Family Underboss.

Giuseppe "The Old Man" Profaci, Profaci Family Boss, charter Commission member.

Giuseppe "Fat Joe" Magliocco, Profaci Family Underboss.

Vito "Don Vito" Genovese, Luciano Family caporegime.

Giuseppe "Joe Adonis" Doto, Luciano Family caporegime.

Anthony "Little Augie Pisano" Carfano, Luciano Family caporegime.

Michele "Big Mike" Miranda, Luciano Family caporegime.

Chicago Delegation

Anthony "Joe Batters" Accardo, Chicago Outfit Boss, Commission member.

Charles "Trigger Happy" Fischetti, Chicago Outfit Consigliere.

Rocco Fischetti, Chicago Outfit caporegime.

Buffalo Delegation

Stefano "The Undertaker" Magaddino, Buffalo Family Boss, charter Commission member.

New Orleans Delegation

Carlos "Little Man" Marcello, New Orleans Family Boss (some mob historians dispute his position at this time).
Tampa Delegation

Santo "Louie Santos" Trafficante Jr., Tampa Family caporegime, moved to Havana in 1946 to oversee La Cosa Nostra and Tampa Family casino and business interests, future Tampa Family Boss.
Jewish Syndicate Delegation

Abner "Longy" Zwillman, New Jersey Jewish Syndicate Boss, National Syndicate Commission member.

Morris "Moe" Dalitz, Cleveland Jewish Syndicate Boss, casino frontman (Desert Inn, Las Vegas)

Joseph "Doc" Stacher, New Jersey Jewish Syndicate Boss, casino frontman (Sands Hotel, Las Vegas)

Philip "Dandy Phil" Kastel, Jewish Syndicate Boss, Frank Costello's Louisiana slots operations and Tropicana Casino, Las Vegas partner.