Gregory Scarpa, Sr. was a notorious capo of the
Colombo Family
in New York and was also known by his nickname "The Grim Reaper". Although becomming an FBI informant he continued to extort and murder.
FBI informant
Gregory Scarpa Sr. was born in Brooklyn, New York, in 1928. His parents were immigrants from the village of Lorenzaga, in Northern Italy. Growing up in Brooklyn he came in contact with associates of the Mafia, in particular with men who worked for
Joseph Profaci
. He then followed his brothers footsteps and also joined the Profaci family somewhere during the 1950's.
In March 1962 Scarpa was arrested for armed robbery. Because the FBI was in need of accurate information about the family, they proposed Scarpa to become an informant in exchange for his out-of-jail ticket. He agreed and it didn't take long for him to make benefit of his cooperation with the FBI. During the 80's and 90's he was able to kill a couple of guys after he had recieved confidential information about them.
Mississippi burning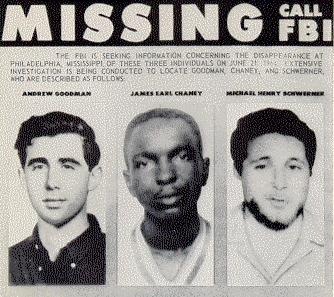 The 3 victims of the Mississippi
lynching, 1964.
After midnight on June 21, 1964, 3 young men were lynched while they were investigating the burning of a church that supported civil rights activity. As they were heading for the church they were stopped by a police officer named Cecil Price, who also happened to be a member of the Klu Klux Klan. The 3 men, all of foreign etnicity, were put behind bars for allegedly driving 35 miles per hour over the speed limit. Hours passed until the men were released again. They were ordered to leave the county and were driven to the border by Cecil Price. However, at the border Price stopped the men again and held them there until his fellow KKK members arrived. The men were taken to an isolated spot where they were beaten and shot to death.
The FBI investigated the murders and recruited Greg Scarpa Sr, who had been in Mississippi at the time, to help find the bodies of the lynched men. At one point Scarpa threatened a KKK member by placing a gun in his mouth and demanding him to reveal the location of the bodies. According to a testimonie by his girlfriend Linda Schiro, Scarpa got the information he wanted and thanks to him the FBI was able to find the bodies.
Stone cold killer
Greg Scarpa Sr. was known as a stone cold killer, living up to his nickname "the Grim Reaper". He was much used by the family to clean up the mess and murder anyone who was out of line. In some way several believed he enjoyed killing. In August 1980 Colombo soldier Dominick Somma was murdered after jailed Colombo boss
Carmine Persico
suspected him of dealing drugs without him knowing about it. Others who were murdered by Scarpa Sr. were carthief Sal Cardaci (January 1983), Albie Variale (July 1983), Mary Bari (1984), who was a former girlfriend of
Alphonse Persico
, and Anthony Frezza (October 1985), to name just a few. In all Scarpa Sr. is suspected of having killed, or ordered to kill, about 30 men.
His son Greg Scarpa Jr. followed his fathers footsteps and also became a viscious killer. He and his crew killed several people, amongst them Robert DiLeonardi (July 1981) and Peter Crupi (July 1985). Scarpa Sr.'s brother Salvatore was also involved with the Colombo family but was murdered in November 1987 due to a drugwar between Scarpa Jr. and other gangs. Scarpa Jr. then murdered 44y old Colombo soldier Joseph De Domenico in retaliation because of his involvment in the murder of his uncle.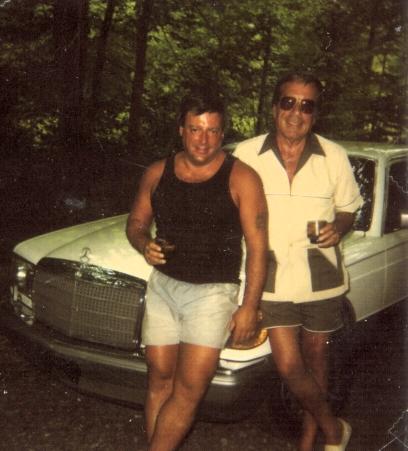 Greg Jr. and Greg Sr. 1980's.
The FBI murders
About 20 years after Scarpa first became an informant he was put up with agent Lindley DeVecchio as his main contact. Both men seemed to get allong well and 2 of DeVecchio's men, Jeffrey Tomlinson and George Leadbetter, later even accused their superior of helping Scarpa to evade arrest and offering him confidential information. Also several items of evidence went lost in the following years, for instance a revolver that was thrown out of a window by Scarpa went missing after it came in the possession of the police and also shell casings produced during an assassination attempt on Scarpa went missing.
In 1991 a war had errupted inside the Colombo family between jailed boss
Carmine Persico
and his acting boss Victor Orena. In June that year a couple of Persico men had tried to kill Orena, but failed to do the job. On November 18, 1991, Orena struck back and targetted Greg Scarpa. Scarpa left his home with his daughter and grandchild and drove out to town. Suddenly a van pulled over and blocked the road causing Scarpa to stop. Suddenly 3 men jumped out and opened fire. Through the hail of bullets Scarpa was able to manouver his way out of there and miraculously no one was injured.
During the war about 12 men were murdered, some meeting their end at the hands of Scarpa. In January 1992 Colombo captain Nicholas Grancio was murdered in Southern Brooklyn by Scarpa and Larry Mazza. The murder was committed right after an FBI surveillance team was called back after watching Grancio. FBI agent DeVecchio was suspected of calling back the surveillance team in order for Scarpa to have a clean shot at Grancio. Scarpa also had his own score to settle with the victim because he was believed to have been part of the hitsquad that had attempted to kill him earlier.
In all DeVecchio was suspected of helping Scarpa in 4 murders. In 2007, after a trial in which Scarpa's girlfriend Linda Schiro and former consigliere Carmine Sessa witnessed, he was eventually acquitted of those murder charges.
Death and legacy
Greg Scarpa Sr. eventually died on June 4, 1994, of aids. He got the disease during a blood transfusion he had recieved in 1987. He was never suspected of cooperating with the FBI by his fellow mobsters because he had a feared reputation and murdered without hesitation, so it never hit their minds he was working with the FBI.
Scarpa was married to a woman named Connie, but he also had an affair which lasted for about 30 years with Linda Shapiro. His oldest son, Greg Scarpa Jr. (who's mother was Connie), was arrested in 1988 and was sentenced to life. His other son, Joey Schiro (who's mother was Linda), was shot death in 1995 at the age of 24. The crime also appeared on "America's most wanted" where Linda Schiro asked to help find the killer. In 2009 a book called "Mafia Son: The Scarpa Mob Family, the FBI, and a Story of Betrayal" was published about the live of Scarpa and his family.
(Source: "Inquiry in 1992 Mob Killing Focuses on Ex-F.B.I. Agent" NYtimes January 5, 2006; "Charges Dropped in F.B.I. Murder Case" NYtimes November 1, 2007; gangstersinc.tripod.com/GregScarpa, caselaw.findlaw.com, gangstersinc.tripod.com/puparo, www.nydailynews.com)