Gennaro Angiulo was the underboss of the Patriarca Family from 1954 until 1986. He and his brothers were leading members of the Family for about 30 years before
Whitey Bulger
led to their conviction.
Being made in the Family
Gennaro Angiulo was born in Massachusetts in 1919 as one of 5 brothers. After finishing school he took a job as a truck driver and began to take bets and make street loans to provide an additional income. This role as a freelance operator did not rest well with the established Boston syndicate. By the end of World War II, having been shaken down and chased out of many areas, Angiulo and his brothers offered their services to long time New England consigliere Joseph "J.L." Lombardo. The elder New England mobster was thought to have been highest ranking member at the time despite not being identified as the 'official' crime boss.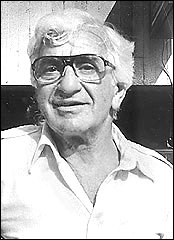 When Ester Kefauver started with his anti - Mafia campaigns and showed hearings on television (such of
Frank Castello
) it became to much for Lombardo shutting down all the illegal activities. While old time mobsters began to duck and the illegal cash flow dried up, Angiulo made a proposition to Lombardo. He would manage the action and take on the heat, while making sure that Lombardo received his due. Lombardo agreed and suddenly Angiulo and his brothers found themselves in a treasure chest of ill-gotten gains. Angiulo was placed as a frontman and boss of Boston's criminal activities. By the late 1950's it is said Angiulo got in some trouble with local mafioso because he was not a made member. He offered $100.000 a year to
Raymond Patriarca
to become a made man. After being made Angiulo was seen as Boston's nr. 1.
Barboza
In October 1966, Boston hitmen
Joe Barboza
was arrested for carrying a concealed weapon. Barboza believed his boss Raymond Patriarca or Angiulo would pay the bail to free Barboza but neither of them did. 2 of Barboza's men then counted their money to get Barboza free but only came up with $59.000. They went to the "Nite Life Cafe" that was owned by a Patriarca Family Member and tried to get the rest of the money. Both men were found dead days later. In 1967 Barboza was sentenced to 5 years and started talking to the FBI.
From the Barboza disclosure, Raymond Patriarca and
Henry Tameleo
were indicted in 1967 for the 1966 murder of Willie Marfeo. In August of that year Angiulo was indicted for the murder conspiracy of Rocco DeSegilo. Then six other mob connected gangsters were indicted for the 1965 murder of Edward "Teddy" Deegan. With the exception of Angiulo, who was acquitted, all others were found guilty of either murder or murder conspiracy. With some of the highest ranking members, which included then underboss Tameleo, Angiulo was now filling the second highest ranked position in the crime family's structure. He had become the underboss of the Patriarca crime family and would operate the Boston rackets with carte blanche.
Downfall
In September 1981 Angiulo, three of his brothers and several others were arrested. Angiulo was held without bail. When he was arrested he yelled out "I'll be back before my pork chops get cold". In 1984
Raymond Patriarca
died and a brief gap between the mob boss's death and the recognition of a new leader allowed Angiulo an attempt to bark his desires to be the crime boss of the New England syndicate despite being behind bars. Illario Zaninno, who appears in some way to have suffered while under the heavy hand of Angiulo, dismissed these attempts and put his vote behind Raymond Patriarca, Jr. as the new leader. Patriarca had offered Zaninno the spot of consigliere in exchange for his support. Angiulo pleaded guilty of racketeering from the 1960's into the 1980's and murder conspiracy. He was handed 45 years along with a $250,000 fine. Angiulo was never a quiet mob figure. In March 2004 The Boston Herald published a recent statement sent out by Angiulo. He attempted to denounce his affiliation with the mob and stated he was never a member of the syndicate. The evidence suggested otherwise. Angiulo was released from prison after serving 21 years on September 10, 2007, and retired to his mansion in Nahant. On the 29th of August Angiulo passed away, aged 90.