The Morello Gang was an early New York organization which would lead to the existence of the
Luciano
, and later Genovese Family. The gang was started and headed by mobsters hailing from the Sicilian town of Corleone.
Morello-Terranova-Saietta alliance
Back in 1867 a man by the name of
Giuseppe Morello
was born in Corleone, Sicily.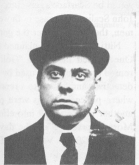 When his father passed away his mother remarried a man named Bernardo Terranova. Together with her new husband she at least had 3 sons and daughters, amongst them were Vincent (b.1886),
Ciro
and
Nicholas Terranova
. It is believed that Giuseppe Morello was allready working with his future partner in crime,
Ignazio Saietta
, during the 1880's. In 1889 Morello and an accomplice murdered a police official in orders of the Mafia, a murder which would hunt him for another 20 years. Morello left for America in 1892 or 1893, most likely to escape conviction. He probably entered the country under a false name and with false documents. He went to live in Manhattan. Six months later, in the spring of 1893, the rest of the Morello-Terranova family traveled to America including his half-brothers. The family resided in New York for about a year before moving to Texas. By 1896 the family returned to Manhattan. This is were it all began.
Ignazio Saietta arrived in 1899 after murdering a man in Sicily. He opened a store in Brooklyn where he sold Olive Oil, cheese and wine. Next to that he brought over his reputation and was becoming a feared man amongst the Italian population in New York. Saietta extorted and murdered people under the
Black Hand
label. In 1900 Morello was arrested for counterfeiting but walked away as a free man. By 1901 Saietta moved away his business from Brooklyn to Manhattan where he opened a saloon. In 1902 the Secret Service arrested a band of counterfeiters who were all involved with the Morello-Saietta alliance. Amongst them was
Vito Cascio Ferro
, who was said to have teached Saietta and Morello in their criminal activities. Cascio Ferro managed to escape conviction but the police kept a close eye on him. In 1903 Saietta married Morello's half-sister, 23 year old Salvatrice Terranova. This created an blood bound between the Morello, Terranova and Saietta families.
The first murder contributed to the Morello gang occurred on July 23, 1902. Four boys who were swimming at the Bay Bridge suddenly discovered a large potato sack floating in the water. In the sack they discovered a mutilated body. His throat was cut from ear to ear and he was badly bruised. The man was identified as Giuseppe Catania, a Brooklyn grocer. There were no arrests, but the Secret Service knew that Ignazio Saietta was one of the last men who saw Catania. In the meanwhile Morello, who had a saloon which he opened in 1898, started a restaurant. His half-brother
Ciro Terranova
worked there as a waiter. On December 31, 1902, 3 men of the Morello gang were arrested and found guilty on counterfeiting charges and were jailed at the
Sing Sing
prison.
The Barrel Murder
In April 1903 a man was found stuffed in a barrel.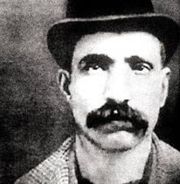 The discovery was made by a woman who happened to pass by. Inside the barrel sat the corpse of Benedetto Madonia, the brother-in-law of Giuseppe Di Primo, a jailed Morello member. Both Saietta and Morello were arrested but were soon after released. A couple of days later another 8 men were arrested, amongst them was Vito Laduca. However, charges were dropped and when the trial was finished the Morello's were often searched and harassed by the police. Ciro Terranova, his brother Vincent, their nephew Charlie and Nick Sylvester were arrested ones while they were heading back home from work without doing anything wrong. Morello gave up his restaurant and also Saietta closed his import store. Together they opened a real estate company which was called the 'Ignazio-Florio Association'. When Giuseppe Di Primo got out of Sing Sing prison he wanted revenge for the murder of Madonia. First by talking to investigator
Joseph Petrosino
and later by murdering
Tommaso Petto
. Vito Laduca, who moved back to Italy, was given the task to murder Di Primo but was murdered instead in 1908, possibly by Di Primo. One year later 'super cop' and Morello enemy Joseph Petrosino was murdered in Palermo, Sicily.
Vito Cascio Ferro
, the old associate of Morello, was credited with the murder. It is possible though that the murder occured as a favor to Giuseppe Morello.
Morello and Saietta put behind bars

On November 15, 1909, Giuseppe Morello was arrested at his home at 207 East 107th. They found him in his bed with a loaded .44 caliber revolver. Morello tried to give 2 notes to his wife in a last effort but a policeman spotted him doing that. The police also found another four letters in the diaper of Morello's baby. Three days later Ignazio was also arrested. A Manhattan store keeper named Manzella claimed that Saietta had ruined his business due to his extortion. Manzella however failed to appear in court to testify against Saietta, leading to his release. However, a new arrest warrant followed immediately. Saietta knew this and fled. On January 8, 1910, Saietta was arrested together with Giuseppe Palermo. Both tried to bribe the officers but it didn't help. Both Morello and Saietta were found guilty on counterfeiting charges and both received severe sentences. Morello was sentenced to 25 years in jail and Saietta was jailed to 30 years in a
Atlanta prison
. After their conviction at least another 14 gang members were arrested.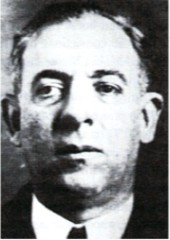 Now with both leaders put behind bars, there was need for new leadership. The Terranova brothers were appointed to lead the gang.
Ciro Terranova
had allready establish political contacts which made it easier to do business. Ciro's main business was his monopoly of artichokes, this lead to his nickname 'The Artichoke king'. He sold this Italian delicacy at very high prices. With this they earned fortunes. Violence however lay just around the corner.
In 1913 Charles Lamonti was found murdered infront of their Black Hand office. Lamonti was a nephew and member of the Terranova's. Six months later his brother Giuseppe Lamonti was murdered and sometime later, on May 23, 1914, yet another Lamonti brother was killed. It is not clear wether or not the murders were an attack to the Terranova's or if it was an internal feud. In 1916
Pellegrino Morano
, the Brooklyn
Camorra
boss, started to move in on the Morello territory. Terranova responded with the murder of one of Morano's underlings. This led to the
Mafia-Camorra war
. On September 17, 1916,
Nicholas Terranova
was murdered together with his bodyguard Charles Umbriaco as retaliation. The war came to an end when Camorra bosses Pellegrino Morano and
Alessandro Vollero
were arrested and convicted. During this period another Brooklyn mafioso,
Salvatore D'Aquila
, took his chance and marked himself as New Yorks Boss of Bosses. When Giuseppe Morello was released on parole in 1920, he was immediatly targetted by D'Aquila. Not much later Morello was spotted in Sicily, possibly to talk with negotiator and old associate
Nicola Gentile
to ask for help. Another Morello member who was also targetted by D'Aquila was
Umberto Valenti
, a former Camorra member who allied himself with the Morello gang after the war. Valenti however saved himself by allying himself with D'Aquila to help him with plotting against the leadership of the Morello-Terranova organization.
Masseria - D'Aquila Situation

D'Aquila, who was supported by Cleveland boss
Joseph Lonardo
and fellow Brooklyn mobster
Frankie Yale
was eager to get rid of the Morello gang. Another growing Morello gangmember who was targeted was
Giuseppe Masseria
. A Sicilian born in 1887 who was a member of Ciro Terranova's gang in Lower Manhattan. Valenti tried to murder Masseria a couple of times, but failed with each attempt. Valenti did succeed in murdering Vincent Terranova, the 36 year old brother of Ciro. That same year, in 1922, Masseria got to Valenti by trapping and murdering him. One of the gunmen was the young
Charles Luciano
. Now with Valenti out of the way the business of D'Aquila began to slow down. His own lieutenant
Al Mineo
even started to plot with Giuseppe Masseria against his boss. Masseria also got more and more support from mafia leaders all over the country, especially from the
Torrio-Capone
gang in Chicago. In 1928 D'Aquila was eventually murdered and so was Frankie Yale.
A new enemy rages on
Now that Masseria had gained fame all over the country by killing his enemies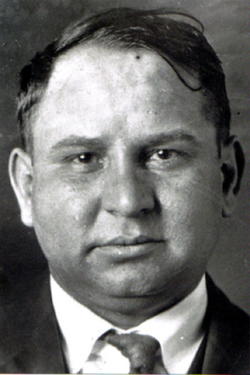 and expanding his businesses, it is still unclear who exactly was in charge of the Morello Family. Probably Masseria pulled the strings while Morello, who was in his 60's, became the second in command. In fact, Masseria and Morello didn't hate each other as claimed by a couple of books, but reputedly had a solid relationship according to
Joseph Bonanno
. During the late 1920's Masseria was getting more and more suspicious of the growing number of Castellammarese natives in America and especially in Brooklyn. The Castellammarese where a close knit organization and operated in Williamsburg. During prohibition both groups would often hijack trucks from each other. Masseria tried to let the Castellammarese pay tributes to him, but they refused. Led under the command of
Salvatore Maranzano
they raged into an infamous war against the Morello/Masseria gang. This war was dubbed the
Castellammarese War
and all over the country Mafia groups would take sides. It was also a time of bloodshed as many found their death. Important Castellammarese members such as
Gaspar Milazzo
(murdered in Detroit 1930),
Vito Bonventre
(murdered in Brooklyn 1930) and
Joe Aiello
(murdered in Chicago 1931) were killed. But also Masseria lost allot of important members such as original Morello leader
Peter Morello
(murdered in Harlem, 1931),
Joseph Catania
(murdered in the Bronx 1931) and
Al Mineo
(murdered in the Bronx 1930). Masseria was eventually betrayed by his own lieutenant,
Charles Luciano
, and was murdered in a Coney Island restaurant on April 15, 1931, which ended the war. His arch enemy Salvatore Maranzano was now the new Boss of Bosses. Maranzano divided the 5 families in New York and every boss of a family had to pay tributes to the Capo di tutti Capi, Maranzano. Charles Luciano became the new boss of the former Morello organization, which was now known as the
Luciano Family
.
(Source: Gangrule.com and NYtimes articles)