Gaetano "Tom" Reina was the first boss of the
Lucchese Family
and was an allie of
Joe Masseria
during the 1920's. Reina became one of the first and main victims of the
the Castellammarse War
in 1930. His daughter Mildred later married
Joe Valachi
, a man who brought down the Mafia on it's knees after he became a government informer in 1963.
Early association
Gaetano Reina was born in Corleone, 1889, and entered America somewhere during the early 1900's. Reina was then employed by Angelo Gagliano, a relative of
Tommasso Gagliano
, at the Columbus Wet wash laundry. Through this business Reina became associated with the
Morello gang
. Here he also met and befriended fellow Corleone native
Ignazio Dragna
. Both would be involved and arrested for the murder of Barnet Baff in November 1914. They were however discharged of the crime. Reina's younger brother Antonino also lived near him and participated in the bombing of Baff's house in 1913.
Castellammarese War
Through the years Reina had gathered most of his fortunes through the distribution of ice boxes, something which was popular because the people had no ways of making their own ice back then. In criminal life he was an important ally of the Morello organization largely because of his wealth and influence around his Bronx territory. Reina's second in command was Tommasso Gagliano, Stefano LaSale operated as his adviser. LaSale was a close associate of
Nicholas Terranova
and Eugene Ubriaco who were both murdered in 1916. When
Salvatore Maranzano
got control of the Castellammarese organization in Brooklyn all hell was about to brake loose. Maranzano had enough of the dictatorial Giuseppe Masseria and went to war. As conflict began between Masseria and Maranzano, Reina backed his old associates, the Morello's. However, Masseria began to get suspicious of Reina and believed he was negotiating with the enemy. If Reina did betray Masseria as he suspected, a possible reason could be because Masseria began demanding a large share of Reina's profits. After being informed of Reina's defection, Masseria needed to get rid of him and decided to place his associate
Giuseppe Pinzollo
on top of the Reina branch.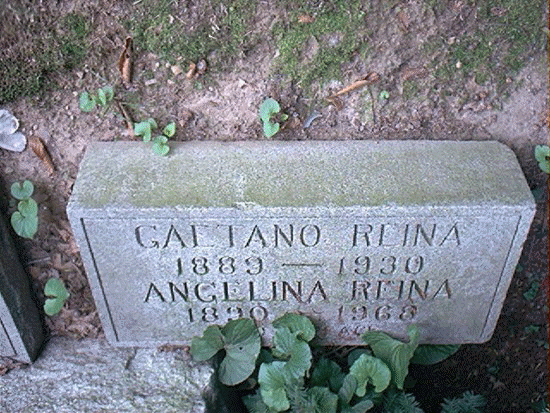 According to Luciano in "The Last Testament of Lucky Luciano", Reina was well liked in the Italian underworld stating that he was "...a man of his word, he had culture and was a very honorable Italian." On February 26, while leaving from a dinner at his Aunt's home in the Bronx (although other sources claim he had been reportedly leaving the apartment house of a mistress) , 40 year old Reina was murdered on Sheridan Avenue by
Vito Genovese
due to a shotgun blast. After Reina's death, Masseria's ally
Joseph Pinzolo
took over but was soon to be killed by Gaetano Gagliano and
Thomas Lucchese
.
Reina was later portrayed by Amedeo Nazzari in the 1972 film The Valachi Papers, Joe Tornatore in the 1981 film Gangster Wars and Chris Penn in the 1990 film Mobsters.