Frankie Yale was a Brooklyn gangleader active during the 1920's and was a mentor of
Al Capone
. He led a gang called "The Black Handers" and had an intensive rivalry with the Irish "White Handers" for control over the Brooklyn docks.
Comming to America
Frankie Yale was born in Italy in 1893 as Francesco Ioele and together with his family moved to America at the age of 7. His crime reports date back from 1910 where he was fined 70$ for disorderly conduct. In 1913 he was sentenced to a year, again for disorderly conduct. Four years later he was charged for carrying a gun and was sent to prison for another year. During his teens he became associated with the Five Points gang led by
Paul Kelly
where he met and befriended
Johnny Torrio
. He also met an ambitious and violent youngster by the name of
Alphonse Capone
. Somewhere in 1917 Capone was offered a job in a bar owned by Yale called the Harvard Inn. While working in the club Capone got his famous scar after insulting the sister of Frank Galluccio. The young Capone was afterwards summoned to Chicago by Johnny Torrio to start working there. Torrio had allready moved there a couple of years prior to defend
James Colosimo
and his wife, who was a relative of Torrio, from extortionists. Yale on the other hand remained in Brooklyn where he ran his own crew.
Chicago Outfit contracts
Although both Torrio and Capone lived in Chicago they kept close ties with Frankie Yale as he was one of their most important New York contacts. When James Colosimo left his wife for a much younger girl the cooperation between him and Torrio vanished. Colosimo's wife wanted him death and counted on her nephew to take care of it. Torrio saw this as a clear shot to take over Colosimo's lucrative prostitution rings and had plans to expand in the bootlegging business. Colosimo had to go and the man appointed for the job was Frankie Yale. On May 11, 1920, James Colosimo was no more. Most likely Torrio wanted to have the killer living outside Chicago to prevent further problems with the law.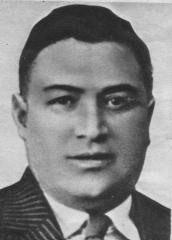 Frankie Yale
The roaring twenties were violent times in Chicago and the many gangs oftenly fought eachother. Gangster murders were shattered all over newspapers on a weekly base. Johnny Torrio and the Outfit had succesfully expanded their business and were alligned with associates all over Chicago, except for the North and East Side gangs, which were primarily of Irish descent. Torrio and Capone's main enemy was
Dion O'Bannion
and his viscious North Side crew. Troubles started when the North Siders had a fallback with the
Genna's
, 6 Sicilian brothers who ruled over Little Sicily. Torrio intervened but was himself doublecrossed after O'Bannion had set him up during a bust in an anti-bootlegging operation. Torrio, who was now facing jail, soon took his revenge. After Unione Siciliane head and respected businessman Mike Merlo passed away, a large funeral was planned. To have a funeral of that proportion there was need in allot of flowers. O'Bannion, who was the mobs florist and owned a flowerstore, was therefore asked for a big order worth up to thousands of dollars. On November 10, 1924, 3 men entered O'Bannions flowershop to check if O'Bannion was present to purchase their order. A couple of minutes after the men had left another 3 men entered the shop. These men were Frankie Yale and notorious Outfit killers
John Scalise
and
Albert Anselmi
. O'Bannion reached out his hand to greet the men but as one held his hand tight, another one pulled a gun and shot him death. Later that day Yale and a friend were arrested on a train which was heading back for New York. However, in the aftermath no one was sentenced for the crime.
The months following the O'Bannion murder were violent ones. Johnny Torrio was ambushed and was severely wounded, leading to his early retirement. Al Capone, who succeeded Torrio as head of the Outfit was also frequently attacked by North Side members. However, this was not of Frankie Yale's concern although he was part of the murder which started all out war in Chicago.
Black versus White handers
In New York Yale focussed on the Brooklyn docks, mainly on incomming shipments and marketplaces. Next to that he also oversaw bootleg operations from New York to Chicago in cooperation with Al Capone and the Outfit. He was a wealthy man and was oftenly dressed with jewels and diamonds. He even had his own cigar brand which covered an image of his face on the box. Yale was also known as a hot tempered guy as he once beat the hell out of his younger brother Angelo just to teach him a lesson.
Brooklyn was a busy place for criminals and next to Yale a couple of other criminal organizations were active there. For instance the
Salvatore D'Aquila
organization and the Castellammarese under
Nicolo Schiro
. Yale is believed to have been associated with both groups. However, one gang in particular would anger him to the fullest, the Irish "White Hand" gang. In 1920 Frankie Yale had the first leader of the South Brooklyn based White Handers,
Dinny Meehan
, killed while laying in bed next to his wife. His successor was
Wild Bill Lovett
, a WWI veteran, who continued the rackets and interests on the Brooklyn docks.
In February 1921 Yale was ambushed by White Hand gangsters but survived the attack. On July 15 that same year Yale's brother Angelo and 4 other thugs were also ambushed and shot, but all of them survived (However, the murder attempts could also have been committed by rival whisky and rumrunners from Brooklyn). On the first of November, 1923, Wild Bill Lovett met his end during a night out at the Lotus Club on 25 Bridge street. Lovett had gotten drunk and had fallen a sleep.
Vincent Mangano
, Johnny "Silk Stocking" Giustra and
Willie Altierri
closed up towards Lovett and while one smacked him hard with an object on the head, another one shot him through the neck. Wild Bill was killed instantly. He was succeeded by
Richard "Peg Leg" Lonergan
, his brother-in-law.
The Adonis Club Massacre
Like all White Hand bosses also Peg Leg Lonergan was about to meet a violent end. The Adonis Social Club was a popular two-story frame building at 154 Twentieth Street. The basement was a much used place to play cards and it was even the place where gangsters learned to take aim and shoot. In 1925 Capone was invited to New York by Yale and other associates to celebrate Christmas at the Adonis Club. That night Pegleg Lonergan and 4 other hoodlums were having their usual shakedown with clubowners and stopped by at the Adonis club. However, while making their way through the crowd they were suddenly shot. Pegleg laid dead near the door, Aaron Harms and Needles Ferry, 2 of his men, were also killed. The forth member was badly injured. Capone and Yale were questionned about the shooting but declared they were at the wrong place at the wrong moment. The killings remained unsolved.
Fallout with Capone
However, eversince Johnny Torrio had left Chicago in 1925 his relation towards Capone went downwards. Yale tried to keep his influence in Chicago and was supportive to
Joe Aiello
to become the next Unione Siciliane boss, but Capone made
Antonio Lombardo
the next head instead. Aiello and Lombardo were former friends who even shared a baking company, but due to a fallback started to become violent towards eachother. At one point gunmen of Lombardo shot Aiello's bakery in pieces, wounding his brother. Aiello eventually got the upper hand by killing Lombardo. The killers were members of Capone's fierce enemies, the North Siders. Yale further tried to keep his influence in Chicago through Aiello and again vouched for his presidencie in the Unione, but again he was not appointed as the next head as
Pasqualino Lolordo
became Lombardo's successor. Capone and Aiello had been at odds eversince 1927, when the Lombardo-Aiello feud started, but Aiello's arrogance had reached it's peak.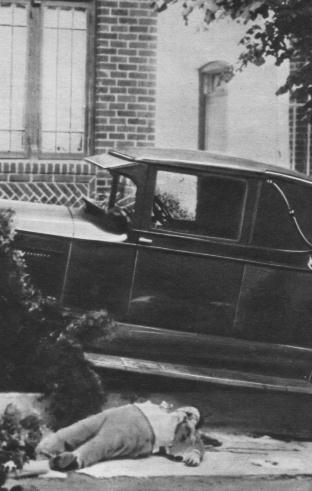 Frankie Yale
dead on the street
Also Yale started to act arrogant against his former pupil and oftenly talked bad about Capone and his associates. After all the things he had done for the Outfit, such as the 1920 killing of Colosimo and the 1924 O'Bannion hit, he was angry he was not asked for approval to chose the next Unione Siciliane leader. In addition to that, Capone discovered that some of his bootleg cargo comming from New York went missing. Yale was asked to oversee the shipments towards Chicago, but instead held some of it for himself. Capone discovered Yale's doublecrossing by sending over a spy into Yale's gang, a man named James D'Amato. Yale and his men however unmasked D'Amato and had him killed. Capone went furious and with backing from New York kingpin
Giuseppe "The Boss" Masseria
he sent over a Chicago crew to have him assassinated.
On the first of July, 1928, Yale recieved a phonecall stating that there was something wrong with his daughter. He immediatly left the bar and rushed towards the hospital in his brown Lincoln. Unknowing it was a setup, another car started to drive side by side next to him. Once the men in he car identified Yale they opened fire. During the highspeed chase Yale was hit in the back of his head and crashed his car into a house. Amongst his killers were
Louie Campagna
, Gus Winkler and Fred Burke. It was the first murder in New York committed with a Thompson machine gun.
Yale was succeeded by Frankie Marlow, who was killed himself one year later. Most of Yale's business was then covered by
Al Mineo
, a Brooklyn waterfront leader and successor of
Salvatore D'Aquila
. His gambling and bootleg operations went to
Anthony Carfano
, a former member of his. Frankie Yale's funeral went as a gangsters funeral was supposed to be. Allot of people, an immensity of flowers and a long hearse. It is said that the wife of Dinny Meehan, who was killed 8 years prior by Yale's men, stood between the crowd and spit on his cascket as it passed by. He is buried at the Holy Cross Cemetery in Brooklyn, New York.
(Source: myalcaponemuseum.com; britannica.com; "Three of gang slain at Brooklyn dance" Nytimes December 27, 1925; "Capone: The Life and World of Al Capone" by John Kobler)