Frank Nitti was born in Sicily, 1886, although the year 1888 is carved on his gravestone. According to the
myalcaponemuseum
website his draft registration card shows 1886. He immigrated to Chicago after the end of WWI where he set up business as a barber, with a profitable line as a jewel fence on the side. He built an extensive network of associates in the Chicago underworld, and came to the attention of Chicago Mafia boss
Johnny Torrio
. During the war against the rival North Siders, Nitti was believed to have planned the
Hymie Weiss
hit in 1926. During this period he became a top member of
Al Capone
, who had taken over from Torrio after he left for Italy. Nitti ran Capone's Prohibition-busting liquor smuggling and distribution operation, importing whiskey from Canada and selling it through a network of speakeasies around the city. Nitti was trusted for his leadership skills and business acumen; despite his nickname "The Enforcer", Nitti used Mafia "soldiers" and other underlings rather than undertake much of the violence himself.
Nitti, like Capone, was charged with income tax evasion in 1930. Capone was sentenced to eleven years, Nitti to 18 months. Upon his release, he was hailed by the media as the new boss of the Chicago Mafia,
The Outfit
, but actually operated as a front boss for
Paul Ricca
. On December 19, 1932 two Chicago police officers shot Nitti in his office, nearly killing him. Some historians believe they were acting under orders from Mayor Anton Cermak (who, they believe, wanted to redistribute Nitti's empire to gangsters favorable to him). One of the police officers shot himself (non-fatally) to make the shooting look like self-defense. Unfortunately for the Chicago police (and whoever was behind the shooting), Nitti survived and was acquitted of attempted murder in a February of 1933 trial. The two Chicago police officers responsible for the Nitti shooting were then summarily dismissed from the police force.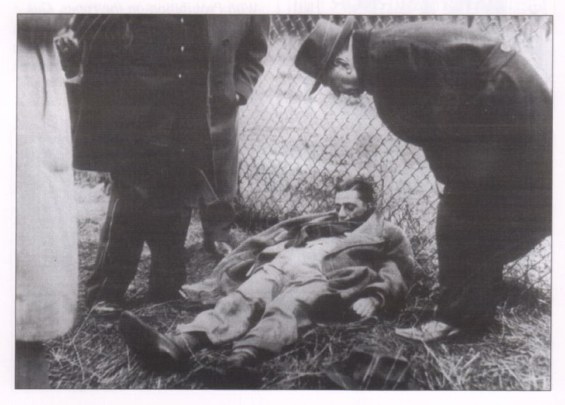 In 1943, many in the Chicago organization were indicted for extorting a number of the largest Hollywood movie studios. Many of the higher-ups in the mob, such as Paul Ricca, believed Nitti should take the fall for the rest of them. On the eve of a scheduled grand jury appearance, and fearing another long prison term and some claim possibly suffering from terminal cancer, Nitti finished breakfast with his wife in their Riverside, Illinois home at 712 Selbourne Road. Nitti said he was leaving to take a walk as his wife left to attend a church service. He strolled to a remote area about five blocks away and, with two railroad workers (William F. Sebauer and Lowell M. Barnett) watching from a distance, shot himself in the head on an Illinois Central railroad siding in North Riverside, Illinois on March 19, 1943.
Movie & Fact.
Frank Nitti was potrayed in a couple of movies, for instance 'The Untouchables' from Brian DePalma, but this movie doesn't show Nitti like he was. At the end of the movie Nitti is sitting in court carrying a gun while Al Capone (played by Robert DeNiro) is sentenced for his crime. Although in real life that wasn't Nitti, there was someone else of the Capone gang sitting in court with a loaded pistol who was arrested when the cops discovered the weapon. Other movies are 'Capone' & 'Road to Perdition' starring Tom Hanks.