The Chicago Outfit is a crime syndicate that has a long and extensive history dating back to long before Prohibition and part of the U.S. phenomenon known as the Mafia. However, the Chicago Outfit is distinct from its cousins, the "Five Families" of New York's La Cosa Nostra. The Chicago Outfit's power and influence rivals the New York Mafia. It is the only criminal organization in its home city of Chicago, with a monopoly of traditional organized crime, whereas the Five Families compete with each other for control of racketeering activities in New York. The Outfit's control reportedly reaches throughout the central U.S. to places as far away as Las Vegas and parts of Florida.
Pre-Prohibition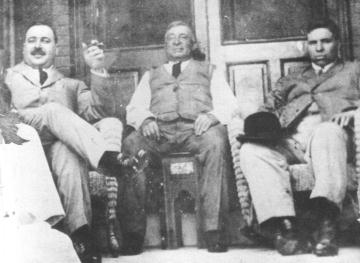 The early years of organized crime in Chicago were marked by the division of various street gangs controlling the South Side and North Side as well
the Black Hand organizations
of "Little Italy", before
James Colosimo
centralized control in the early 20th century. "Big Jim", as he would later be nicknamed, was born in Calabria, Italy in 1875, emigrating to Chicago in 1895, where he became a criminal. By 1909 he was successful enough that he was encroaching on the criminal activity of the Black Hand. This required the procurement of extra muscle, which came in the form of Colosimo's nephew
Johnny Torrio
from New York. In 1919, Torrio brought in
Al Capone
, thus providing Capone's entrance to Chicago. In time Colosimo and Torrio had a falling out over Torrio's insistence that they expand into bootlegging, which Colosimo staunchly opposed. Torrio arranged for
Frankie Yale
to kill Colosimo, ending the argument. "Big Jim" Colosimo brought together the different parts of Chicago criminal activity, with a lasting effect on Chicago in general, and Chicago crime in particular.
Torrio-Capone and the birth of the Chicago Outfit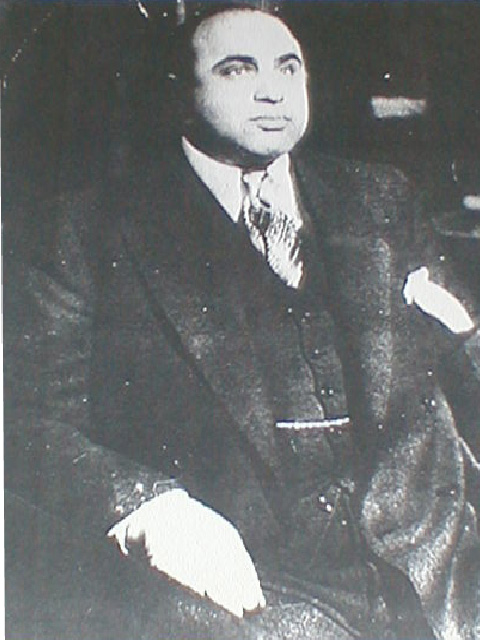 Severely injured in an assassination attempt by the North Side Mob in January 1925, the shaken Torrio returned to Italy and handed over control of the business to Capone. Capone was notorious during Prohibition for his control of the Chicago underworld and his bitter rivalries with gangsters such as
Bugs Moran
and
Hymie Weiss
. Raking in vast amounts of money (some estimates were that between 1925 and 1930 Capone was making $100 million a year), the Chicago kingpin was largely immune to prosecution due to witness intimidation and the bribing of city officials. Capone's reign came to an end when
Eliot Ness
of the Bureau of Prohibition devised a strategy of using the Supreme Court's 1927 decision on the bootlegger Manny Sullivan (Sullivan had argued that the Fifth Amendment prevented him from reporting how much income tax evasion he had engaged in).
Ralph Capone
and a number of the other Outfit members were soon indicted, but Capone went unscathed until June 1931, when he was indicted for concealing more than $165,000 from the IRS.
From Accardo to Giancana Era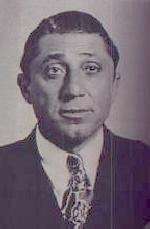 After Capone was jailed,
Frank Nitti
moved the Outfit into labor racketeering, gambling, and other things like exploitative loan sharking. Geographically, this was the period when the Outfit extended its tendrils to Milwaukee and Madison, and Kansas City, and especially in Hollywood and other Californian cities, where the Outfit's control of labor unions gave it leverage over movie production. In the 1960s, the Outfit reached its apogee under
Tony Accardo
. With the aid of Meyer Lansky he used the Teamsters pension fund to engage in massive money laundering through the Outfit's casinos, aided by the likes of Sydney Korshak and
Jimmy Hoffa
. The '70s and '80s were a bad time for the Outfit, as law enforcement continued to penetrate the organization (spurred by poll-watching politicians), off-track betting reduced bookmaking profits, and illicit casinos withered under competition from legitimate casinos. Replacement activities like auto theft and professional sport betting did not replace the lost profits.
21st century

As the result of an investigation dubbed Operation Family Secrets mobsters
James Marcello
, Nicholas Ferriola,
Joseph "The Clown" Lombardo
, Michael "Mickey" Marcello, Frank "The German" Schweihs, Frank "Gumba" Saladino, Frank Calabrese, Sr., Paul "the Indian" Schiro, former CPD officers Anthony "Twan" Doyle, and Michael Ricci, Thomas Johnson, Joseph Venezia, and Dennis Johnson are under indictment as of April 25, 2005 in connection with eighteen murders stretching back four decades. Two among the indicted have died. Frank "Gumba" Saladino was found dead in a hotel in Hampshire, Illinois. FBI agent Robert Grant said there was no indication of foul play, and he did not believe Saladino, 59, had killed himself. Grant said $25,000 in cash and $70,000 in checks were recovered at the scene. Michael Ricci has also died.
In April 2005, federal indictments for racketeering and murder were brought upon many top mobsters for gangland slayings including Michael Albergo, Dan Seifert, Paul Haggerty, Henry Consentino, John Mendell, Donald Renno, Vincent Moretti, William and Charlotte Dauber, William "Butch" Petrocelli, Michael Cagnoni, Nicholas D'Andrea, Richard D. Ortiz, Arthur Morawski, Emil Vaci,
Anthony Spilotro
, Michael Spilotro and John Fecarotta. On January 11, 2007, Deputy US Marshal John Thomas Ambrose, 38, a former supervisory inspector of the U.S. Marshals Service's Great Lakes Regional Fugitive Task Force was charged with revealing information concerning the cooperation and travel plans of Nicholas Calabrese, expected to be a key witness in the government's Operation Family Secrets murder conspiracy case, to an associate of reputed outfit boss John DiFronzo.
Bosses of the Chicago Outfit

1910-1920
-
James "Big Jim" Colosimo
(Murdered in 1920)
1920-1925
-
Johnny "The Fox" Torrio
(Moved to Italy but returned years later to New York)
1925-1932
-
Alphonse "Scarface" Capone
(Jailed)
1932-1943
-
Frank "The Enforcer" Nitti
(front boss, committed suicide in 1943)
1932-1945
-
Paul "The Waiter" Ricca
(Retired)
1945-1956
-
Anthony "Joe Batters" Accardo
(left business to Giancana)
1957-1966
-
Salvatore "Momo" Giancana
(Fled to Mexico)
1966-1967
-
Samuel "Teets" Battaglia
(Jailed in 1967)
1967-1969
- John "Jackie the Lackey" Cerone (Jailed, died of natural causes in 1996)
1969-1971
- Felix "Milwaukee Phil" Alderisio (Died of natural causes in 1971)
1971-1986
-
Joseph "Joey Doves" Aiuppa
(Jailed in 1986)
1986-1989
- Joseph "Joe Nagall" Ferriola (Died during surgery in 1989)
1989-1993
-
Samuel "Wings" Carlisi
(Jailed, died of natural causes in 1997)
1994-2003
- John "No Nose" DiFronzo
2003-2007
-
James "Little Jimmy" Marcello
, (front boss)
2007-Present
- John "No Nose" DiFronzo
It has been alleged by law enforcement authorities that John "No Nose" DiFronzo, age 79, James "Little Jimmy" Marcello, age 64 and
Joseph "The Clown" Lombardo
, age 79, run the Outfit in tandem since 2003. Joseph Lombardo was indicted April 26, 2005, absconded, but was arrested January 13, 2006 in Elmwood Park, Chicago. 73-year-old Outfit lieutenant Anthony "Little Tony" Zizzo disappeared en route to a Northside, Rush St. area meeting on August 31, 2006. Zizzo, whose SUV was found abandoned in a Division St., Westside suburban parking lot, had been mislabeled as the Outfit's #2 man or Underboss by the media.