Eliot Ness was an American Prohibition agent, famous for his efforts to enforce Prohibition in Chicago, Illinois as the leader of a legendary team nicknamed
The Untouchables
(like the so called movie by Brian DePalma).
Beginning

Ness was born in Chicago, the youngest of five to Norwegian bakers Peter and Emma Ness. As a boy, Ness was interested in reading, especially
Sir Arthur Conan Doyle's Sherlock Holmes
. He was educated at the University of Chicago, graduating in 1925 with a degree in business and law. Ness was a member of Sigma Alpha Epsilon fraternity. He began his career as an investigator for the Retail Credit Co. of Atlanta. He was assigned to the Chicago territory, where he conducted background investigations for the purpose of credit information. He returned to the University to take a course in criminology, eventually earning a masters degree in criminology.
Career

In 1926, his sister's husband, Alexander Jamie, a Bureau of Investigation agent (this became the FBI in 1935), influenced him to enter law enforcement. He joined the Treasury Department in 1927, working with the 300-strong Bureau of Prohibition in Chicago. Following the election of President
Herbert Hoover
, Andrew Mellon was specifically charged with bringing down
Alphonse Capone
. The federal government approached the problem from two directions: income tax evasion and
the Volstead Act
. Ness was chosen to head the operations under the Volstead Act, targeting the illegal breweries and supply routes of Capone.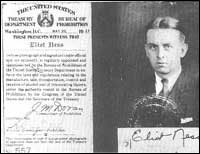 With corruption among law-enforcement agents endemic, Ness went through the records of all the treasury agents to create a reliable team, initially of fifty, later reduced to fifteen and finally to just eleven men. Raids against stills and breweries began immediately; within six months Ness claimed to have seized breweries worth over one million dollars. The main source of information for the raids was an extensive wire-tapping operation. An attempt by Capone to bribe Ness's agents was seized on by Ness for publicity, leading to the media nickname "The Untouchables". There were a number of assassination attempts on Ness, and one close friend of his was killed.
The efforts of Ness and his team had a serious impact on Capone's operations, but it was the income tax evasion which was the key weapon. In a number of federal grand jury cases in 1931, Capone was charged with 22 counts of tax evasion and also 5,000 violations of the Volstead Act. On October 17, 1931,
Capone
was sentenced to eleven years, and following a failed appeal, he began his sentence in 1932.
After Capone's conviction

Ness was promoted to Chief Investigator of the Prohibition Bureau for Chicago and in 1934 for Ohio. Following the end of Prohibition in 1933, he took a job with the local government of Cleveland as Director of Public Safety. He headed up a campaign to clean out the corrupt police and fire departments, and also tackle illegal gambling and other entertainments. Ness's inability to capture the
Cleveland Torso Murderer
, a vicious serial killer operating in the Cleveland area during the mid-1930s, may have also contributed to his exit from what was otherwise a reasonably successful career in Cleveland.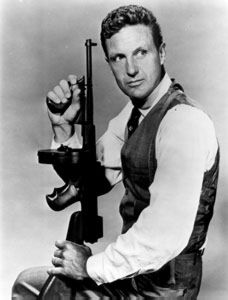 Ness then moved to Washington, D.C. and worked for the federal government. In 1944, he left to become chairman of the Diebold Corporation, a security safe company based in Ohio. He ran unsuccessfully for mayor of Cleveland in 1947 and was forced from his job at Diebold in April 1951.(NY Times April 14, 1951 "Executive Changes"). He eventually came to work for North Ridge Industrial in Coudersport, Pennsylvania. His book, The Untouchables, was published in 1957 shortly after his death at the age of 54 following a heart attack. In one popular yet false anecdote, he died just as he was about to have the first alcoholic drink of his life. He was married three times, divorced twice, and had only one child (by adoption). He was married to illustrator Evaline Ness from 1938 to 1946. His ashes were scattered in one of the small ponds on the grounds of Lakeview Cemetery in Cleveland.
Popular culture

A number of television series and feature films have been made (loosely) based on his life, inflating the image of Ness into the fearless incorruptible lawman of legend. Some of the most well-known of these include the 1950s/1960s TV series titled The Untouchables, which features Robert Stack as Ness, and Brian De Palma's Oscar-winning film of the same title,
The Untouchables
, which stars Kevin Costner as Ness and Robert De Niro as Al Capone. Eliot Ness was also the protagonist of the graphic novel Torso by Brian Michael Bendis and a film is reportedly in development with David Fincher attached to direct. Ness is the subject of a series of novels by Max Allan Collins and also appears as a minor character in Collins's graphic novel Road to Perdition.