Domenick "Sonny Black" Napolitano was a capo in
the Bonanno family
, famous for having allowed FBI agent
Joseph Pistone
to become an associate of the family and nearly "making" him a made member.
Elevation under Rusty Rastelli
Domenick Naplitano was born in Brooklyn to immigrants of Naples, Italy. During the 1960's he fell under a crew led by Bonanno capo
Michael Sabella
, from who'm he took over in 1973. Naplitano was loyal to jailed boss
Phillip Rastelli
during the 1970's and was involved in the murder of
Carmine Galante
in 1979. After Galante's death, the imprisoned Rastelli took over the Bonanno family again which caused the family to break into two factions, one side loyal to Rastelli and the other attempting to overthrow him. In 1981 Sonny Black was chiefly responsible for helping to end the struggle by killing the renegade capos opposed to Rastelli, namely
Alphonse "Sonny Red" Indelicato
,
Dominick Trinchera
and Phillip Giaccone.
Infiltration of Donnie Brasco
When FBI agent Joe Pistone infiltrated the mafia as Donnie Brasco, he became attached to the crew that Sonny Black ran. He managed to develop a close relationship with Naplitano, who was involved in loansharking, bookmaking, and ran several casino operations. They were also involved in drug trafficking as part of the Pizza Connection. Naplitano eventually regarded Pistone so highly that he planned to nominate him to be "made" and began to use the formal introduction "A friend of ours" when introducing Pistone to other members. Together with Donnie Brasco by his side he opened a night club in Florida with permission from
Santo Trafficante
.
Downfall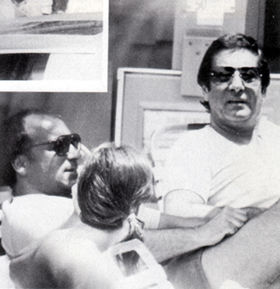 Photo courtesey FBI.
Sonny Black with
Joe Pistone (left)
Pistone's undercover operation ended when Napolitano requested that Pistone had to murder the son of renegade capo Alphonse "Sonny Red" Indelicato,
Anthony Indelicato
. Two days later FBI agents came to Sonny Black's social club, The Motion Lounge, to inform him and his men that Donnie Brasco was in fact an FBI agent. Shortly thereafter the Bonanno leaders decided that Napolitano had to be punished for bringing in a FBI agent. Rather than turn state's evidence and enter the witness protection program, Sonny Black accepted his fate. On August 17, 1981, he was asked to come to the basement of Bonnano associate Ron Filocomo for a meeting. Knowing he would be killed, Napolitano gave his jewelry to his favorite bartender who worked below his apartment at The Motion Lounge, along with the keys to his apartment. He then went to Filocomo's basement where he was ambushed by Filocomo and Frank "Curly" Lino, where he was beaten and eventually shot to death. Shortly before his death, Napolitano told his girlfriend Judy that he bore no ill will towards Pistone, knowing that Pistone was only doing his job and that if anyone was going to be responsible for taking him down, he was glad that it was Pistone.
On August 12, 1982, a body was found at South Avenue and Bridge Street on Staten Island. Both of the body's hands had been removed and the face was so badly decomposed that dental records were required to verify the corpse's identity. The FBI officially announced that they had found the corpse of Sonny Black. However, in 2000, the FBI publicly revealed for the first time since 1982 that it had long been doubted whether or not the corpse found on Staten Island was in fact Sonny Black. Since Black's murderer, "Curly" Lino had turned state's evidence, providing authorities with the details of Black's murder. Although the FBI were reasonably sure that the body found in Staten Island was Sonny Black, one discrepancy existed: While Lino claimed that he and Filocomo had both shot Black with .38 caliber revolvers, and that he himself had fired more than one bullet, the corpse found on Staten Island only had a single bullet wound, which appeared to have been made by a .45 caliber pistol. He was buried in Calvary Cemetery, Queens.
His sons in Florida
Two of Napolitano's sons, Rocco and Aniello Napolitano, became partners with the son of convicted and later executed mobster
Frank Abbandando
, Frank Abbandando Jr., in Miami, Florida. They were seen together in Party Girls, a nude bar on Biscayne Boulevard in South Beach. The authorities were convinced he was dealing steroids and two associates who were arrested with him for dealing drugs suddenly vanished. Rocco murdered Abbadando Jr. after Aniello's body was discovered dismembered, washed ashore on Miami Beach in September of 1996. Rocco thought the aging mobster Abbandando Jr. was his brother's killer. On December 11th, 1995 the 60-year old Frank Abbandando Jr. was run over with a car while crossing Biscayne Boulevard. Rocco Napolitano who was all dressed in black and wearing a ski mask then exited the vehicle and shot Frank a number of times as he lay in the street. After Rocco's arrest shortly afterwards, he supposedly told the police "I'm the one that shot him."